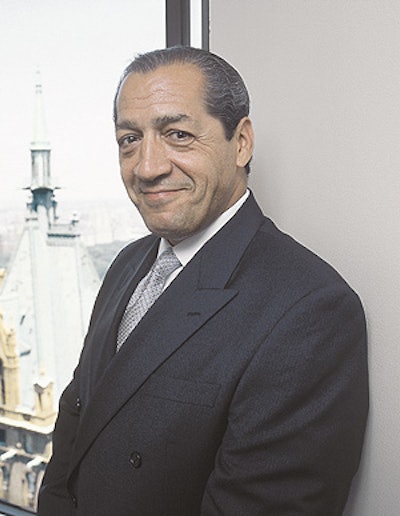 New York-based cosmetics giant Estée Lauder recently launched a training initiative aimed at strengthening the core capabilities of 40 or so package developers who work in the firm's packaging group. Roger Caracappa, who heads up packaging at the $4.7 billion company, is requiring that anyone in his group who does not have a technical degree—in packaging, industrial engineering, chemical engineering, etc.—must complete the Certified Packaging Professional (CPP) training program organized and offered by the Institute of Packaging Professionals. To learn more about this initiative—and to get a glimpse at some of the firm's ideas about packaging in general—Packaging World interviewed Caracappa, IoPP's certification manager Carole Schiller, and three newly certified packaging professionals at Estée Lauder: Richard Byrd, Lena Grasso, and Henry Renella.
PW: How did this ambitious program get started?
Schiller: Henry Renella was sort of a test. He came through the CPP program in July of last year. To us at IoPP he was just another candidate. We didn't know it would lead to a larger initiative by Estée Lauder.
Renella: I had heard of the IoPP program for some time and came close to signing up for it on more than one occasion in the past. When Roger expressed an interest in it and asked me to go through it, I said sure. One thing he's always trying to do is increase the capabilities of the staff. We've done this in a number of ways, and one way that seemed especially appropriate for people who don't have degrees from a packaging school was to have them pursue certification through IoPP.
PW: Why launch such an initiative?
Caracappa: When you look at package developers, one thing you see is a lot of talented people. But they may not have a suitable technical foundation to their career. They may have had administrative responsibilities at some entry level, and over the years they grew in the field to high-level positions within packaging. And they've been very successful, learning as they go. But today's environment requires something more, at least the environment at Estée Lauder does. Things are more sophisticated than ever in our product formulas. That requires equally sophisticated approaches to packaging technology and package testing and evaluation.
One thing that became clear to me about two years after joining the packaging group is that package developers with a technical component to their portfolio—not necessarily a degree from a packaging school, but a degree in industrial, mechanical, or chemical engineering—tend to make fewer mistakes. I think it's a natural result of the technical degree itself, where methodical approaches to problem-solving are emphasized so much. You're taught to define a problem, to understand it, to break it down. People who have developed that discipline carry it into how they manage their business. It becomes very important as you look at the development function in the packaging field.
PW: Is this emphasis on certification something that will remain in place at Estée Lauder?
Caracappa: Well, as we introduce new talent to the department at either middle or senior management levels, we can look for degreed engineers who have the technical foundation that makes the certification process less necessary. We also have the opportunity, as we hire young engineering talent from MSU or RIT or wherever, to rotate them through the package development group so they get exposed to the development process without necessarily having a full-time position in the package development area. What our current emphasis on certification seeks to answer is what to do with directors or managers who may be terrific at what they do, who have 10 years of experience at it, but who don't really have a technical foundation. We wanted to make something available to them that would allow us to benchmark their technical capability while at the same time give them something that enriches their own career portfolio, something that shows them to be packaging professionals.
PW: How does this training initiative fit the larger picture at Estée Lauder?
Caracappa: One of the challenges we face in a company this size is how do we best manage our resources. A decade ago, if you were the packaging person assigned to the Clinique brand, you probably stayed with Clinique your entire career. But in today's environment, where speed to market is so crucial, we need more flexibility, depending upon the strategic intitiatives of the corporation and the brands. Our ability to reassign package developers based on those new initiatives is vital. In order to do that, the developer's level of competency in all areas of package development needs to be comparable. The CPP program offered by IoPP gives us this flexibility.
PW: Can you provide an example of how this increased flexibility might come into play?
Caracappa: In the event one of our companies has a new initiative that requires an enormous development effort in the area of makeup, in order to provide the right level of technical support we may be forced to redeploy individuals from one brand to another. The IoPP training helped in this regard. It has elevated the caliber of each individual and gives us the flexibility we need in order to meet the demands placed on us by the brands.
PW: How are the people in the Packaging Group organized?
Caracappa: Each of the companies within the corporation have a dedicated package development team. Supporting the development function, we have a corporate department of packaging engineers and a full-service package testing laboratory. In addition, we have a corporate packaging operations group with direct responsibility towards managing legal, regulatory, and administrative functions.
PW: Is there any one area in which the training for IoPP certification was especially helpful for the package developers?
Caracappa: Speed to market with a quality package is a top priority. A natural tendency in being fast to market, from a package development standpoint, is to skip steps. By having our package developers improve their technical know-how through the course work that's part of the certification program, we put them in a better position to be reminded that there's an order to package development, that steps shouldn't be skipped.
PW: Were "students" left to their own devices where course work was concerned?
Grasso: No. Estée Lauder set up weekly two-hour classes for us [taught by Raymond Muller, a 57-year veteran of the packaging profession, much of it spent at Avon]. Every week we'd review three or four chapters together. Our teacher also had a lot to offer from his own life experiences. As a long-time employee of Avon, he was a good source of information for a group of people who work at Estée Lauder.
PW: What areas did you especially improve upon?
Grasso: My strengths before certification were more on the design side of packaging, the aesthetics if you will. One thing I liked about the IoPP course work is that it helped me with things like material structure, engineering concepts, distribution, and certain methods of package manufacturing. Shortly after my certification in January, I was promoted from manager to director.
Byrd: It isn't just certification that you come away with. There are other benefits to being affiliated with IoPP. It's a great resource for publications, technical papers, and things of that nature. It's more than just being able to add the letters CPP to your business card. It's more a matter of what do you want to get out of it? What can it do for you as a packaging professional? How can it help you move your career along? It's an experience that has brought us all to a new level of professionalism.
PW: Considering that some of the Estée Lauder students had an awful lot of experience behind them when they signed up for certification, wasn't the multiple choice exam easy?
Renella: If you've been around packaging for 20 years or so like some of us have, there's a natural tendency to think you can just breeze through a program like this, including the multiple choice exam. Nothing could be further from the truth. Preparing for this test taught us a lot. As a group we'll be more effective.
PW: Will you now approach trade shows like Pack Expo any differently?
Renella: I probably will. Because I'll be in a position to ask better questions. If you're better informed, you always ask better questions.
For more on IoPP certification and CPP requirements, see: packworld.com/go/w075
Companies in this article