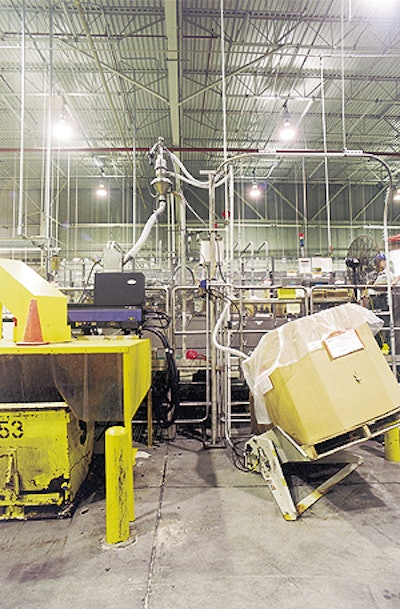 Picture a beverage plant where bottling and canning lines require multiple hot-melt glue stations for carton and case sealing. Would it be a good thing if hot melt glue pellets at all those stations could be loaded automatically and on demand rather than being scooped from a box by an operator and loaded manually?
Absolutely, says quality area manager Roger Cox of Milwaukee-based Miller Brewing. That's why he and his colleagues at Miller worked as they did with ALL-CON World Systems (Seaford, DE) to develop such a system at the Eden, NC, Miller brewery where Cox works.
It wasn't just the labor required in the manual operation that made it undesirable. A powdered slip agent is typically added to hot-melt glue pellets to keep them from sticking to each other. When glue pellets were being loaded manually, this powder sometimes made its way to the glue nozzles and caused the nozzles to clog, says Cox. It was one more reason to find another way of doing things.
Pneumatics, vacuum, and air conveying are the keys to the ALL-CON system, six of which are now in Miller's Eden brewery. Also playing an important role in the way the system operates is that the glue pellets are smaller and rounder than usual, a shape more suitable to the air-conveying concept.
These pellets are now shipped to the Miller brewery in 1ꯠ-lb totes instead of 25- to 50-lb boxes. Inserted into the glue pellets is what Cox calls a "vacuum shaft." It vacuums the pellets out of the tote and into an overhead air conveying system that leads to either two or three hot-melt glue stations. The maximum distance from tote to hot melt unit is about 100'.
The glue pellets reach the Nordson (Duluth, GA) hot melt units from the overhead air conveyor by way of drop-down tubing. When the level detector in the hopper of a hot-melt unit signals the system's main PLC that glue pellets are low in that hopper, pellets are drawn automatically from the 1ꯠ-lb gaylord, through the overhead supply line, and down to the hot-melt unit. At the end of each cycle, the line is automatically purged clean with a blast of air so that no buildup of material remains in the line. Also, a filter screens unwanted particles—including the slip-agent powder routinely used to keep the pellets free-flowing—so that the glue dispensing nozzles are kept clean.
"Because the glue pots are replenished automatically, it reduces the likelihood of glue running low in any one station," says Cox. "That reduces the opportunity for charring that can lead to clogged nozzles and downtime."
Though the earliest installation of an ALL-CON glue-conveying system at Miller's Eden brewery took place five years ago, the seventh and most recent system has been in for about one year. An eighth will be installed some time this year, says Cox.
Companies in this article
Videos from Nordson Corporation