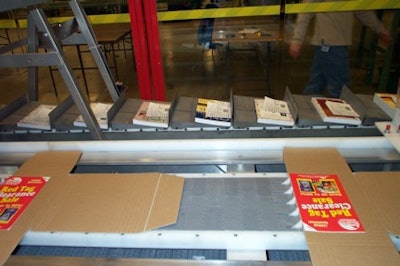 Instead of trying to fit a range of product sizes into a few standard-sized cases, what if a packager custom formed each package to precisely fit each product--even if that product varies in size from one to the next?
Mail-order operation Christian Book Distributors, Peabody, MA, has been packing products like this for eight months using a specially designed machine called the Trak-n-Pak, from Delta Systems (Rogers, AR). Using Delta's SoftFlow; software and servo technology from Bosch Rexroth (Hoffman Estates, IL), the machine produces a custom, tightly wrapped corrugated package that's sized to fit each individual order, continuously, at 30 packages/min (see sidebar). No more dedicated runs or batching. No changeover. Trak-n-Pak unchains Christian Books from the mass production model, providing one-to-one packaging flexibility that has seemed so elusive to the packaging community.
The Delta machine, which handles about 25% of Christian Book's volume, is designed to handle small orders of up to three items, typically books or CDs. Larger orders are still packed conventionally in boxes. Designed originally for Amazon.com, Trak-n-Pak replaced another packaging machine that was unable to package variously sized orders on a continuous basis.
Benefits abound
Aside from being able to pack random-sized packages without changeover, the biggest benefit of the machine is labor savings, according to Ray Hendrickson, senior vp and one of the two brothers who founded the company. On a year-round basis, he estimates the machine frees up three to four people compared to the previous machine. However, during the seasonal crunch, "we're saving 10 to 15 people in an area that was constantly getting backed up, and which required us to throw labor at it to fix the problem," says Hendrickson. "Now we're often finishing early in the day, with less labor." All the labor savings result in an 18-month ROI, Hendrickson estimates.
Another benefit is a tighter-fitting pack that reduces the potential for damage. Since the Trak-n-Pak manufactures each package to precisely fit the product, without being too tight or too loose, the product is completely immobilized. "You've got to have a tight package for the books to arrive without damage," says Hendrickson. Compared to the previous machine, "It really wraps product with much better rigidity in the corners. You could take a CD and whip it at the floor, throw it as hard as you want, and it would not get damaged."
The perfectly squared packages also behave well on the conveyor, without riding up on one other, especially during accumulation. That was a problem with packs produced by the previous machine or by using padded envelopes.
How it works
The machine uses a series of lasers to measure the height, width, and depth of each order as it enters the machine on the infeed conveyor. Nearly every motion on the machine is adjusted on the fly to accommodate the dimensions of the product.
For example, based on the measurements, the machine automatically picks which one of two different-sized die-cut, corrugated T-shaped boards should be used to wrap the books. The machine also pushes each load onto the center of each corrugated board, with the exact pushing distance based on the measurements taken at the infeed. (To better understand how this complex machine operates, see the short video that accompanies this article at www.packworld.tv/28.)
Overall throughput is about 1ꯠ packages/hour, taking into account downtime related to occasional jams or replenishment of labels and ribbons. Corrugated board can be replenished without stopping. "That's about what we expected," says Hendrickson of the throughput. "We're very happy with it." Material costs are about the same compared to the previous machine. The machine can wrap book orders up to 10"x12"x3".
The Trak-n-Pak machine's efficiency will help with future growth plans. "As we continue to grow," says Hendrickson, "we have plenty of additional growth in that system. We won't need any additional footprint or space."
See the sidebar that goes with this story: Software and servos make it possible
Companies in this article