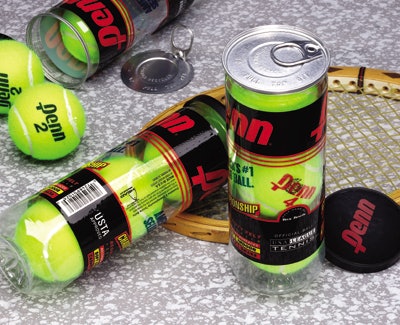 Increasing production efficiency is a constant goal at Owens-Illinois Plastics Group (Tolleson, AZ), a manufacturer of PET containers. In September 2001, O-I improved its container-making technology by adding a new, rotary-platform dome- and flange-trimming machine from Belvac Production Machinery (Lynchburg, VA).
Like the trimming machine that preceded it, the Belvac Model DT/FT 200 represents the final step in manufacturing widemouth PET containers. It's used to shape the finish of a container so that a metal end can be seamed on as a lid.
Costing about $145ꯠ, the Belvac machine was a sound investment. Since it was installed, O-I has gained a 20% increase in throughput and a 20% reduction in scrap. O-I can output over 100 million containers annually utilizing the trimmer.
But it isn't just efficiency that's been boosted since the new equipment arrived. According to Tom Vondrasek, O-I plant manager, quality of trim has also been improved. He adds that this is critical in ensuring consistent seal integrity from container to container.
At Phoenix-based Penn Racquet Sports, operations manager Terry Truett knows the value of reliable seal integrity. Penn's tennis balls are packaged in containers made by O-I. During packaging, before the aluminum ring-pull end is seamed on, the container is pressurized. Without good seal integrity, the internal pressure could not be maintained, and the quality of the tennis balls would be compromised.
"The consistent [seal integrity of the] tennis ball container provides consistent pressurization of the tennis balls," says Truett.
Doubles match
O-I supplies Penn with injection stretch/blow-molded PET containers that hold three tennis balls. The finish of the container is 2.5" in diameter.
For precise trimming of the container, the Belvac-patented trimmer technology has been incorporated into the DT Series to ensure burr- and step-free trimming for PET containers with diameters ranging from 50 mm to 100 mm, and heights between 80 mm and 240 mm.
Previously, O-I used a laser flange-trimming unit that rotated the container while a laser trimmed the excess from the top and the flange in one step. The new machine uses a dual-trim approach. On the first trim, the dome of the blown container is removed. The second trim uses a positive chuck that centers the container in place while secondary knives remove the flange to the desired specification. O-I runs the machine at up to 200 containers/min.
"The flange trimmer removes a last ring of plastic to create a flange similar to that created for a soda can, which allows for a lid to be applied and double seamed," says Dave Andrulonis, director of food and beverage products. "The better quality in trim day-in and day-out gives our customer a more consistent container and allows them to be more efficient in their lidding operation."
Companies in this article