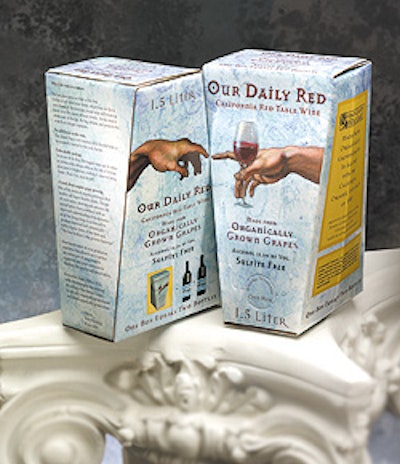 Tony Norskog, owner of the Nevada County Wine Guild in Collegeville, CA, appreciates the fact that not all wine drinkers are snooty connoisseurs who said goodbye to their 20s long ago. He's convinced that plenty of them are young people, the kind who are no strangers to odd tattoos or pierced body parts.
With such consumers in mind, Norskog helped design a new bag-in-box package for one of his wines called Our Daily Red. He thinks this package format will appeal to the most experimental consumers because it has a shape and style never before seen in the wine market.
The symmetrical shape of the box, which grows outward from its base, is quite different from more traditional shapes of wine-in-a-box brands. Norskog approached three or four printers in search of a box that would stand out from the rest. He chose a style from box designer/converter Pacific Southwest Corp. (Modesto, CA).
"It has the profile of an Oscar award—larger on top. It has a certain quality to it. As soon as we saw the box, we knew it was the one we wanted," Norskog says.
The new 1.5-L bag-in-box package is constructed of 12-pt SBS. Box graphics are printed offset in four colors plus an aqueous coating, before die cutting and scoring. A water-resistant adhesive is added to withstand refrigeration during distribution and in the consumer's home.
The inner bag, a Durashield 45 from Scholle (Northlake, IL), is a multilayer lamination. Complete specs are not available, but among the layers are nylon, low-density polyethylene, and ethylene vinyl alcohol for barrier. The bag is capped with an injection-molded, linear low-density polyethylene spout and removable thumb-actuated toggle, injection-molded of a thermoplastic elastomer.
The beauty of the bag, according to Norskog, is that it collapses as wine is drawn out, thus minimizing the wine's exposure to oxygen. This gives it a distinct advantage over any rigid container, which naturally traps ambient air once it's been opened.
"This format really suits the more moderate or occasional consumer," Norskog says. "The wine tastes exactly the same a month later."
Additionally, the packaging for Our Daily Red incorporates 60% of post-consumer recycled material. And the box is also recyclable.
Boxes are assembled manually then filled on a Scholle AF900 semi-automatic, single-valve filler. The filler was lent to the company by Scholle as part of the purchasing agreement.
"This was really great for someone like me who's only going to be filling bags for four or five days a year," Norskog says.
It's in the bag
The filler is run by an operator who inserts the Durashield 45 bag onto the filler jaws. The machine then removes the cap and pulls a vacuum to remove the excess air. After filling, the machine caps the bag and the operator removes it from the machine.
The bag, which holds the equivalent of two 750-mL bottles of wine, represents a package Norskog was interested in looking into for some time. He was initially concerned, however, that consumers would group his product among the low-end brands typically associated with a bag-in-box package.
"I'm trying to overcome the resistance in the marketplace of selling a premium wine in a box," he says. "I met with a sales representative from Scholle. He was very positive. Where I always thought it would be fun to try, I needed someone to say 'yes, we'll do that' and 'yes, we'll loan you a machine to fill.'"
According to Norskog, the packaging materials for the bag-in-box cost about the same as the glass and cork used for bottled wines. However, "for the bag-in-box, we had people assembling the box. Another person filled the bag, while another stuffed it into the box, then glued the box shut. It was a very labor-intensive event. It actually ended up costing me more due to labor," he admits. But additional costs, Norskog says, were justified because the package clearly differentiates this wine.
Our Daily Red is available in 15 states nationwide at specialty liquor and health food or organic stores. It retails for $9.99.
Companies in this article