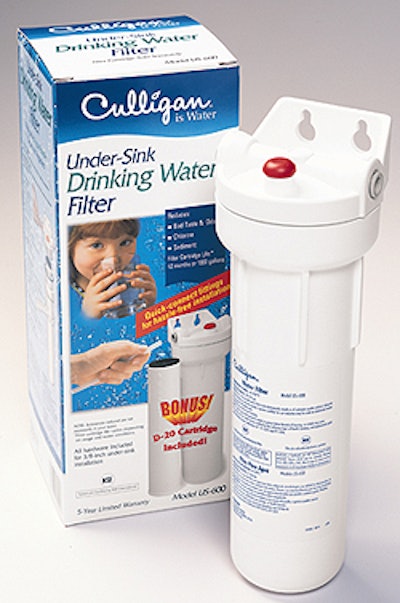 Ranging from an under-sink drinking water filter to a whole house filter, the filters were reintroduced in cartons made of the new substrate in Spring '01. Prior, the cartons were made of a litho-laminated E-flute corrugated. The auto-bottom cartons are converted by Sheboygan Paper Box (Sheboygan, WI), which offset-prints them in five colors plus aqueous coating.
According to Culligan's packaging supervisor, who declined to be named, "our main concern was keeping the quality equal to or better than before while reducing our costs," he explains. Culligan saves anywhere from 4 to 11% per carton, depending on the carton size and quantity, he says.
"Better printing was a bonus," he says. "It's definitely a noticeable difference. Plus it's a stronger material than what we'd used before."
Another benefit is that the fluting had shown through before. Now it does not. Carton lead times have also been reduced, Culligan reports.
Sheboygan Paper Box receives the material from Westvaco in 7군'-long rolls in widths from 40'' to 50'', then sheets, prints, die cuts and glues it. Forte eliminates a laminating step necessary with the former material.
Culligan receives the carton blanks at its Sheboygan facility where it uses the Forte for more than 20 filters, which are priced from $15 to $150 at do-it-yourself homecenters and hardware stores nationwide. (RL)
Companies in this article