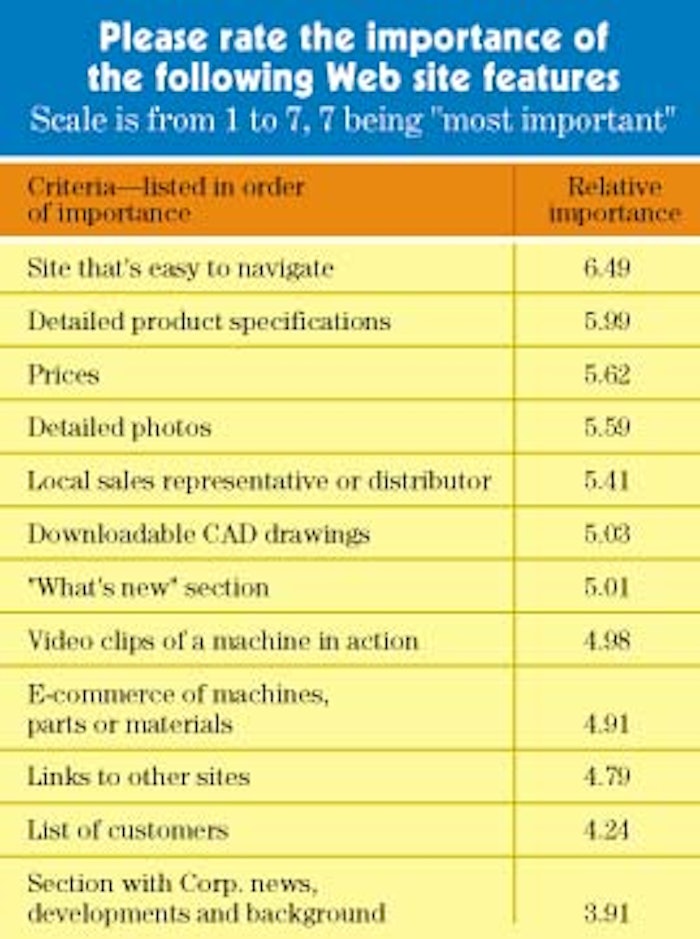 At least for the time being, according to the recent survey. Instead, what respondents sought most was detailed product information and—gasp!—pricing information.In an exclusive survey conducted in January by Frambach & Co. (Milford, NH), 100 PW readers were interviewed by telephone to discern what they like and dislike about packaging suppliers' Web sites.
Reflecting the ongoing difficulty users experience at most sites, the most important feature of a Web site is one that's easy to navigate (Chart 1). This is confirmed by Chart 2, in which the No. 1 complaint about supplier sites is that it's too hard for respondents to find the information they're looking for. And Chart 3 shows that the Web's "killer app"—computer lingo for 'thing they use most'—for survey respondents was quicker and easier access to information.
After Web site usability, what respondents sought most was detailed product information. Many packaging vendors have long been known to skimp on the details for fear of tipping off competitors. But the mandate from the survey respondents was clear: Find a way to make the details available.
Also conspicuously absent from nearly every packaging Web site is detailed pricing information—understandable because most suppliers don't want to reveal pricing to competitors either. Yet this rates as the third most important feature desired in a Web site, according to respondents.
One possible solution to satisfy prospects and suppliers alike: Make site visitors fill out a brief form with their e-mail address, company name and phone number, promising a return e-mail within four hours (fifteen minutes is even better) granting access to a password-protected portion of the site containing all the juicy stuff. Suppliers get to screen out competitors while screening in bonafide prospects. And buyers get access, albeit slightly delayed, to the goods they seek.
Further emphasizing how packaging buyers aren't quite ready to buy packaging goods over the Web (see packworld.com/go/notyet), survey respondents rated the ability to find local sales representatives or distributors on supplier sites more important than the ability to actually procure the goods online.
And in a finding that should be plastered in front of every CEO whose company site leads off with corporate news and background information, it was precisely this sort of information that respondents sought least.
The verdict is clear: Respondents are asking suppliers to place more product and pricing information online and tuck the corporate stuff in a back corner of the site.
In the complaint department, after difficulty in finding specific information and lack of detail on the site, the third-biggest complaint about supplier sites is speed. Due to the wording of the question, it's difficult to ascertain whether respondents were complaining about graphics-heavy site designs or slowness of the Internet in general.
In all fairness, the slowness of the Internet cannot necessarily be pinned on supplier sites, because it often relates to the often frustrating speed of each visitor's Internet connection. However, the good news is that high-speed connections, previously enjoyed mostly by Web users at large corporations, are slowly spreading across the rest of the U.S. In the next 18 months, high-speed DSL and cable-modem connections will be within financial and physical reach of even the smallest manufacturers. Whether they sign up for such services, of course, is another question entirely.
Of the 100 respondents to the January survey, 25% were plant managers or vice presidents, 20% worked in engineering roles, 17% were in production and the rest held a mix of packaging, quality assurance, purchasing, R&D, maintenance and other job responsibilities.
Companies in this article