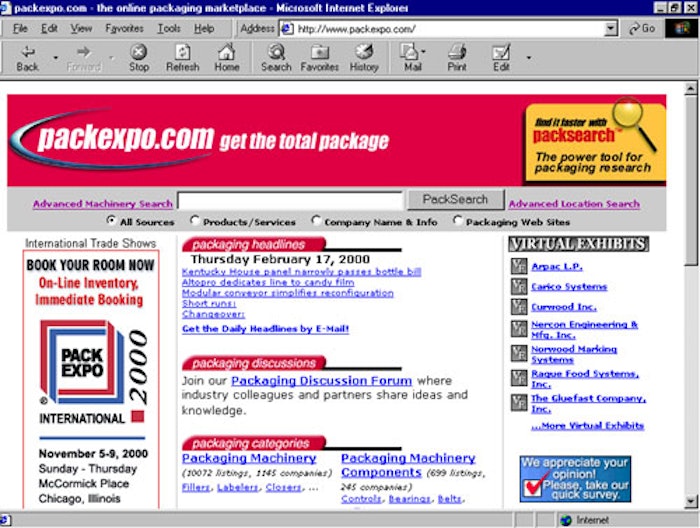 com) site, a joint venture backed by the Packaging Machinery Manufacturers Institute; VerticalNet's Packaging Network.com (www.packagingnetwork. com) and PackagingInsider.com (www.packaginginsider.com). What follows is a very brief overview of each.
First, a word in general about industry-specific portals. Research Packaging World conducted earlier this year indicates that most packaging buyers still use general search engines such as Yahoo! or AltaVista to look up a supplier. Industry-specific portals are better suited to the task, as packaging is their exclusive focus.
5ꯠ suppliers
Visitors to Packexpo.com can search more than 5ꯠ machinery and materials suppliers by category, supplier name or location. Clicking on "Advanced Machinery Search" on the home page allows visitors to search on a database of new packaging machinery. The search results include basic specifications such as model number, speed, minimum/maximum product size and minimum/maximum material size. The site rounds out its offerings with news, discussion forums and the ability to book a hotel room online for Pack Expo 2000, Nov. 5-9 in Chicago.
The three Cs
Content, community and commerce—these are the three Cs of VerticalNet's Packaging Network.com. This site contains news, feature stories and new-product information posted daily. It also contains a buyer's guide that can automatically generate a request for quote (RFQ) for several companies at once.
Newly added is the ability to procure consulting services from what the site says is a network of pre-qualified independent firms. Finally, the site contains a careers section with a resume bank and more than 300 packaging-related jobs.
Site as application software
PackagingInsider.com aims to be an Internet marketplace for packaging machinery. Visitors can search on a database of new packaging machinery with up to 80 different specifications per machine, and submit RFQs.
What makes this site different from most others is that it's possible to save any search in a "workspace." Collecting, viewing and manipulating different workspaces simplifies the task of comparing different search results without resorting to killing several trees with reams of printouts.
Another interesting feature of the site is its Advisor section, which could be renamed "packaging consultant in a box." The Advisor asks a series of interactive questions to guide the user to a short list of possible packaging machines that fit the user's needs. It's meant to substitute weeks of phone calls to vendors with a few clicks of the mouse.
These sites are racing to add features and functionality to attract a critical mass of users. Net Sourcing will continue to cover them as they grow and change.
Companies in this article