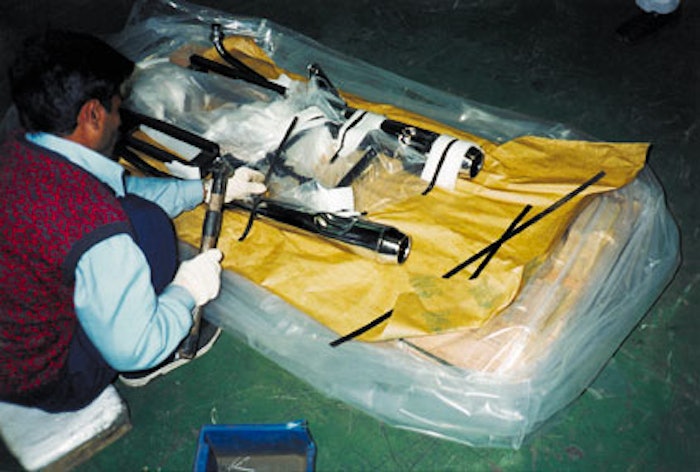 Partially assembled motorcycles from Hero Honda Motors in Haryana, India (about 43 miles southwest of New Delhi), can be exposed to five weeks of hot, humid weather before they reach Honda dealers in Bangladesh, Sri Lanka and South America. The packaged parts suffer through salt air, fluctuations in temperature and humidity, leaks and condensation during their ocean voyage, all of which can speed the onset of corrosion.
Until 1997, Hero Honda was using an Indian-made corrosion-inhibiting paper to protect the motorcycle parts it manufactures from harsh ocean conditions. But the parts were still arriving at Honda dealers damaged by corrosion. V. K. Srivastava, assistant general manager, contacted distributor Zavenir Coated Products (New Delhi, India) to find better protection for its motorcycle parts.
Zavenir is a distributor for Daubert VCI (Burr Ridge, IL), a manufacturer of corrosion-inhibiting kraft paper. After a few trial shipments to Sri Lanka and South America, Srivastava found Daubert VCI's paper to be "more effective and easier to execute" than the other corrosion-inhibiting paper Hero Honda had been using.
At Hero Honda's facility, 15 employees work to wrap and ship between 50 and 100 dismantled motorcycles per day. Zavenir provides precut sheets of 35# Uniwrap® A paper as required by Hero Honda for its different-sized parts. The most frequently used size is 36"x60".
Preparing for shipment
Preparing the motorcycles for shipment involves layering the multiple components of two motorcycles on the limited space of a 67 ?"x29 ?" wooden pallet. First, a worker places the pallet in a large, clear, low-density polyethylene bag. Then he covers the pallet with a sheet of Uniwrap A paper. Larger components like exhaust pipes are secured with thin plastic strips nailed to the pallet. The smaller components of the bike are secured in 72"x42"x30" corrugated shippers, then covered with Uniwrap A. Next, metal frames are nailed to the pallet, and the front axles and the back wheels of the two bikes are mounted on these frames, which hold the bikes in place. Another sheet of Uniwrap A is placed on top of the bike, and several workers pull the large LDPE bag over the two bikes. Finally, plywood is nailed to all four sides of the pallet and the top, making a complete wooden box ready for shipment.
When the parts are wrapped in the corrosion-inhibiting paper, the paper's chemicals, which are attracted to metal, adhere to the parts and form a protective molecular layer on the surface of the metal. This protective layer prevents moisture, salt, dirt and oxygen from being deposited on the metal and causing corrosion. When the parts are unwrapped at their destination, the molecular layer quickly dissipates into the atmosphere, so cleaning isn't necessary.
Srivastava says he's saved money in labor since he's been using Daubert VCI's paper, plus he hasn't experienced a single problem with corrosion on Honda's motorcycles.
In a hurry? Request more info via Web-based reader service by clicking on company name.
Or you can jump right to their Web site.
Companies in this article