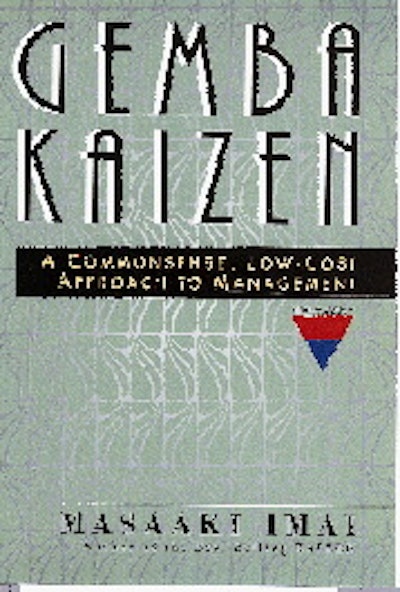 Whether common sense is one word or two isn't the only dilemma a reader will have with this book. For example, why does it take 352 pages to tell a relatively simple message? Part of the answer is that in management consulting, you repeat, repeat, repeat the "mantra," even if that explanation mixes cultures.
Imai previously wrote what the publishers call "the best-selling" Kaizen. After skimming this book, kaizen seems to translate into a problem-solving process of continuous improvement by modifying the workplace. Apparently what this new book adds to that philosophy and practice is that the truest way to accomplish kaizen is by focusing one's attention on the factory floor or whatever location (gemba) that's specifically causing a problem.
One conversation quoted in the book provides a crystal-clear example of the thinking and questioning inherent in the philosophy. "Suppose you find a worker throwing sawdust on the floor in the corridor between two machines. You ask: 'Why are you throwing sawdust on the floor?' The worker answers: 'Because the floor is slippery and unsafe.' You ask: 'Why is it slippery and unsafe?' He answers: 'Because there's oil on it.' You ask: 'Why is there oil on it?' He responds: 'Because the machine is dripping.' You ask: 'Why is it dripping?' He answers: 'Because oil is leaking from the oil coupling.' You ask: 'Why is it leaking?' And he answers: 'Because the rubber lining inside the coupling is worn out.'" The author explains that when the question "Why?" is asked five times, you can often find the root cause of a problem at gemba.
Actually, much of the book is used to present examples of how this process has been successfully used at companies around the world. Although none of these examples specifically relate to packaging operations, one case history is on Sunclipse, Commerce City, CA, the parent company of Kent H. Landsberg, a major packaging distributor. That company employed gemba kaizen to improve its customer service and order handling in the face of new competition.
There are solid ideas here, especially as they relate to employee motivation and the creation of an organization to monitor improvements. Sure, most of the changes stem from someone simply exercising common sense, but the author explains, sometimes in excruciating detail, that a program to recognize the gains and employee contributions help create an atmosphere that encourages the continuation of the process. Besides, the book will give readers a leg up on understanding and pronouncing some of the newest Japanese management terminology, thanks to an upfront glossary. (AO)
Companies in this article