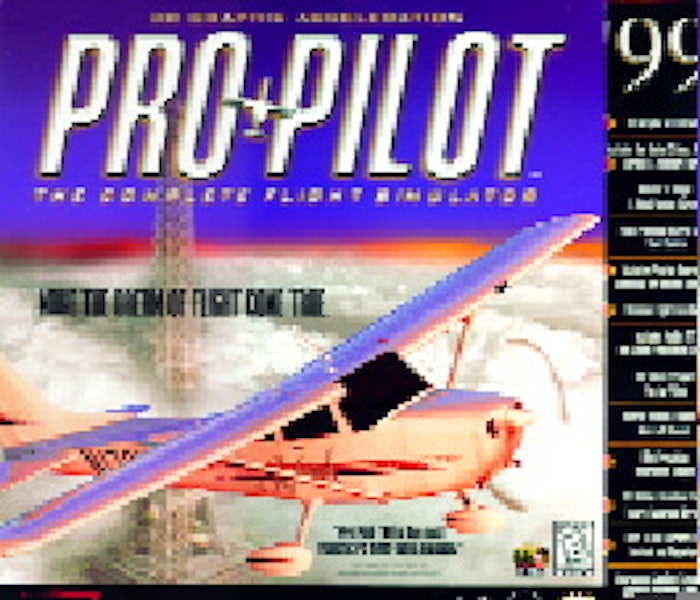 As much as half of software purchase decisions are made at point of purchase, according to a consumer survey conducted by the Software & Information Industry Assn. (SIIA), Washington, DC. Software packages vie for attention and give the consumer as much information as possible through interesting and exciting design. The Software Package Awards, sponsored by SIIA, aim to reward packages that capture this graphic appeal.
Among this year's award winners were a carton for a flight simulation game and another for a driver's education package.
The flight simulation game is ProPilot 99, marketed by Dynamix, Inc., a Sierra Online subsidiary based in Eugene, OR. This year's version of both the game and the package was an upgrade over last year's inaugural version.
"The package emphasizes the strengths of the previous product, but also highlights the software's new features," says Egil Gloersen, creative services assistant at Dynamix. The carton was design-ed by Gumas Advertising (San Francisco, CA) and is made of 24-pt solid bleached sulfate. The board was printed via four-color process plus a UV coating on an offset sheet-fed printer by converter Trojan Lithograph (Kent, WA).
An SPA award was given in the "edutainment" category for Dynamix's Driver's Education 99 package. "The package seeks to impart information about driving safely to youths," says Gloersen. "We also wanted to convince both parents and children that this was a product they could learn from." Also designed by Gumas Advertising, the package is an 18-pt SBS printed via the same process and by the same converter as the ProPilot 99 package. To house a booklet and provide more informational space, Gumas designed the box to be slightly larger than the average software box.
Gloersen says he is happy with the design of both packages. "The Driver's Education 99 got a really good response from custom-ers," he says. "Gumas did a fine job of making a clear design, and at the same time, catching the customers' attention with strong primary colors.
"For ProPilot 99 the box is a unique size, so there is a lot of space available on the outside," Gloersen continues. "The packages are very informative and attractive but without being just glitz and glamour."
Both software programs are available nationally. ProPilot retails for $49.95 and Driver's Education sells for $29.95.
SIIA recognized six other software packages. These include:WinWay Resume by WinWay Corp. in the Business/Home Productivity and Programming category; Art Explosion T-shirt Factory by Nova Development Corp. and MGI Photosuite II by MGI Software Corp. in the Business/Home Publishing, Graphics Multimedia category; Imagine Your Complete Home & Landscape by Macmillan Digital Publishing in the Home Reference and How To category; Tell Me More by Auralog in the Product Line category; and The D Show by Disney Interactive in the On-line Packaging category.
The SIIA awards are given to the best software package; the company that nominates the package receives the award.
Companies in this article