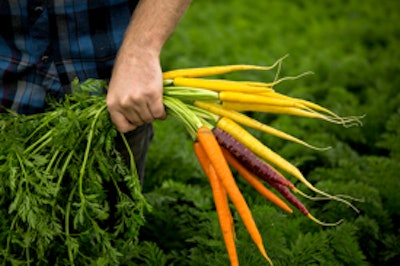 Grimmway Farms is a Bakersfield, CA-based grower, producer, and shipper of carrots and a supplier of organic produce, potatoes, and carrot juice concentrate. Since 2009, Grimmway Farms has worked with CHEP, a global company that manages, maintains, transports and supplies platforms such as pallets, containers, RPCs, bins, and trays.
In that time, Grimmway Farms has realized the economic and environmental benefits of moving from white wood pallets (that are used once, then refurbished or broken down as waste) to pooled, or shared pallets that can be reused multiple times by different users.
For the global produce leader, the sustainability savings realized since 2009 from shifting 2.9 million pallets to CHEP's circular model include:
Elimination of more than 1.63 million lb of solid waste
Reduction of more than 1.23 million lb of CO2e, the equivalent of eliminating 1.4 million miles driven by an average passenger vehicle in one year
"Grimmway Farms is always looking for sustainable options that improve operations," says Jason Higbee, the company's Director of Materials Management. "CHEP understands the fresh produce industry, and the need to keep our supply chain moving as efficiently as possible so we can meet customer expectations while also cutting costs and carbon."
To build on the partnership's success, Grimmway Farms recently brought CHEP into its Cal-Organic Farms facilities to suggest process improvements for reducing pallet damage, cutting costs and further improving sustainability. The suggested changes, identified by the CHEP Supply Chain Solutions team and tested at the CHEP Innovation Center, include adjustments in pallet handling and sorting.
Reducing pallet damage and properly sorting pallets creates several sustainability benefits, including:
Reduction of natural resources (timber) needed
Less wood waste going to the landfill, reducing costs and carbon
Fewer returned pallets, reducing the frequency of trips and related costs and carbon
Companies in this article