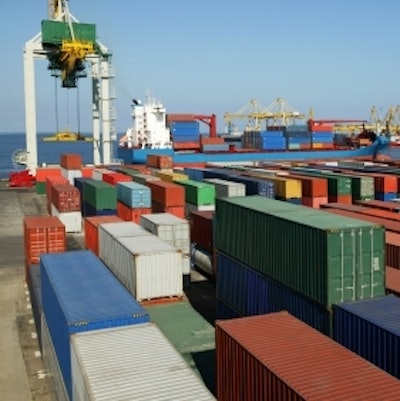 The twin trends of global markets and extended supply chains account for the many container ships crisscrossing the oceans, each loaded with thousands of containers and combined cargo worth hundreds of millions of dollars. Consumer packaged goods (CPG) companies in the U.S. are traveling both lanes of this transoceanic traffic, importing goods from offshore manufacturers and exporting goods (especially to markets wherein a devalued U.S. dollar makes their products more price-competitive). As with all forms of transportation, proper packaging for containerized ocean shipment is essential to cargo arriving in acceptable condition; but lack of knowledge regarding what constitutes proper packaging can result in unnecessarily high rates of damaged cargo.

Unique Distribution Hazards. An ocean container is subject not only to the hazards of surface transportation, but also to those unique to water. An oceangoing container ship undergoes a variety of motions: roll, pitch, yaw, heave, sway, and surge. We landlubbers need not be versed in such seafaring terms, only appreciative that they describe motions that are up and down, forward and back, side to side, rocking and rolling---occurring in all possible combinations, depending on the tides and weather.

In further illustration of the uniqueness of such hazards, it's not unusual for a container ship to roll 35° from vertical to one side, return to vertical, then roll 35° to the other side, during which a container stacked center-deck travels a sweep of more than 60 feet. It's not that the container slides along the deck; the travel is due to the roll of the entire ship. By contrast, no truck or railcar undergoes such pendulum swings, and couldn't, without overturning.

Something else not done to trucks and railcars is the lifting and stacking that's done to containers to get them on and off the ships. During the process, containers can undergo tilts and sudden accelerations and decelerations, as they are raised and lowered.

Water is a hazard, often underestimated, because a container is thought of as a secure enclosure that shields its cargo from the elements - true, under perfect conditions. A container with the slightest hole in its roof, sidewalls, or floor is not watertight, and cargo can end up sitting in a puddle, particularly if the container makes the journey stored on the deck of the ship. Even if stored below deck, damaged containers can allow entry to high levels of condensation and ship sweat. Incidentally, damage also can result from water entering through faulty door gaskets, in an otherwise structurally sound container.

Bad enough in their individual rights, physical and environmental hazards can work in concert, such that cargo arrives at the destination port a wet, crushed mess.

Protective Packaging. Distribution packaging (a.k.a. transit packaging) is optimized when its protection capabilities are equal to the anticipated hazards, because when less than, damage occurs, and when greater than, added costs are incurred for overpackaging. For all its theoretical simplicity, however, the equation poses practical challenges, in that the more far-flung the logistics, the more difficult it becomes to map hazards with precision, and the more difficult it is to know from observations and measurements what to anticipate, in what sequence, and to what degree. Adding to the challenges is that damaged cargo from overseas can't be replaced rapidly, exposing a company to supply disruptions, lost sales, and poor customer relations.

To err on the side of caution and accept the probable overpackaging might seem a reasonable approach; however, sustainability has introduced constraints. The clamor, especially farther down the distribution channel, is for less packaging on all levels, not just the primary packaging, but secondary, and tertiary (distribution packaging)—corrugated boxes, film wrap, etc. Not that the levels are independent from one another, far from it. Each should contribute to overall protection and unit load integrity in a systems fashion.

Cubic Space Utilization. Whatever the design of the packaging and its engineered capabilities, efficient use of the cubic space inside the container is essential to protection. The cargo should be rendered as immobile as possible. Ideally, unit-loads should be dimensioned for the most snug fit. Realistically, however, those dimensions often are by default, the product of factors more reflective of marketing concerns than of transportation concerns: primary package and secondary package designed for shelf-facing; case-pack quantity determined by tradition; or unit load case count determined by order quantity.

Matters would be even less ideal, if not for the wide use of standardized pallets that bear some relation to container width and length. Another help is the availability of software that calculates the most efficient pallet patterns, given the case dimensions.

Still, there will be voids within the container that have to be filled with dunnage designed for that purpose. Also, it might be necessary to use blocking and bracing to keep the cargo immobile. Dunnage, blocking, and bracing consume space that might otherwise be occupied by cargo, but, their use is justified by increased protection, as well as increased safety because the container should not be so loaded that cargo rests against the doors where it may fall out when the doors are opened.

As long as the weight limitations of the container are not exceeded, the objective is to fit as much cargo into the cubic space as is feasible. For products so lightweight that weight limitations of the container are not a factor, space utilization becomes even more important. In response, some companies substitute slipsheets for pallets, a common practice for truck trailers, but one that should be adopted with caution for containers. The inches of clearance from the floor provided by pallets can be cost-effective insurance against a wet container bottom.

Strategic Opportunities for Package Engineering. A competitive advantage accrues to companies with the most knowledge and control of their containerized shipping. As earlier mentioned, geography makes that difficult. It also provides opportunities for the package engineering function - often regarded by senior management only in tactical terms - to make strategic contributions.

Package engineering should step forward with protocols for the evaluation of packaging and loading alternatives, not just for exports but for imports. Another contribution would be standardized procedures that assure that the weight of the cargo is balanced throughout the container - what's known as a planned stow.

It's easier to standardize for frequently shipped homogeneous loads; even so, heterogeneous, infrequent shipments lend themselves to some standardization. One example is how cargo of varying sizes and weights should be positioned and stacked so that the smaller and lighter items are not damaged by the larger and heavier ones. Efficiencies can be increased through computerized integration of the aforementioned with shipping orders, whereby, for example, a load diagram is automatically printed.

Another circumstance that can apply to homogeneous loads and heterogeneous loads is different consignees, that is to say, the container is unloaded over various stops. When the container is not loaded first-in-last-out, costs and inefficiencies increase, and often so does damage, when the remaining cargo is not properly secured. The loading practice would seem common sense; nonetheless, it's breached time and again. It need never happen if every load is subject to the proper document control.

Are all the foregoing standards, protocols, documents, etc., which in no way constitute an exhaustive list, rightfully the responsibility of the packaging function, or of some others within the company - transportation, for example? A reasonable question, and one best answered by keeping in mind that packaging is an interdisciplinary function, and its place on the organizational chart varies widely among companies. Packaging management should never shy from bringing forth initiatives that impact its functionality, without concern over where responsibility for execution is placed.

Federal inspection planning
Forward-thinking companies should be busy strategizing about federal inspection of containers, a politically hot topic for years, that might take form in the foreseeable future. How random it will be, how lengthy a process, and whether it'll be automated (i.e. scanners) or have a manual component are key concerns. If manual, what's the best way to package and then load, brace, and block a container to accommodate that type of inspection while insuring continued load integrity for the land leg of the journey?

Containerized shipping will continue a steep growth curve, particularly for routes between the U.S. and China, India, and Europe. Container ships are being built bigger and bigger, the ultimate check destined to be the navigational limitations of certain high-traffic waterways, such as the Suez Canal. U.S. companies - big, medium, and small - seeking their shares of world trade, would do well to understand that at the heart of it all is the container, but it is packaging that is the beat.

Before becoming a packaging consultant, Sterling Anthony worked for Fortune 500 food, healthcare, and automotive companies, and has taught packaging at the university level. He welcomes your comments by phone, 313/531-1875 or by e-mail, Sterlinganthony1@sbcglobal.net. His Web site is www.pkgconsultant.com.