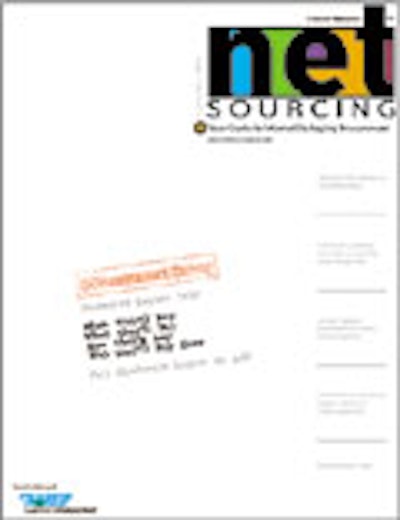 The Myth of the Single Portal
Letters to the editor
Capital Machinery E-sales on Hold
Notable web sites
Racking up the savings
Purchasing packaging materials online saves time, space and headaches for manufacturer of racks and storage systems.
Materials Purchasing: Grocer buys into online shopping
Grocery retailer H.E. Butt Co. procures packaging materials through the INC2inc Internet marketplace. Now it's persuading its vendors to climb aboard.
Preserving collaboration in the age of e-procurement
How General Mills intends to tap idmarket.com to gain efficiencies while increasing speed to market.x
Used machinery: Offline help drives online purchase
Sourcing in a whole 'NEW WAY'
Bearing manufacturer saves weeks by sourcing its tabletop protective packaging dispenser kit online.
Price Tool nets Levolor $54ꯠ in corrugated savings
Levolor Canada has already saved $54ꯠ this year by tapping the information and pricing resources of CorrugatedPrices.com. The cost? A $200 subscription fee and a few hours' time.
E-procurement intentions survey: Too many sites? Or too little experience?
Packaging procurement via the Internet is already here for some buyers. But very few have developed enough experience to identify which kinds of sites are going to get their company's business.
Sourcing globally, clicking locally
The Body Shop pares down on time needed to research containers by tapping into a global, multivendor online stock container catalog.
Companies in this article