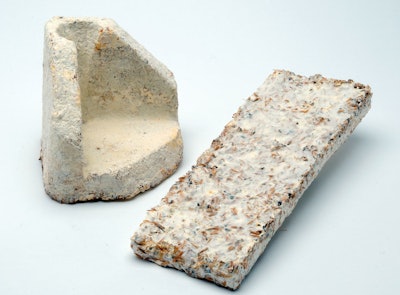 Protective packaging that's grown
Only two Diamond Awards for Excellence in Innovation, Cost/Waste Reduction and Sustainability were handed out this year, and one was won by Ecovative LLC for its EcoCradle™ protective packaging product. It's grown from mycelium (mushroom "roots") and regionally sourced agricultural by-products such as cotton burrs or oat hulls. Positioned as a cost-effective, home-compostable, and more sustainable replacement for expanded polystyrene and other petroleum-based protective packaging materials, it's been in commercial use for more than a year. Users now include office furniture maker Steelcase and computer giant Dell.
Founded in 2007 and currently operating in a pilot production facility in upstate New York, Ecovative plans to expand soon to new regional facilities. A May 24 equity announcement named 3M, Rensselaer Polytechnic Institute, and Doen Foundation as Ecovative investors whose backing will help Ecovative scale up manufacturing of its revolutionary material.
Why "revolutionary?" Because it's grown rather than made. It capitalizes on mushroom fungi's natural ability to break down organic matter. And because the organic matter in this case is crop waste, it means that this technology, unlike some other biopolymers, isn't based on turning food or fuel crops into packaging material. Only inedible crop waste is used.
The magic, of course, is mycelium's ability to self assemble lignin and cellulose into strong biopolymers as it breaks down the crop waste. What Ecovative has cleverly done is come up with a way to have this completely organic and natural process take place within the confines of a mold, or, as Ecovative likes to call it, a "grow tray." It's the grow tray that gives the resulting part whatever shape the customer requires. Once the material has grown into the desired shape, it's heat-treated to stop the growth and the part is finished.
Even the grow trays are fashioned with sustainability in mind. They're engineered to last a long time and eventually get recycled.
As for the Ecocradle parts themselves, they take about a week to grow. Ecovative scales the number of grow trays to accommodate a customer's unit volume and delivery requirements.
So there you have it, a cost-effective replacement for petroleum-based protective packaging that is grown from ag byproducts using minimal energy and that breaks down quickly in the home compost pile. No wonder it's caught 3M's attention.
"Ecovative has the kind of disruptive, breakthrough technology that can be a game changer in various industries," says Stefan Gabriel, president of 3M New Ventures. "We are pleased to be working with Ecovative on the development and deployment of this exciting technology that we believe will enhance 3M's footprint in sustainable polymer technologies.
Companies in this article