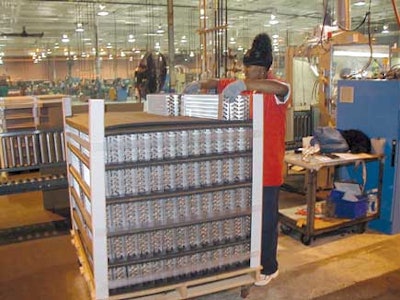 Global heat-transfer equipment specialist Outokumpu-Heatcraft is reaping major time, labor, and packaging materials savings since it changed the way it palletizes its heating/cooling/
refrigeration coils.
Owned by Finland's Outokumpu (55%) and Dallas-based Lennox Corp. (45%), Heatcraft operates administrative offices in Memphis and manufacturing headquarters in Grenada, MS. At Grenada, Heatcraft produces about 10ꯠ to 12ꯠ coils per day. They're used in a variety of applications, including commercial and industrial coolers and trailer-truck cooling units.
Basically rectangular in shape and constructed of aluminum fins, copper tubing, and steel headers, the coils can be rendered defective if they're dented or otherwise damaged in transit. Heatcraft used to pack the coils in corrugated board. Sheets of corrugated were slit into pieces and slotted so they could be joined together to form 15 or so compartments. Coils were inserted into these compartments standing on edge, and between coils custom-cut "egg-carton" cushioning was inserted to keep the coils apart from each other. Once a layer was complete, a sheet of corrugated was placed over it and another identical layer of corrugated compartments, coils, and egg-carton cushioning was placed on top. Layers were repeated until a pallet load was complete. Then a four-panel corrugated side wrap was wrapped around the layers of coils and a corrugated end cap was placed on top. Banding completed the package.
This approach involved old, inefficient slitting and slotting equipment that worked slowly, required major worker involvement, and took up a significant amount of plant floor space. In addition, on a daily basis the process generated huge amounts of corrugated scrap materials that had to be gathered up for recycling.
Recognizing the need to upgrade palletizing methodologies and improve cost margins, management turned to Links Support Services for help. This "insourcer" specializes in contracting with manufacturing clients to manage non-core, non-technical activities inside the client facility with the objectives of reducing labor costs and providing professional management expertise to improve the client's operating and cost efficiencies.
Links representatives came to Heatcraft's Grenada facility, conducted a lengthy evaluation of the situation, and tested various pallet concepts that could save Heatcraft time, labor, material costs, and floor space. Then, under an insourcing contract, Links brought 65 (now 80) of its own people to Heatcraft's Grenada plant to handle the coil palletizing operation in two to three shifts. Rapid growth at Heatcraft made it possible to redeploy most of the in-house workers who formerly handled packaging.
So what does the new packaging format look like? Layers of coils on edge remains the same. But now the coils are seated in layers of reusable Cell-u-Cushion foam supplied by Sealed Air. The first of these layers is laid flat on a pallet. Seated in slots cut into the foam, the coils stand upright and apart from each other with no need for the egg-shell cushioning used formerly.
The number of coils per row and the number of rows per layer depend on the dimensions of the coils being packed. The coils seat themselves in the foam layer and become stabilized against any movement. When a layer is complete, a corrugated slip sheet is placed on top. Then another layer of slotted foam is placed on the slip sheet and is filled with coils. This sequence of layers is repeated until the load reaches allowed height (generally 37" to 45") and weight (typically 500 to 700 lbs). Each row of coils also can be stretch-wrapped, if desired, depending on coil size/shape/weight.
Corrugated corner boards are applied, then a corrugated cap is placed on the top layer of coils. Two polyester straps are placed around the pallet load, and a strong 135-ga stretch film is applied by an Orion stretch wrapper. International Paper Co. is the major corrugated supplier. Associated Packaging sources all the packaging materials, except the corrugated board.
Links president Paul Sorey says that Associated Packaging provided significant support by both sourcing packaging materials and assisting in the pack design. He adds this about the design that was ultimately selected. "We looked at a number of alternative designs that would also have offered more flexibility and required less time, labor, floor space, and materials cost. But this 'sandwich pack,' which keeps individual coils apart from each other without having to put egg-shell cushioning in between, appealed the most."
Performance tests
Heatcraft and Links enlisted the expertise of the independent packaging test laboratories of Packaging Technology Center to conduct a rigorous battery of tests on the new pallet design to make sure the packaging could withstand rough handling and shipping conditions. The regimen included vibration compression tests, impact handling tests, and fork truck handling tests.
Overseeing the test team was Tom Schneider, president of Packaging Technology Center and a Certified Packaging Professional. The vibration compression tests replicated rough road vibrations over a 1ꯠ-mile trip with a weight load of 900 lb and were based on Item 180 LTL (Less-Than-Truckload) shipment test standards. Impact tests, based on ASTM (American Society for Testing & Materials) D1083 standards, were divided into two phases: rotational drop tests from a height of 9", and incline impact tests, simulating a pallet slide at velocities of a minimum of 4'/sec, impacting against a solid barrier. Finally, fork truck handling tests gauged how well the packaging protected the coils when pallet loads are repeatedly jarred. In this testing, a multiple speed-bump-type simulation was conducted.
Schneider notes, "In all these tests, we found that the pallet pack performed well. The layers of cushioning served to protect and stabilize the coils, and there was no or negligible product movement or contact occurring between the coils to cause potentially costly damage."
Payback
Implementation of the new palletizing method is reaping significant savings for Heatcraft. "This is high-performance packaging made simple," says Sorey. "There's no slitting, no slotting. Labor costs and volume of packaging are reduced. And recycling procedures are made easier. The foam sheets are reusable up to 3 or 4 times."
Dick Brereton, Heatcraft vice president of manufacturing, says, "For us, it's about lean manufacturing. We're able to pallet-pack products more quickly, more efficiently, avoiding cost increases down the line. We can give our customers faster deliveries with shorter lead times. And the insourcing of Links' staffers has helped us free up our engineers to do other things."
On the subject of coil damage control in shipper packs, Brereton notes, "We didn't have much coil damage before, but that was because the pallets were basically over-packed. Now we can ensure safe delivery with less packaging material."
Companies in this article