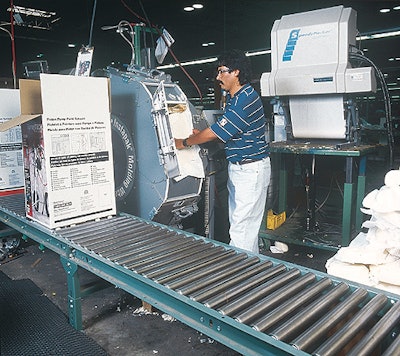 However, the method's complexity—some products required as many as seven inserts—led the Minneapolis company to seek a simpler cushioning solution.
"Our paint sprayers range in weight from a 30-pound unit packaged in a 16x10x10-inch case to a 150-pound unit that goes into a 34x25x25-inch case," says Wade Isaacson, manufacturing engineering manager. "We needed a packaging system that accommodated both the lighter and heavier products, while maintaining our case sizes."
That system proved to be Sealed Air's Instapak® Gflex® high-performance polyurethane foam packaging. It enabled Wagner Spray Tech to save 20% to 45% on material costs and reduce packaging labor by 50%.
It is used in conjunction with Sealed Air's SpeedyPacker® foam-in-bag packaging system that dispenses foam-filled bags in a variety of sizes. Once dispensed and placed around a product in a case or in a mold, the foam expands inside the bag to form a protective cushion. The Gflex foam is specifically engineered to accommodate heavy products that require protection from multiple impacts during shipping.
The system was purchased through distributor Jesco Industrial Supply.
The perfect system
"It is the perfect system," says Isaacson. "It helps us reduce inventory, we produce the cushions as needed, and changeovers are quicker. It made total sense."
Wagner's packaging process, completed by late 2000, involved three packaging lines: one for high-volume contractor products, one for low-volume contractor products, and a third for high-end consumer piston pumps. Installed were three SpeedyPacker foam-in-bag systems, two Instapak Molding Wheels, and an Instamolder High-Speed Molding System. For some products, the foam-filled bags are placed into a molding machine. For others, the bags are placed directly with the products into the cases. The lines operate five days a week.
"We specifically looked for a versatile packaging system that would accommodate the changing products and keep changeover time to a minimum," Isaacson says. "The products that are packaged on one of those lines change as often as five times a day."
Sealed Air designed cushioning for each of the seven Wagner paint sprayer models. Most products require three cushions. "We reduced packaging labor by 50 percent, allowing us to use employees in other productive ways, such as assembling the sprayers," Isaacson says. "Employee feedback has been very positive."
Additional labor savings were realized in handling and stocking pallets of the inserts. According to Isaacson, half of a forklift operator's day was spent transporting the corrugated inserts to the packaging area. The driver was also appreciative of the change. According to Isaacson, "He said he almost could have hugged me."
In addition, pallet space for storing packaging inserts was reduced from 52 pallet spaces to two, freeing up valuable space.
Isaacson calls the start-up exemplary. "I've never had a company do such a thorough, professional job of an install," he says. "I've often told people if there's a company to mimic on doing a good install, it's Sealed Air." —RL
Companies in this article