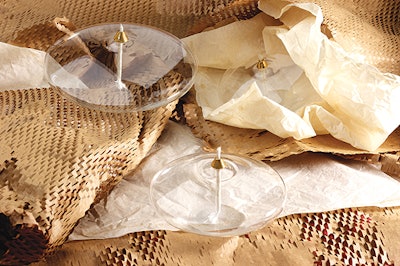 Try, try again. Such was the mantra Rich Burris, president of San Fernando, CA-based Lustrulite, repeated to himself on his seemingly never-ending quest for effective protective packaging to use during shipment of the company's glass lamps.
First, the company used packing peanuts. When that method irked an environmentally conscious, not to mention significant, customer, Lustrulite switched to a recyclable shredded paper. But the ink from the paper stained the product. So the company began using another crushed paper product.
"Meanwhile," Burris says, "during this entire process, we were having an ongoing battle with the United Parcel Service (UPS) because of damages. If anything breaks that's less than 100 dollars, our contract with UPS states that they will automatically pay for it. If it's more than 100 dollars, they want to drive out and look at how we pack. It's a much more complex hoop that we have to jump through. Things finally came to a head when they told me they were going to discontinue servicing us because our damage rate was so high."
UPS suggested Burris try a compressed air bag. But these were easily ruptured. "I mean, if you packed the box up and tapped it with your foot, it popped. We tried that for a couple months. It was a disaster."
Finally, UPS suggested Lustrulite look into Geämi (Morrisville, NC). The Geämi system is a complete paper-based protective packaging system that looks like regular kraft paper with thousands of slits in it until it is fed through the company's expanding machine. Controlled with a foot pedal, the machine pulls the paper from a roll and through it, stretching the paper into a honeycomb with thousands of little hexagonal cells. The expanded paper is combined with a layer of interleaf tissue to protect the product.
"We tested the different shipping methods for a month. And it was real obvious," Burris says. "We were still getting a huge amount of breakage with everything but the Geämi. And we had already tried so many, we thought, what's one more?"
Wrapping up the savings
"The amount of money I spent having staff here to deal with UPS—I mean, that was a full-time job," Burris says. "They had to deal with the customer. They had to file the claim with UPS. Then they had to bill UPS. And then they had to follow up with it. It was a major deal."
That's not to mention the amount of money saved on damages. Where Lustrulite was losing more than $1000 worth of lamps per week, the company now only loses $50 during shipping per week—if that.
"For us to be able to see that much of a reduction in damages, it's just fabulous. UPS has not changed. We still have our regular drivers. We haven't moved locations. So, there aren't any outside variables that have come into play here. We're just extremely happy with Geämi," Burris says.
Because Geämi gave Lustrulite the expanding machine to use for free, the lamp manufacturer only has to pay for the packaging materials. And where Lustrulite was paying nearly $1000/month to store the bags of packaging peanuts, the Geämi material sits on a pallet in the corner of the Lustrulite warehouse.
"The savings are incredible," Burris says. "We get such little damage that it's absolutely incredible."
Companies in this article