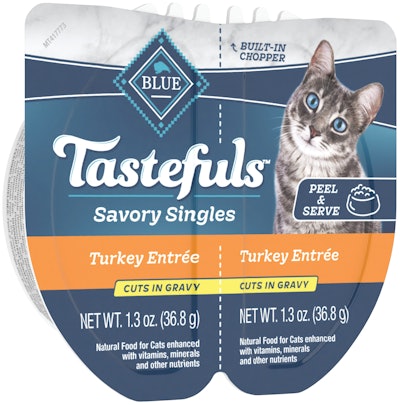 Twenty-one professional and six student winners were selected as recipients of the AmeriStar Award, a design competition in the packaging industry produced by the Institute of Packaging Professionals (IoPP).
A roster of 21 judges from various packaging industry segments evaluated this year's entries and examined each for product protection, packaging innovation and performance, economics, marketing, and environmental impact. Additional evaluations for 2022 coincided with introducing two new categories, design excellence, and sustainability.
Judges reviewed package entries across the 19 categories for professional and student awards and the program's prestigious Best in Show.
The Best in Show winner is:
Blue Buffalo Tastefuls Spoonless Singles from General Mills (shown above) were designed to provide users with a perfectly portioned, split cup offering with a built-in chopper. The recyclable polypropylene cup easily breaks in half, allowing for flexible feeding options and reducing the need to store half-opened containers in the refrigerator. According to General Mills, significant work went into the formula design to ensure the matrix would hold together with enough firmness, but the packaging was also leveraged to enable better evacuation.
AmeriStar Award winners by category:
Cosmetics
Repeat Refillable Airless from FusionPKG (shown) has a POM-free pump engine that is thoughtfully integrated into its refill cartridge, allowing users to refill the product without exposing the formula to air and providing users with a new pump engine at every refill. When a user engages the pump, the actuator on the outer component connects to the pump engine on the inner cartridge to initiate dispensing and precision dosing.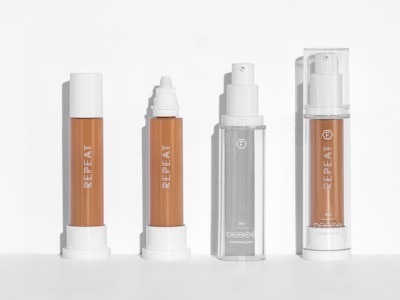 Design Excellence
Blue Buffalo Tastefuls Spoonless Singles from General Mills also won the overall Best in Show Award, a description is above.

Hard Hat Packaging from Klein Tools (shown) is a package system consisting of two product conforming, interlocking thermoforms paired with a die-cut corrugated carton. Using existing packaging ideas in a new marketplace helped demonstrate to consumers that the Klein Tools hard hat was new and different from competitive products. Compared to a non-nesting package design, this nesting package design allows 207% more product to fit inside a shipping container, resulting in reduced landed cost and distribution cost.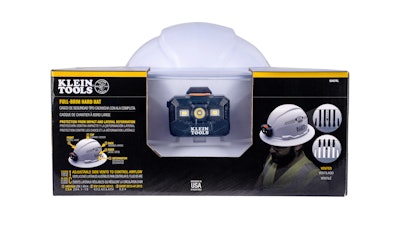 Drug and Pharmaceutical
Vital Proteins' Collagen Peptides Powder container from Selig Group (shown) has an interrupted thread closure that allows for material reduction and less distortion of the thread when stripped from the mold. This package not only has a tamper band but has the added benefit of a heat induction liner, providing two levels of tamper protection. The container, scoop, and cap are fully recyclable HDPE, and the induction seal is of a 'clean peel' variety, leaving no unsightly or non-recyclable material on the container land area.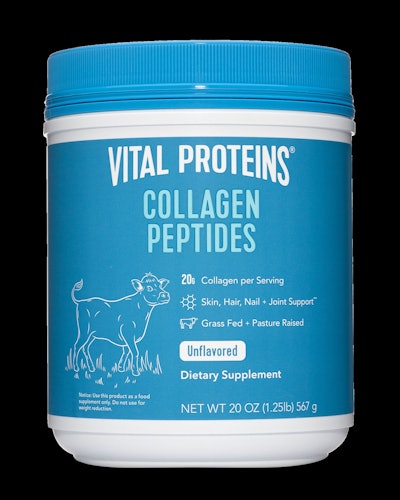 Food (Frozen)
Peel&Seal® Reseal Tape on Kellogg's® Eggo Frozen Waffles Packaging from Sealstrip Corporation addresses ongoing complaints of stale products with freezer burn by adding a reseal feature. The reseal solution innovated specifically for Eggo enables a broad application temperature range, excellent adhesion to the low surface energy polyethylene packaging film, and exceptional moisture resistance. The Peel&Seal material was reduced by 25% without compromising the effectiveness of the feature, consumer experience, or production efficiency while maintaining the reseal function, resulting in end-of-life waste reduction. Retrofitting Peel&Seal applicators into the existing packaging lines maximizes overall production efficiency.

Food (Refrigerated)
New Seasons PaperSeal Tray for Fresh Pasta from Graphic Packaging International (shown) uses an inventive structure design to create a one-piece continuous sealing flange around the edge of the tray. Available in multiple formats, including modified atmosphere (MAP), vacuum skin (VSP), and non-MAP top-seal trays, PaperSeal® can be used to pack fresh and processed meat, pasta, cheese, snacks, salad, fruit, and more. PaperSeal® trays are specifically designed to fit customers' existing vac-form tray lines, thus minimizing disruption of the existing packaging process and reducing total implementation costs.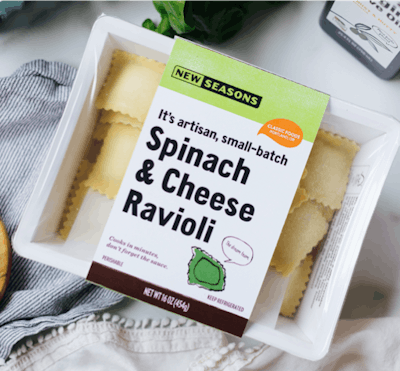 Food (Shelf Stable)
Adjustable Grinder with Removable Head for Recycling from McCormick & Company, Inc. includes a new, removable grinder head. The package includes a diamond pattern on the grinder body, a biinjected over-cap to provide a tighter seal for freshness, and a new curser with the adjusting feature icons embossed into the top for consumer communication. The grinder is adjusted by rotating the perspective size groves on the cursor over the aligning notch on the grinder body. The cursor locks into place to ensure that it does not move during grinding.

Brandywine Coffee Roasters from Tricor Braun (shown) uses three points: design, material, and technique. A pocket zipper replaces the traditional tin tie used in most coffee bags to facilitate opening and closing. The packaging is a flexible packaging material that is 60% compostable and 60% renewable. Since a portion of the bag will break down naturally in a home composter, the material reduces the amount of packaging that ends up in landfills. Because the plant-based components that go into the material absorb CO2, there is a climate benefit compared to traditional fossil-fuel-based packaging. Finally, designing the bag to have a Kraft paper finish enables small batch silk screening of the company's locally sourced artwork.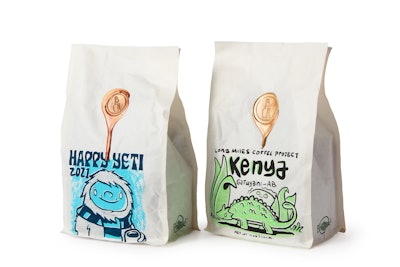 Ferrara Candy Company Nerds Twist & Mix from Tricor Braun features a custom PP base, divided into five separate compartments. The custom lid design is a clarified PP lid that consumers can twist; they can then use a small resealable flap to open either their favorite flavor or open between two compartments to pull out flavors from both. The package deploys a new lid-closing mechanism: a robot hand on the production line that mechanically pushes down and closes the lid flap, so the package is securely sealed and dropped into corrugated boxes for shipping and distribution to the customer.

McCormick Food Color Package Renovation from McCormick & Company, Inc. improved ergonomics by moving to a larger bottle format that is more stable, has an attached flip-top closure, and allows for easier home storage. The new closure improves the consumer experience by enabling one handed opening and closing, while maintaining the drip‐drop feature that enables easy control for measuring.

Health and Beauty Aids
Head & Shoulders CLINICAL Scalp Calming Treatment Tube from Viva Healthcare Packaging (Canada) Ltd. (shown) was developed to facilitate the precision application of its formula and provide a striking impact on the shelf. The applicator head is injection molded, then welded onto the cut shoulders of an injection-molded polypropylene tube, the lowest density of commodity plastics. The applicator is made from polypropylene, maintaining a mono-material design. The in-mold labels provide full coverage artwork from shoulders to end of crimp, 360 deg around the tubes.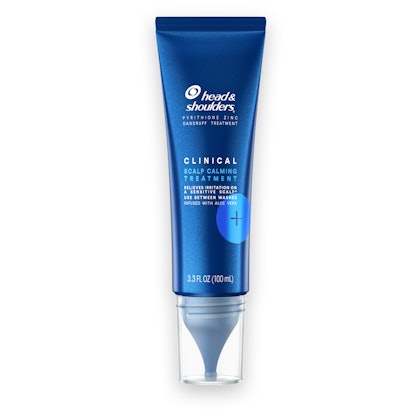 Industrial/Commercial
RP System® from Mitsubishi Gas Chemical Company, Inc. provides manufacturers of sensitive products 24/7 protection from moisture and oxygen damage during shipping and long-term storage. According to Mitsubishi, it's the only product that offers oxygen and moisture protection in one complete system. The packaging solution has the potential to change production methods and ease the burden of unpredictable parts forecasting in the future.

TerpLoc® Automated Curing & Long-Term Storage Cannabis Pouch from Kinzie Advanced Polymers LLC dba Grove Bags takes a new approach to the idea of modified atmospheric packaging and allows industrial cannabis facilities to maintain up to 37% more terpenes and up to 7% more THC by using the natural moisture of the cannabis plant to support the internal microclimate and keeps packaged product moisture loss below a 1% variance.

The Master Builders Solutions Tray Pals from Placon (shown) holds pouches of activator for construction adhesives. The trays rest on the rim of large steel pails (2 and 3.5 gallons) with either one or two pouches containing an activator, and the trays act as a barrier between the pouches, lid, and liquid chemicals inside. When the pail opens, there is no sticky residue of the liquid chemicals contaminating the pouches or lid. While the design at first glance appears simple, it innovatively solves a negative customer experience due to the tight tolerance required. The tray's rigidity holds the bags of activation powder, and the tray's design prevents liquid from splashing up on the bags of activation powder and the lid.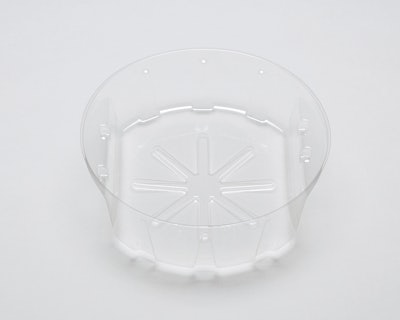 Medical Device
3-Web Pouch Design from Oliver Healthcare Packaging (shown) was designed with the end-user in mind, offering a "multipack" configuration without increasing the shipping footprint. The surface treatment applied to the product exponentially increases patient safety and has sensitivities to contact materials and environmental conditions. The packaging system needed to accommodate these variables while providing a user-friendly sterile barrier that is easy to manufacture.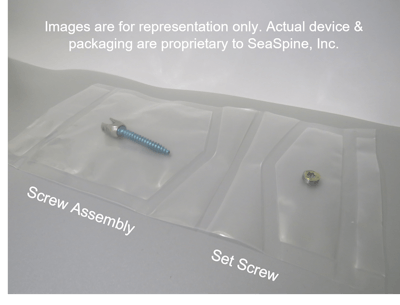 CapSure™ from Becton Dickenson-Surgery is used for a minimally evasive hernia repair procedure.With a miniature-sized retainer called SEEkeyMD®, this 1-g retainer allows additional support to the base tray to reduce sheet thickness from 40 mils to 30 mils. The 25% plastic reduction—equal to 295,417 16 oz. water bottles a year—and associated cost savings advanced the project.
Sustainable Packaging
AmSky™ Thermoform Blister System from Amcor Flexibles Healthcare North America (shown) takes a unique approach to recycle-ready blister packaging by using high-density polyethylene (HDPE) in a proprietary formulation to create both the formed blister and lidding, demonstrating a new usage of existing materials. This packaging system presents end users with a seamless, single-stream option for end-of-life disposal.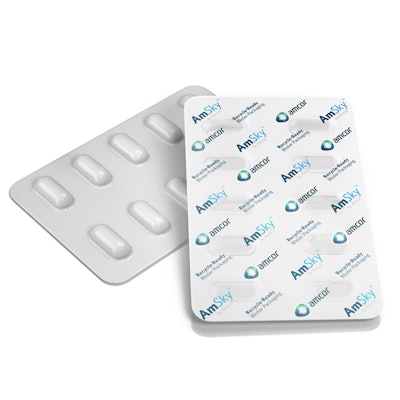 Colgate Keep Toothbrush from Colgate-Palmolive has a handle that is the first of its kind, made with aluminum instead of plastic – eliminating 80% of the plastic waste from a typical toothbrush. Keep's 100% paper-based package allows consumers to recycle the packaging in a single waste stream and eliminates new plastic from being introduced into the environment. Colgate-Palmolive leveraged its expertise in thermoforming to deliver a package that is now fully recyclable at scale and operates well with established packaging lines.

Recyclable Mono-Material Pump – Future from Aptar Beauty + Home and Dermalogica is a fully recyclable mono-material pump consisting of a plastic spring that makes it possible to recycle the bottle and pump as one unit. Because this Future pump is made from polyethylene (PE) only, which aligns with the most common materials used to make bottles – PE and polyethylene terephthalate (PET), the complete packaging, including pump and bottle, is more efficiently recycled.

SimpliCycle, A Fully Recyclable Valve from AptarGroup, Inc. is a 100% recyclable valve solution for food, beverage, and foodservice products. The valve is comprised of proprietary low-density material that floats, allowing it to be easily separated from the PET stream and then recycled along with the PP/PE olefin stream.
SLIDE, A Liner-Free Closure from AptarGroup, Inc. (shown) is unique in that it does not require the application of a foil liner between the cap and bottle. Removing this foil liner component improves the consumer opening convenience, eliminates waste as liners are not recyclable, and reduces greenhouse gas emissions by 16%. To enhance the positive environmental positioning of SLIDE Aptar even further can offer it with post-consumer polypropylene content.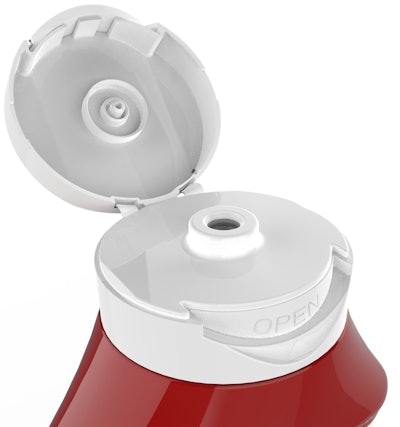 Student Winners
AstroKnot from Ryerson University is a pretzel bites package that can hold a product and two flavored dips in the same container. The packaging allows everything to be held in one hand, which frees up the second hand to let the consumer dip their pretzel and eat it.

Ensemble - Australian Oat Packaging from Ryerson University was created to solve the many obstacles of traditional bagged oat packaging. Compared to plastic, paperboard is a more cost-effective material, and the carton design allows for easy stacking, like a small carton. The tab closure allows for easy opening of the package with the sides folded inside-out to create a spout to make usage easy.

Frankencell Battery Packaging from Ryerson University dispenses and disposes batteries from a compact cube shape, designed to address critical issues such as inaccessibility when opening and retrieving batteries from the package and a lack of storage once consumers open the product.

Omnichannel Corrugate Board Cactus Package from Ryerson University (shown) is designed to minimize transportation damage of fragile, live products like plants. The box has a door-like closure that will help to contain and protect the product during transit while also contributing to a pleasing ergonomic experience when opening the package. The door-like opening can allow the display of the plants in-store, allow light into the box, or facilitate an entryway for watering.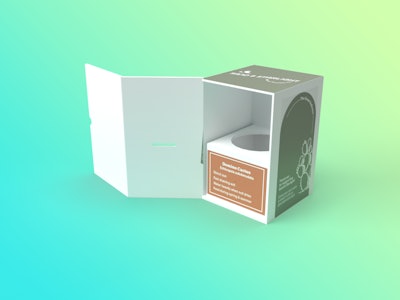 OUCH! First Aid Kit from the University of Cincinnati is a first aid kit in book form. When opened, the left side is a home for tools, each in a designated pouch, and the right side is divided into pages of usage instructions on the top and items on the bottom. When the first aid book is closed, it takes the shape of a box to provide more structure and protection.
Rinse from the University of Cincinnati is a collection of all-gender, sustainable personal care products geared toward bridging the gap between products specified for a single gender, which will reduce the amount of both manufacturing and purchasing needs and result in a more inclusive and sustainable system.
See images of all the 2022 AmeriStar Award winners at IoPP's website.
Companies in this article
Videos from Graphic Packaging Intl.