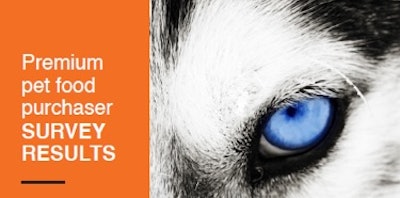 Attendees visiting Mondi's booth at PACK EXPO Las Vegas were treated to a complimentary copy of a white paper with results of an in-depth survey of premium pet food consumers. The 18-page paper, entitled "Premium Pet Food Purchaser Survey Results: Trends, Behaviors and Insights Pet Food Manufacturers Can Leverage to Convert Consumers," is based on research conducted by Mondi in partnership with Dow Chemical in the first quarter of 2019.
Highlights from the survey, which polled 605 premium pet food purchasers from across the U.S., include the following:
Seventy-five percent of consumers say they would feel more favorably toward a brand that changed its packaging to be more sustainable
Eighty percent of premium pet food shoppers are trying to reduce their impact on the environment
Eighty-two percent seek packaging convenience: "…solutions that make life easier"
Seventy-five percent identified product freshness as an important packaging feature
The white paper's actionable insights cover what buyers look for in premium pet food brands, what features would influence them to switch brands, and how different packaging features drive purchasing decisions.
Mondi team members were on hand at the booth to discuss the research findings and related packaging strategies to help pet food brands meet evolving consumer preferences.
A webinar on the topic, "Does Sustainable Packaging Impact Pet Food Buying Behavior," featuring Holly Dunhill of Dow and Bill Kuecker of Mondi, is scheduled for Nov. 6 at 11 a.m. EST. To register, e-mail [email protected].
Companies in this article