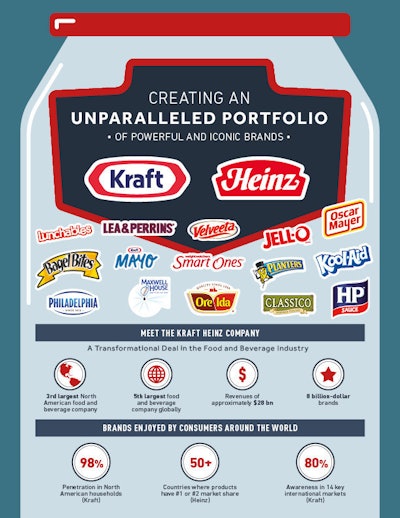 H.J. Heinz Company and Kraft Foods Group, Inc. have announced that they have entered into a definitive merger agreement to create The Kraft Heinz Company, forming the third-largest food and beverage company in North America and the fifth-largest in the world. Under the terms of the agreement, which has been unanimously approved by both Heinz and Kraft's boards of directors, Kraft shareholders will own a 49% stake in the combined company, and current Heinz shareholders will own 51% on a fully diluted basis. The transaction is subject to approval by Kraft shareholders, receipt of regulatory approvals, and other customary closing conditions and is expected to close in the second half of 2015.
The new company will be co-headquartered in Pittsburgh and the Chicago area and will have revenues of approximately $28 billion. The combination of these food companies joins together two portfolios of iconic brands, including Heinz, Kraft, Oscar Mayer, Ore-Ida, and Philadelphia. Together the new company will have eight $1+ billion brands and five brands between $500 million and $1 billion. According to a press release on the merger, the complementary nature of the two brand portfolios presents substantial opportunity for synergies, which will result in increased investments in marketing and innovation.
When the transaction closes, Alex Behring, Chairman of Heinz and Managing Partner at 3G Capital—which acquired Heinz in 2013 along with investment firm Berkshire Hathaway—will become the Chairman of The Kraft Heinz Company. John Cahill, Kraft Chairman and CEO, will become Vice Chairman and chair of a newly formed operations and strategy committee of the Board of Directors. Bernardo Hees, CEO of Heinz, will be appointed CEO of The Kraft Heinz Company. The new executive team for the combined global company will be announced during the transition period, but no later than transaction closing.
The Board of Directors of the combined company will consist of five members appointed by the current Kraft board, as well as the current Heinz board, including three members from Berkshire Hathaway and three members from 3G Capital.
Companies in this article