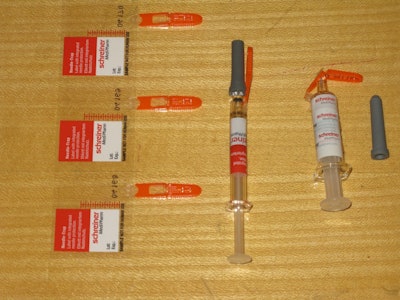 Aseptic packaging that permits preservative-free eye care solutions is one of the more interesting things being talked about at Pharmapack Europe 2014. The need for such a solution is driven by recent evidence that over a long period of frequent use, the preservatives in eye drops can have a negative impact on the eyes. What makes such technology interesting, of course, is that it moves the job of protection from product formula to packaging.
The challenge in developing such a package is simple enough: It needs to release liquid product conveniently in accurate drop-size doses, yet it must not allow any ambient air to enter once the drop has been administered.
Among the Pharmapack exhibitors offering such technology was Aptar. Its ophthalmic squeeze dispenser is made of Pharma-compliant materials and has been qualified with microbiological tests of its tip seal integrity (submersed actuation in a suspension of pseudomonas aeruginosa) and its closure ventilation integrity (closure and filter were challenged with bacilus atrophaeus spores). The container is compatible with existing aseptic filling technologies, too, says Aptar, and unnamed commercial applications exist in Europe.
Elsewhere at Pharmapack, Rexam showed Novelia, a dispensing nozzle system that is also designed with conventional aseptic filling in mind. While the Aptar approach involves a filter, Rexam's approach hinges on a sophisticated nozzle that dispenses calibrated drops, lets noncontaminated air in for venting purposes, and keeps contaminated air out. The HDPE container in the Novelia system is ordinary HDPE. The secret sauce is in the dispensing nozzle, which includes, among other components, a silicon valve and a spring. Rexam's Olivier Serre, Senior Sales Director, indicates that the concept is commercially available in South Korea and in South America.
RPC Formatec is in the final development stages of Xtra*Haler R, an injection molded inhaler for dry powder drugs that brings considerable convenience to those who inhale medication to treat asthma, for example. The powder is housed in a circular blister pack holding up to 30 individual pre-metered drug doses. This blister pack fits into the inhaler, which includes an integrated dose counter. The user activates a small lever to advance a dose into the "inhale" position. The user then moves the lever to the "close" position to rotate a fresh dose into position for whenever it's due. RPC has gotten the concept to the stage where it is seeking a drug maker to perform lab tests, which would be followed by clinical trials and then a marketplace launch.
Similarly impressive from a functionality standpoint was a product from Schreiner-MediPharm called Needle-Trap. It's a pressure-sensitive label solution for syringes that addresses the problem of sharps. Included here is a photo of (from left to right) three labels still on their release liner, a freshly labeled syringe with its protective needle sheath in place, and a post-injection syringe with its needle safely trapped in plastic with no opportunity whatsoever for harm to healthcare personnel. All that's left is disposal into the nearest sharps container. According to Schreiner MediPharm, the Needle-Trap label can be applied by conventional pressure-sensitive labeling machines.
New from Perfecseal is SkyBlue, a high-barrier blister-forming web based on polyolefin chemistry rather than the chlorine chemistry used to produce PVC forming webs. Unlike other barrier blister films, PerfecForm SkyBlue is made via coextrusion as a symmetrical structure. The thickness of the barrier layer, sandwiched between copolyester layers, determines the overall barrier performance.
Also announced by Aurore Domange, Group Event Management Manager for UBM Canon, the producer of Pharmapack, is that the number of exhibitors has gone to 345, up from 300 a year ago. By all indications, the new venue, Paris Expo at Porte de Versaille, has been a big success.
To see a spin + zoom 360° photo, click here.
Companies in this article