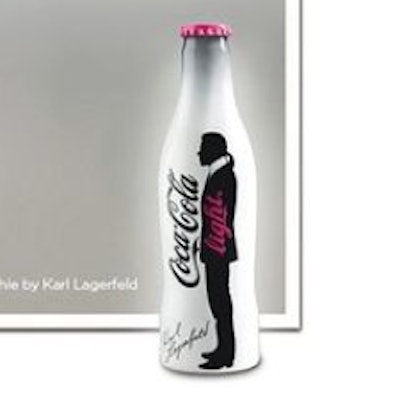 Package designers are told to tap into cultural trend-setting scenes for inspiration, including the word of music, theater, art and fashion. Now a popular fashion designer, Karl Lagerfeld, has designed a limited edition Coca Cola Light bottle for the French market.
The La Times story references Women's Wear Daily as its source, and says the famous fashion maven "designed the soda's white bottle, which boasts a hot pink aluminum cap and a simple black graphic of Lagerfeld's famous silhouette (instantly recognizable by the high collar, pointy boots and trademark ponytail).
Lagerfeld, says the article, is a devoted fan of anything with zero calories and drinks his Coca-Cola Light in "a delicate crystal goblet to accentuate the taste."
Ads for the campaign launch at the end of April and feature a fashion model wearing a Lagerfeld creation from his new Spring line. The ads will run in French magazines and on billboards. Two trendy Paris boutiques will sell a limited edition boxed version of the bottle with a matching bottle opener for 47 Euros, or $64.
I'm assuming one must partake of this designer beverage with pinky finger extended!
Get your daily does of global packaging trends, follow me on
Twitter
.