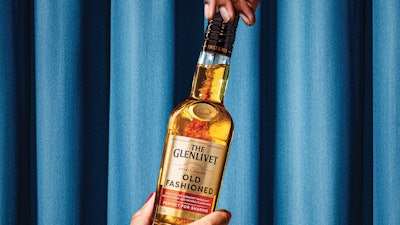 Chivas Brothers' and Pernod Ricard's prestige whisky brand The Glenlivet is debuting its Twist & Mix Cocktails, a line of premium quality concoctions in 375-mL glass bottles. Consumers won't have to dress up and go out to get their hands on two of the most popular whisky cocktails served at upscale bars and restaurants. They can now serve their Old Fashioned, with notes of orange, nutmeg, and cinnamon, or New Manhattan with cherry and ginger flavors, without extra ingredients or mess, right at home. And packaging is what makes this possible.
"What we saw during the pandemic was an increase in moments of elevated conviviality at home, with consumers not only trading up in quality but also increasingly experimenting with both RTDs and homemade cocktails," says Yogesh Gandhi, Head of Innovation at Chivas Brothers Pernod Ricard.
The cocktails are ready-to-serve after consumers complete three simple steps: twist the cap, allow the pressurized ingredient mix to burst from the enclosure into the whisky, and pour the cocktail over ice to share and enjoy. The offering stands to elevate at-home entertaining by providing a crafted experience without the mess or hassle of leftover ingredients, complicated recipes, or bar equipment.
"With this new innovative product, we are inspiring people to enjoy single malt scotch whisky on more occasions and providing a solution to meet consumer demand for high quality, freshly mixed cocktails that are easy to serve and enjoy with friends and family," says Johan Radojewski, Vice President Marketing - Scotch, Irish & Prestige Whisk(e)y, Pernod Ricard USA.
The cocktails themselves might be classics, but there's nothing old fashioned about the functional cap, aluminum shell, and closure system from supplier Vessl that underpins the concept, a first-of-its-kind offering for both the Scotch and broader spirits category.
Practical magic
Every so often, we'll come across a new example of whizz-bang packaging gadgetry that gets our attention. But brands often dismiss these formats in the long run because they aren't practical for one of three typical reasons: the packaging is too expensive per unit, can't run on existing packaging equipment, or imposes friction on consumers who need to follow instructions just to access the unfamiliar product. But this application's unique mix of product, packaging, and demand might have staying power. Here's why.
Like its counterparts in the high-end cosmetics and fragrance categories, premium spirits command a price and margin such that packaging rarely moves the needle on the cost of each unit. Even if the cost of packaging is quite a bit more than the traditional suite of bottle, label, and closure, the consumer isn't likely to feel it in the pocketbook. This is especially true of a new product that hadn't existed before, like this one.
Also, "a common challenge around ready-to-drink (RTD) spirits is that there are a lot of ingredients that simply can't be stored over long periods of time in high-proof, distilled spirits," says Walter Apodaca, Founder and CEO, Vessl, Inc. "At least you can't mix them in your facility and expect them to perform as well or taste as good as they would when mixed fresh. Being stored in high-proof spirits affects color, it affects flavor, it affects aroma. So, the notion of having the ability to mix it at the point of use was intriguing to Chivas Brothers Pernod Ricard."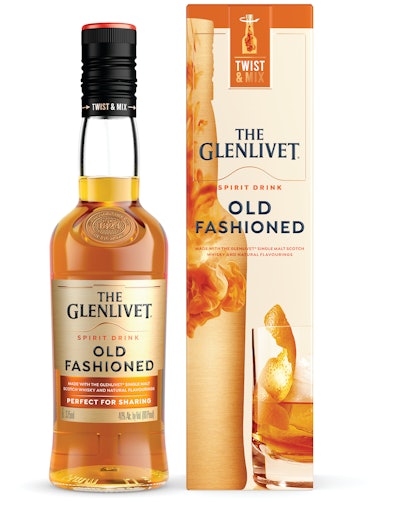 Protecting mix ingredients from the high-proof alcohol base liquid is a new function for Vessl. But it's not just alcohol that can impact a mixer's flavor. In fact, a big driver of the concept is to keep active ingredients fresh and protect them from oxidation and harmful exposure to UV light that would occur if they weren't sequestered in a nitrogen-pressurized tank.
Another factor in this system's favor is that, thanks to R&D collaboration between supplier and brand (more on that soon), the closure works on The Glenlivet's standard glass bottle and existing packaging equipment. It acts as a standard Roll On, Pilfer Proof (ROPP) closure fitment, so the packaging equipment needed minimal tweaking to incorporate the design.
"The glass bottle design that you see today, with an ROPP closure, didn't require any major changes to their bottling environment," says Apodaca. "We used an existing ROPP shell and devised the means to incorporate our closure and dispensing device into that shell in such a way that the shell runs through their infeed system, filler, and capper in the same way the shell does without our closure and dispenser. It really doesn't require any investment in infrastructure to support it."
Perhaps most importantly, the consumer doesn't experience any friction. No directions, tools, or assembly are required, much less a QR code directing consumers to an instructional video. For consumers, stakeholders say, it's a seamless switch from a standard bottle of The Glenlivet whisky to an RTD with The Glenlivet whisky as its base.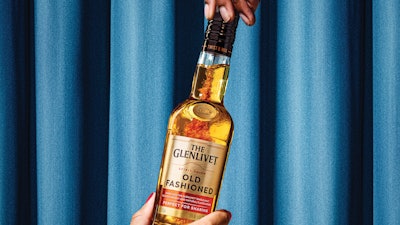 "We've now got a chance to see lots of user videos on Instagram and some of the press that we've seen from coming off The Glenlivet Twist & Mix project," Apodaca says. "We notice that there's nobody explaining how to do it. There's just a lot of people opening it and just sort of saying, 'Wow, this is really cool.'"
"The 'friction' or 'pain points' that we sought to resolve were two-fold, one to create high-quality bar like cocktails at home, and two to lower the complexity of equipment and ingredients needed," Gandhi adds.
Gandhi also notes that the pack format solves a real consumer problem, too. A proper Old Fashioned isn't a simple mix and pour. Sure, splashing sticky syrups or bitters, adding fizz, and the act of 'muddling' fruit make for great theater. But preparing a good Old Fashioned is messy, inconvenient, and until now, best left to a bartender. That's not the case here.
"The consumer simply twists the cap to release the natural cocktail ingredients in to The Glenlivet Single malt Scotch whisky, which when poured over ice and topped with a garnish expertly recreates a 'bar worthy' cocktail without the need to go out," Gandhi says. "The intuitive format of the Vessl technology requires no change in consumer behavior to deliver a freshly mixed cocktail in an instant, with an added flair of theatre associated with mixology in the bar."
The Glenlivet says its new Twist & Mix offering is housed in an elevated, sleek, and bold carton designed by brand agency JDO.
"New labels and cartons also helped to illustrate what the product looks like when the closure is twisted open, ensuring a seamless consumer experience," Gandhi adds of the secondary packaging.
All things considered, this is quite a practical application of packaging magic.
Next evolution of existing technology
You might be thinking 'wait, this sounds familiar, where have I seen this before?' Sure enough, Packaging World covered Vessl's origin story, plus a few different applications of this range of patented closure tech over the past five years. One was a use case with the company's own brand, Tea of a Kind (pwgo.to/8109), that served as a proof of concept. In another application, Amway employed it in a skincare line (pwgo.to/8110). Apodaca offers a brief refresher on the underlying tech.
"We've got an engine that allows [brand customers] to store content in a nitrogen-pressurized, oxygen-depleted chamber, and upon opening—either applying to a bottle or opening a bottle, depending on the application—it's going to evacuate that content. With The Glenlivet project, the basic feature or function of the closure is the same as it was in previous applications. We're taking a concentrated ingredient, and when the bottle is opened in this case, that activates the closure and dispenses those ingredients into the bottle under pressure," says Apodaca. "The major departure is that, now, we're using it on glass."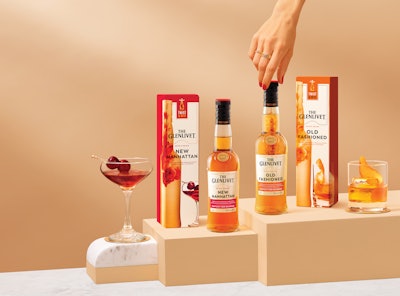 When Chivas Brothers Pernod Ricard first approached Vessl to use the closure on distilled spirits to make cocktails, early plans assumed the use of a PET bottle with the same closure Vessl used with its Tea of a Kind brand. But Vessl had a few ideas and prototypes for glass up its sleeve. The company just needed a partner and an end market to help usher these nascent concepts over the finish line.
"Given it's a premium product, we presented those glass application ideas to them. We thought it was a much better use of the closure, and Chivas Brothers Pernod Ricard agreed," Apodaca says. "So we entered into a development agreement with them, and we adapted the underlying technology to work on a standard ROPP [Roll-on Pilfer Proof] fitment."'
Making it work with glass
For Chivas Brothers Pernod Ricard, the premium feel of glass was hardly the only incentive. As previously mentioned, using standard glass meant the company could use existing packaging machinery infrastructure to convey, fill, and cap the new product line. The caps' feed, infeed, bowl feeding, and sorting all worked with existing equipment.
"It was a collaborative process between Chivas Brothers' manufacturing team and Vessl to optimize their closure to fit an existing line within our bottling hall," Gandhi says. "We achieved a simple solution: deploying an existing bottle size while changing the neck, meaning our line could adapt to the new closure with minimal changes."

But the new closure system wasn't a perfect one-to-one drop-in replacement closure—there were some considerations to navigate in testing and validation phases. For example, adding a cartridge tank of liquid ingredients changes the ROPP cap's center of gravity, which made it slightly more prone to tip during certain points in the capping process.
"Aside from that, we had to do some work in terms of transit testing and so forth. But where we had to dial this in most precisely was in the torquing of the cap threads themselves, just making sure the top load and application torque was precise," Apodaca says. "In our previous system with PET bottles, there is a fixture or casing that's threaded to the bottle, and when you rotate the closure, the torque that's required to rotate the closure is less than the torque that's holding the fixture or casing to the bottle. So those two parts that are threaded together—they telescope, they move open—and open the valve to release the ingredient. Because you've got pressure in there that just needs somewhere to go, it goes into the headspace of the bottle, releasing the liquid ingredient.
"Well, we couldn't really use their threads in their glass bottle in the same way we do on the PET bottle when it's incorporated into our closure because there's less friction with the glass. We needed to get the friction elsewhere, with thermoplastic elastomers (TPE), a soft plastic."
Essentially the new system acts as a plug member or a cork. A modified version of the Vessl closure designed for PET bottles sits inside the ROPP shell, and when rolled on to the bottle, the friction interface is between that closure and the bottle.
In this application with The Glenlivet, the closure does the same thing it's always done—it is applied after filling, where it resides until the consumer twists it to break the tamper-evident perforation. But as the cap moves up while being opened, it's pushing one portion of the closure up while the other portion stays in place due to the friction on the inner bore of the glass. This opens the nitrogen-pressurized cartridge tank containing the ingredient mix. The pressurized ingredients are released into the flat spirits at 105 psi, which is sufficient pressure to shoot the ingredient mix into the still spirits in such a way that introduces a hint of effervescence that remains for minutes. Once the closure system is unscrewed to the point where it's fully opened, it hits an end-stop and the cartridge tank is removed with the ROPP shell, like any other ROPP shell would normally come out of the bottle. But at that point, it will have already activated and mixed the ingredient.
Vessl's deliverable
For Chivas Brothers Pernod Ricard whisky filling lines, the deliverable from Vessl is the specialty shell closure containing the ingredient mix. All the upstream ingredient mixing and cartridge tank filling, which includes evacuating oxygen, pressurization, and backfilling with nitrogen, is done by Vessl.
"We built custom equipment to fill our closure and insert it into their shell," Apodaca says. "We batch all of the flavoring and ingredients that make up the mix, fill them into the closures, and deliver the filled closures to them, really in the same way that they would have received shells from a shell supplier previously. As volume grows, this is something that they or any customer easily can replicate in-house."
The switch between a standard, empty aluminum shell and this new design required some equipment tweaking, but it also had some unforeseen benefits. The empty shells had been subject to a lot of denting and crimping, rendering a certain percentage scrap before they ever made it to a glass bottle. The Vessl shell with cartridge tank insert is more robust and resists deformation.
Form factor and size
The most common form factor for premium whisky packaging is a 750-mL glass bottle, which is said to contain 16 servings. For an occasional-use product like whisky where spoilage isn't an issue, and there's no requirement to refrigerate after opening, this form factor makes sense—a bottle could reside on a shelf at home for months or years before being completely consumed. But The Glenlivet's Twist & Mix Cocktails use 375-mL bottles, half that size at eight servings.
"If you have too many servings in a bottle, those servings may not be consumed immediately, and if you're then putting those remaining servings into storage, then you're defeating the purpose of having fresh ingredients mixed at the point of use," Apodaca says.
Outcome
Vessl has the exclusive, worldwide rights to a prolific number of patents around this unique type of shelf-stable, pressurized ingredient dispensing tech in beverages. But it's important to note that it's not the only player on the field. There are some competing closure dispensing technologies that have found their niche, as well. A more common and familiar model uses a pod-based pack system, popularized by a famous coffee producer, and copied in various formats to introduce new ingredients to a product at the point of use. Chivas Brothers Pernod Ricard had shopped through them all before landing on Vessl.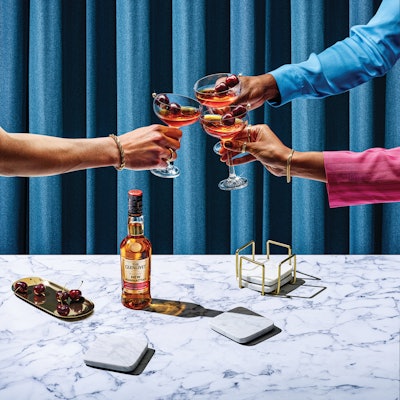 "We are always scouting for and trialing new innovative packaging formats and seek to work with partners who can truly collaborate with us to push the boundaries of what's expected in Scotch whisky," Gandhi says. "The unique technology, its ease of use and Vessl's support understanding our vision and creating an outstanding consumer solution with no change to behavior, was what led us to partner with them on this project."
For his part, Apodaca is "impressed how The Glenlivet has adopted the Vessl technology to create high quality, freshly mixed ultra-premium craft cocktails at home with no mess and no effort. This is exactly the kind of forward-thinking use of our technology that we envisioned, and tastes even better than we imagined."
Companies in this article