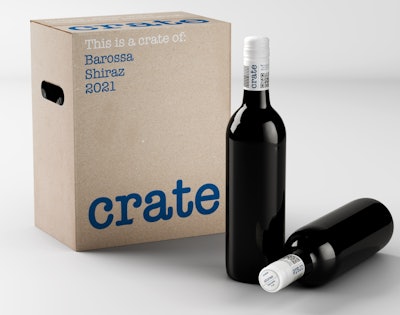 With its new Crate brand, Australian wine maker Fourth Wave Wine has put zero waste at the core—from vineyard sourcing and winemaking techniques to its boldly unique, label-less package for wine. According to Rowena Curlewis, chief executive officer and co-founder of Denomination, the designer of the label-free bottle, the impetus for the new brand came from Fourth Wave Wine's own dedication to creating a greener future.
"As a business, Fourth Wave Wine has sustainability at its heart," she says. "It felt there was an opportunity for another sustainability-based player in the market, given how important this aspect is to Gen Z and millennial consumers particularly, but also to those consumers who are concerned about the environment, and there are a lot of them!"
Crate was introduced in February 2023 in three varietals: McLaren Vale Shiraz, Barossa Shiraz, and Coonawarra Cabernet Sauvignon. They are described by Fourth Wave Wine as high-quality, barrel-matured wines from Australia's leading red wine regions. And that's where Fourth Wave Wine wants consumers to put their focus and their dollars—on the wine, rather than on the packaging.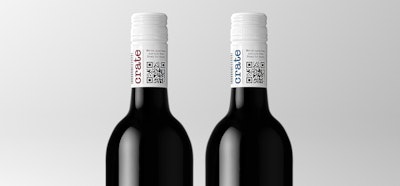 By removing the label from the body of the wine bottle, Fourth Wave Wine has eliminated the paper, therefore saving trees; adhesives, reducing waste; and the PET liner from the label, removing petroleum-based plastics from the package. It has also eliminated the cost and time associated with applying the label. Ultimately, the label-free bottle conveys the eco-friendly nature of the brand while making the product more affordable.
To unlock the sustainability opportunity presented by such a strategy, Fourth Wave Wine tapped beverage packaging design firm Denomination, whose solution, Curlewis shares, was an "uber simple" design: A detailed, branded capsule, no label, and a carton that is printed on 100% recycled stock with clear messaging regarding the reasons why Crate is sustainable.
While it may be an uber simple design, it was not so simple to accomplish. "The key challenge was trying to fit all of the many mandatories for the Australian market, including the new Pregnancy Warning, on a very small space on the capsule," Curlewis says. "The second was to make sure the capsule still looked 'designed' and premium, to compensate for the lack of label."
---
---
All mandatory information is printed on the skirt of the capsule, which remains on the bottle once it's opened, while the top of the capsule is devoted to branding. Also on the capsule is a QR code that consumers can use to access a video of the winemaker explaining the premise of the Crate brand as well as information on the quality of the wine inside, including tasting notes.
According to Curlewis, very clever crafting of typography ensures that there is an ease of space; the design never feels crowded or jammed. "It's like a Tetris puzzle, constantly moving the pieces around until they fit together harmoniously," she says. Of the font chosen, she adds, "We wanted Crate to feel both crafted and approachable, much like the wine style, and so we chose a chunky serif type that is easy to read, but has a distinctive feel."
Crate is available only in cases, or "crates," of six bottles. For this secondary package, Denomination selected a kraft corrugated material, overprinted with ink. "We wanted to avoid using bleached paper as the external substrate so to avoid any superfluous chemicals being used in the making of these cartons," Curlewis explains.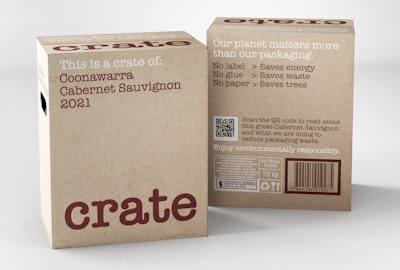 The decision to go label-less could be a risky one, with Crate's branding messages minimized, but it is this spareness that may just catch consumers' attention. So is it a gimmick? According to Curlewis, it's definitely not. "We need to get real about climate change as both winemakers and packaging designers, and in doing so explore other real and effective ways of reducing our footprint," she says. "Crate so happens to be the first to market for a branded, label-less wine. I expect to see more, and I also expect to see other creative ways of solving the same problem."
All three Crate wine varietals are available in six-bottle cases online as well as at independent retailers in Australia.
Companies in this article