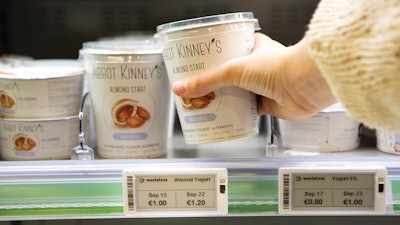 METRO, Germany's largest supermarket, has recently tested dynamic pricing related to expiration dates, and results led it to further implementation.
"When you go to the supermarket and you buy some fresh food, say cheese or ham, and you look at the pack at the front, and the expiry date is tomorrow—what do you do? You put your hand around the back, and you get the one back there that has an expiry date in two-week's time. Everyone does that," Phil Archer, director, web solutions at GS1 said in his recent AIPIA (Smart Packaging Association) World Congress presentation on the new GS1 Digital Link 2D URI standard. "What happens to the pack in the front? It goes in the bin [trash], even though it's perfectly good."
He pointed to German supermarket chain METRO, which has experimented with dynamic pricing with sustainability-minded tech provider Wasteless. The program tracks expiry information associated with each serialized product (that could be contained in a 2D barcode) and connects it with price, which decreases as the product gets closer to expiration. And by discounting the items that are approaching their expiry date, METRO incentivizes consumers on price as well as on expiration date. If a consumer wants the full two weeks of in-home shelf life, they will have to pay full price for it.
---
---
According to the retailer, while testing this technology, "METRO's first Food Waste Report documents a 15.3% drop in food waste … between financial years 2017/18 and 2020/21."
Founded in 2016, Wasteless focuses on reducing greenhouse gas emissions by reducing food waste in retail and wholesale, one of the top-five causes of greenhouse gas emissions. Wasteless' technology brings optimization to the pricing of perishables, using a proprietary AI-driven markdown engine to set prices automatically.
METRO announced on its website in May of 2021, "Following extensive testing, Wasteless technology will be seamlessly integrated in wholesale specialist METRO's point of sale (POS) system. The new pricing system will first go live at selected Makro stores in Poland. A wider rollout of Wasteless' AI-driven pricing technology is expected throughout METRO's network of wholesale stores." PW
Companies in this article