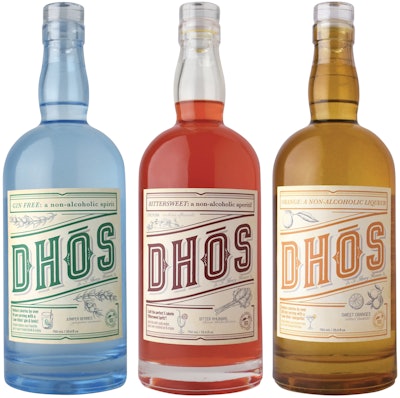 The low- and no-alcohol category is still very young and, as a result, brand loyalty is weak. The challenge for brands is to attract and maintain consumers, but there's also an opportunity to build that loyalty and become a defining brand in the category. So, how can brands carve out a presence in this sector as the trend continues to evolve?
It may be an emerging category, but low/no alcohol is gaining some serious traction, as evidenced by data collected by global alcohol beverage market analyst IWSR for its 2022 "No- and Low-Alcohol Strategic Study." The study, which examined low/no alcohol markets in Australia, Brazil, Canada, France, Germany, Japan, South Africa, Spain, the U.K., and the U.S., found that the market value of the sector in 2021 reached almost $10 billion, up 6% from $7.8 billion in 2018. The category now has a 3.5% volume share of the total alcohol sector.
To take advantage of this boom, brands and retailers need to understand why consumers are spending more in this category. While some are no doubt turning to low/no alcohol options to support a sober lifestyle, others are motivated by health reasons and a desire to simply reduce rather than eliminate their alcohol consumption. This is evidenced by the number of participants taking part in Dry January, which was designed to help people get into better, healthier relationships with alcohol. In 2022 a total of 131,266 people in the U.K. signed up to Dry January—the highest participation to date. In the U.S., polls from Morning Consult, YouGov, and Attest Surveys found that as many as 15% of Americans planned to give up alcohol during January of 2021.
The IWSR's study also noted that, globally, consumers are switching between "regular" drinking occasions (full-strength alcohol) and "nights off" (non-alcoholic options). This is supported by a 2021 NielsenIQ Homescan survey, which found that 78% of non-alcoholic drink buyers in the U.S. are also buying alcoholic beer. So, it appears to be a desire for moderation, not sobriety, that's driving purchasing decisions.
Of those who do not purchase low/no products, many state concerns about the taste and express a belief that they won't match up to their alcoholic counterparts, giving brands and retailers a concrete challenge to address through the design and marketing of their products. With many low/no options costing about the same as their alcoholic counterparts, getting people to choose them can be a hard sell, especially as they're competing with cheaper soft drinks from trusted brands, with flavor profiles people know and love.
---
---
But carving out an identity in the low/no category isn't a matter of winning over everyone. Success may instead require segmentation and targeted branding that focuses on certain types of people. According to a Mintel report, in the U.K., men—particularly those aged 18 to 34 with annual earnings above £50,000—were the biggest low/no alcohol buyers in 2020. The report speculates that this is driven by concerns over alcohol's empty calories and its limiting effect on progress in the gym. The statistics bear this out, as interest in low/no tapers as you move up through the age groups.

Some brands have caught on to this motivating factor and are emphasizing the health benefits of their products through careful branding, packaging, and advertising. For example, German brand Erdinger Alkoholfrei, or Erdinger Non-Alcoholic in English, which is "brewed according to the Bavarian Purity Law," has fewer calories and contains vitamins B9 and B12, which "support the regeneration process." Photography on its website reflects the brand's target consumer—young, healthy people in sportswear—while the strapline, "ERDINGER Alkoholfrei – the sporty thirst-quencher" leaves little doubt over the target consumers' interests. Callouts are prevalent on the label, emphasizing isotonic properties and reduced calories. Erdinger has also covered concerns over taste, taking great pains to emphasize the flavor profile and mouth feel of the beverage.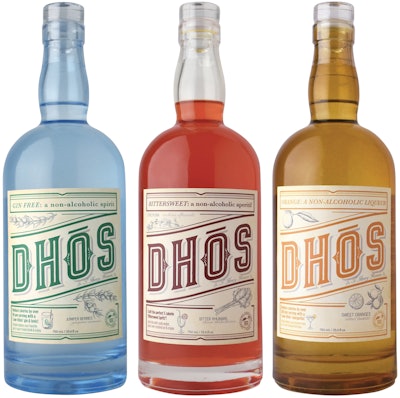 Likewise, Oregon-based Ransom Winery and Distillery recently developed Dhōs, a non-alcohol aperitif brand. Launched in 2020, it prides itself on being low in calories, made from the "purest and cleanest ingredients," and formulated without harmful toxins and pesticides. Its success seems to be a combination of this health focus and the brand's positioning as a high-quality cocktail-making ingredient worthy of any at-home bar.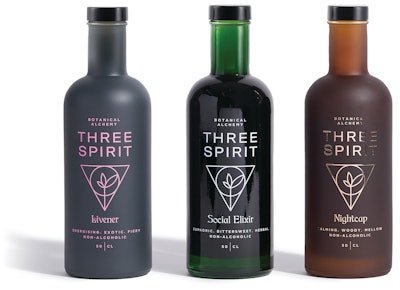 The winners in the low/no alcohol sector are those working actively to transform their image. Rather than offering a beer variant that's "the same, just without the alcohol," these brands are carving out an autonomous identity for their products, emphasizing the quality ingredients that make them unique and elevating them beyond their low/no alcohol status. Much of this innovation comes from independent brands. Take Three Spirit, a brand that looks and feels premium through its focus on process and provenance. Drawing on the natural and sometimes verging on the magical, the brand mark itself uses a minimalist nature symbol, which conveys a sense of health and wellness, along with callouts like "botanical alchemy" to celebrate, in their words, "what goes into a drink rather than what is taken out." The three main callouts are "non-alcoholic," "cruelty-free," and "vegan," while much is made of the ingredients' health properties, giving the brand an edge over alcoholic liquids.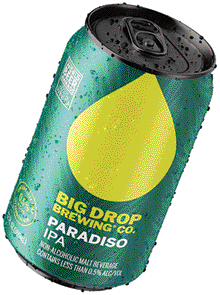 It's not just spirits making a splash either. A craft low/no alcohol beer sector has emerged with producers exclusively making these products. Big Drop Brewing is an example of a brand that has done incredibly well, winning multiple awards. Its focus is on creating "award-winning craft beer" that "just so happens to be alcohol-free," positioning quality not alcoholic content as its primary selling point. Big Drop's Paradiso Citra IPA comes in a can designed with a green, leafy jungle pattern and a bold, bright lemon drop. Callouts include a 2021 World Beer Awards accolade, adding credibility to the product's popularity amongst beer aficionados.
The low/no alcohol market is clearly on the up, but it still has plenty of room to grow. Winners in the market are likely to be those who break misconceptions over taste and reframe how people view low/no alcohol products. The message is not about making sacrifices, missing out, or settling for something; it's about making lifestyle choices that increase health, happiness, and wellbeing, without compromising on taste or quality. Through creative branding, packaging, and marketing and careful pricing, brands can carve out a presence in the sector for their products to shine. We'll raise a glass to that!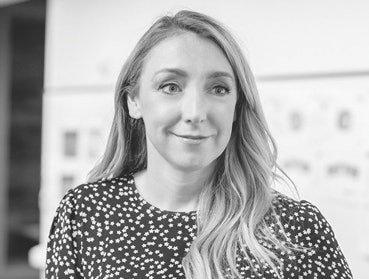 Jen Gaeto is Executive Creative & Strategy Director for the U.S. at brand design firm Equator.
Companies in this article