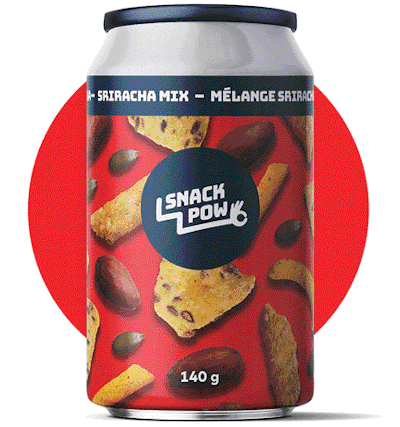 Ask any Consumer Packaged Goods company what packaging attributes are important in a product launch these days and you can bet that differentiation and sustainability are high on the list. Which explains why Robin Charest, Director of Sales, Marketing & Business Development at SnackPow, is so excited about the digitally printed aluminum can it is using for 13 varieties of snacks it launched last summer.
"We wanted to offer a grab-and-go format that is easy for the customer to put in the cup holder of a car, a bicycle, a backpack, or whatever," says Charest. "We also wanted to move away from plastic film and toward a format more conducive to a circular economy. And aluminum can be recycled endlessly—especially when there is no paper or shrink sleeve film label on it. When we learned that Solucan could supply cans in whatever quantities we wanted, it certainly got our attention. Their digital printing gives us incredible agility, too, in terms of customization. All we need to do is send them a PDF and the number of cans we want."
One challenge Charest and company had to overcome revolves around how light and flimsy a 12-oz aluminum can is—especially when it's being filled with salty snacks rather than a carbonated beverage that gives the can some internal pressure. Fairly straightforward is depalletizing the empty cans, which is done by a machine made by a supplier Charest prefers not to identify. It's filling and seaming that are tricky, especially seaming on the aluminum ring-pull end, a process that ordinarily involves considerable top-load pressure. Charest says filling and seaming equipment is essentially home-grown, and again he'd rather not describe it in any great detail. He does say that the cans are backflushed with nitrogen gas and that the plastic overcaps that add a reseal feature are applied by hand. Shelf life is 12 months, and a use-by date is printed on can bottoms by an unnamed ink-jet unit.
Secondary packaging is a six-count corrugated case that is also set up by hand. Like most salty snacks, distribution is done by way of store-door delivery, though some product does go through central distribution facilities. Speaking of distribution, Charest says he is now looking to expand in the U.S. and is looking for distributors.
Currently, supermarkets and convenience stores are where consumers can find the cans, and Charest says demand is brisk to say the least. Or the product can be purchased online. The online pricing ranges from six cans of BBQ peanuts for $19.99 Canadian to six cans of nuts and chocolate mixed for $38.99.
When asked about the cost of the novel packaging format, Charest acknowledged that the aluminum can is slightly more costly than the conventional flexible film format. "But we're able to pass some of that on to the consumer because they appreciate the added value and the sustainability advantages," he adds.
---
---