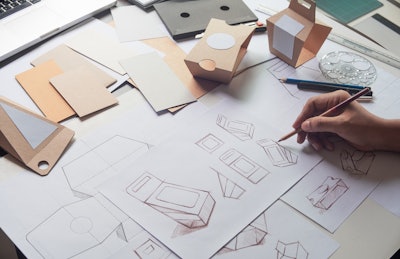 The trend of online shopping, which accelerated with the pandemic, is here to stay and will continue to grow, as shoppers become increasingly comfortable with virtual buying formats. That's according to AMC Global, which advises that as brands update or launch new products, the online shopping environment must be considered in packaging design. Using insights gathered from market research, AMC has compiled the top five packaging considerations for successfully selling online.
1. Design for the digital shelf: Because product packaging may appear much smaller in the digital environment, simplified versioning may be necessary. Product packaging that has been more traditionally designed for in-store and on-the-shelf presence may not be the best approach to meet the online shopper. You must be able to grab attention online with strong, noticeable package images and messages that are clear in purpose, easy to read, and easy to understand.
2. Create clear and concise claims: Online shoppers can't pick up your package to read long paragraphs describing the benefits of the product or to inspect ingredients effortlessly. Since your package can't be handled and inspected, the product claims need to be clear and simple, and content lists must be readily apparent. Your package and digital presence must provide all the information necessary for virtual decision making.
---
---
3. Get innovative with packaging display online: When designing packaging for virtual display, closely examine all the new promotional avenues available to you in the virtual environment. Online, you have the ability to direct attention by zooming in on certain areas of the package, using video demonstrations, or perhaps showcasing the package in a real-life environment. The possibilities are endless in a virtual world.
4. Adjust physical packaging: It's not just the visuals and exterior of the packaging that must be considered for e-commerce. Your product is going to be shipped, so you must take that aspect into consideration. A compact design could save on shipping costs, and designing something that is safe and secure for shipping is also important. In addition, using sustainable materials continues to be important in pack designs. Consumers prioritize it and are demanding eco-friendly options.
5. Stay true to the brand: Brand consistency across all selling platforms is vital to brand trust and brand image. Despite the need to adjust many aspects of the package online, you need to also stay true to your brand's recognized logo, colors, and other globally identifying factors. No matter how many packaging changes and modifications you need to make, don't lose sight of one key fact: Your brand should be central to all aspects of the design.