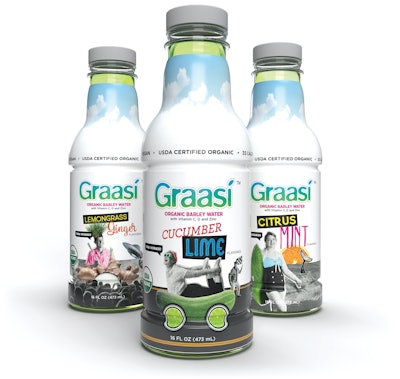 "When developing a new line of functional waters, we focused on unique ingredients that would promote overall wellness and self-care," say Chris LaCorata, Graasi's founder. "Barley water has been consumed by cultures around the world for thousands of years as a general wellness drink. We're bringing it back and making it better with organic ingredients and immunity-boosting vitamins and minerals."
Graasi Barley Water uses 16-oz long-neck bottles from Amcor, using its Powerflex PET. The PP closure is sourced from Closure Systems International.
"We went with a PET bottle for a couple reasons," LaCorata says. "First, it's easily recyclable. Second, we're selling most of our products online and we wanted a durable packaging solution that ships well and is easy to carry around for the on-the-go, busy consumer."
The film is flexographically printed in six colors, and Graasi went with a shrink-wrapped bottle from the neck to the bottom to give it a greater surface area to promote the brand. With the functional water category being so competitive, and so modern and clean-line-focused, design agency Brightly Creative cut against the grain with its label treatment.
"If you look at the functional water space, it's pretty serious in terms of branding," LaCorata says. "We wanted to show that functional waters, hydration, and immunity can be fun. We wanted our flavors to stand out by incorporating them into the graphics beyond just showing pictures or illustrations of the fruit. It's much more engaging to show a cucumber car with lime wheels than a drawing of a cucumber and lime." PW

Companies in this article