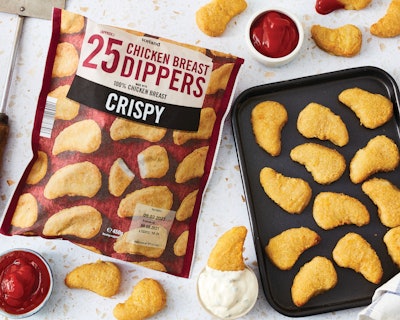 U.K.-based frozen food company Iceland aims to be the first U.K. supermarket to become plastic neutral by adapting to paper packaging wherever possible and offsetting its remaining plastic footprint by recovering and recycling environmental and nature-bound waste plastic. To achieve this, Iceland partnered with U.K.-based Mondi to reduce the amount of plastic used in its product packaging by 80% and eliminate plastic packaging altogether by the end of 2023.
Iceland replaced its previous plastic packaging with Mondi's EcoSolutions functional barrier paper across several ranges. The first newly packaged product to hit the shelves in December 2021 was the retailer's frozen chicken dippers.
The functional barrier paper is made from renewable resources with Mondi managing the paper production and coating in-house, providing a fully integrated solution. The package is also recyclable, and according to Mondi, it's easy for consumers to recycle the paper packaging in existing waste streams. More than 74% of paper and 83% of paper-based packaging in Europe is recycled, which ensures that this material can be recycled at the end of its life, contributing to a circular economy, according to Falk Paulsen, sales and business development director of Extrusion Solutions, Mondi.
To better inform its customers of how to recycle the new packaging, Iceland leverages On-Pack Recycling Labeling (OPRL). Iceland is a member of the OPRL program, which is an initiative that aims to deliver simple and consistent U.K.-specific recycling messages on the retailer and brand packaging to help consumers reuse and recycle more often and correctly.
"We've been bold in our aims to remove plastic," says Stuart Lendrum, head of packaging, Quality and Food Safety at Iceland. "We were the first U.K. retailer to publish our plastic footprint along with our pledge to ultimately become plastic-free. Mondi's collaborative EcoSolutions approach meant that our teams worked together to consider all elements of the product manufacturing and delivery journey. We now have a sustainable solution that is efficient to use, protects the products, and meets the expectations of our customers."
One of the challenges of using paper-based packaging—compared to plastic packaging—in frozen food applications is having the right mechanical strength in combination with easy processability on the filling lines. According to Mondi, frozen food can be very abrasive, which means the package's mechanical strength, puncture resistance, and tear strength need to be as robust as possible while also ensuring flexibility at high production speeds. In addition, the packaging needs to keep its integrity at both low and elevated temperatures.
 "Some products need more specialized solutions to ensure consumers get safe, high-quality food," says Paulsen. "Mondi's functional barrier paper uses a wafer-thin coating that provides all the necessary barriers to keep food fresh and can still be recycled."

Companies in this article