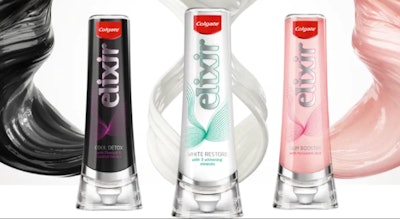 Anne Marie Mohan reported in June 2021 that this indulgent ice cream brand pioneers the use of recycled plastic, with the material sourced from mixed plastic waste converted to plastic resin feedstock through advanced recycling.
Colgate-Palmolive is inviting European consumers to make toothbrushing part of their beauty ritual, with its new Elixir line of three toothpaste formulas in a striking PET package that breaks from category norms in every way. Says Colgate-Palmolive Co. Worldwide Director of Oral Care Packaging Liz Mellone, "Colgate Elixir is toothpaste reimagined—breathtaking design with beauty-inspired ingredients in a unique packaging technology that is recyclable and designed to let people enjoy the toothpaste to the last drop."
According to Mellone, the three innovative toothpaste formulas—White Restore, Cool Detox, and Gum Booster—were co-developed in tandem with the package, a clear, inverted, 80-mL (2.7-oz) PET bottle with a clear overcap. The sleek and stylish container is a significant departure from, and a more eco-friendly alternative to, traditional toothpaste tubes, which are made from a multilayer construction of plastic and aluminum that renders them non-recyclable.
Companies in this article