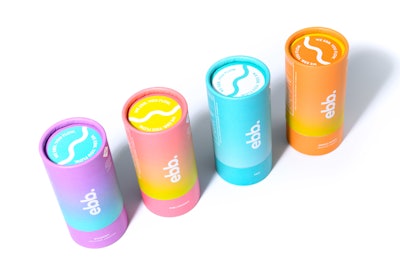 With its name inspired by the ebb and flow of the ocean, new cannabis brand ebb pays homage to its earth-focused ethos with sustainability-minded packaging that is decorated with simple artwork that lets the product speak for itself. ebb was developed by Denver-based company Platinum Brands and is a fast-acting (15-min onset time), water-soluble THC powder that uses nano-encapsulating technology.
"I have always been intrigued by the prospect of a THC dissolvable," says ebb founder and Head of Product Brooks Allman. "With ebb's proprietary formulations, we offer fast-acting products that are perfect for both entry-level cannabis consumers who might be intimidated by the idea of dosing edibles, as well as more experienced consumers who are looking for an interactive or innovative way to consume cannabis. ebb can be added to just about anything—smoothies, guac—and it's perfect for post-workout recovery."
---
---
The four varieties of ebb—Electrolyte-Enhanced Wildberry, Immunity Support Orange Mango, Pink Lemonade, and Pure, a flavorless option—each contain 10 mg of THC per serving and feature functional ingredients such as electrolytes and vitamin C to holistically support consumers' wellness goals.
Primary packaging for the product is a foil sachet holding 3 g of the dissolvable powder, with the exception of the Pure variety, which holds 1.5 g. Sachets are packaged in a unique-for-its-category child-resistant, two-piece paperboard tube, chosen for its lack of plastic. Says Allman, "For every joint smoked, flower purchased, or edible consumed, 99% of the time, single-use plastic packaging is used. The cannabis industry is notorious for this, and we wanted to change it. At ebb, we aspire to be a company known for creating solutions to environmental issues, and one way we do so is through our packaging.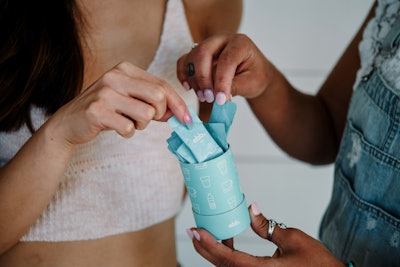 "As a Florida native, you learn that everything eventually ends up in the oceans, and plastic, in general, is a massive problem for marine life. We're passionate about the fight to help the environment, so when it came time to launch ebb, we leaned into our history to start a brand with sustainability top of mind."
Other packaging formats considered included tin and hemp. However, explains Allman, hemp doesn't have a strong foothold in the packaging space, and while tin is a great option, as it's recyclable for life, consumers aren't as familiar with proper disposal methods for this material. "Finally we settled on cardboard because it's durable, it's easily recyclable, and it decomposes," he says.
Another reason paperboard, and this format in particular, were chosen, Allman adds, is because it can be upcycled by consumers. "For example," he shares, "our team has reused ebb packaging to grow succulents and different types of small plants, and we take pride in watching the decomposition of the packaging in real time, knowing it won't sit in a landfill."
The custom container comprises a base with a child-resistant pushbutton and an overcap that slides over and has a hole that fits tightly over the button. The button, made from 1 g of recyclable PET, is the only part of the container that uses plastic. The package measures 2.25 in. in dia and is 4.5 in. tall. It uses 4-mm cardstock that provides rigid strength and durability against external elements.
---
---
The graphics for the four varieties were done by Allman and a graphic designer and use a simple concept that Allman says was chosen to let the products speak for themselves. "The color theme is pastel and uncluttered, tying back to the eco-focused and sustainability ethos of the brand," he explains. "We opted for bright colors so that ebb may stand out—while each stick provides discretion if needed. Our brand doesn't look to fade into the background, but rather, proudly announce each consumer's love for cannabis."
Each tube features two colors, for example, orange and yellow for Orange Mango, that fade into each other, with the logo and product name in white. On the body of container are icons with suggestions for use.
ebb launched in April 2021 and is available at licensed cannabis dispensaries in Colorado.
---
PACK EXPO Las Vegas and Healthcare Packaging EXPO (Sept. 27-29, Las Vegas Convention Center) will reunite the packaging and processing community. With over 1400 exhibitors, no other event in 2021 will bring together a more comprehensive gathering of suppliers offering new products, technologies, and solutions. Attendee registration is now open.