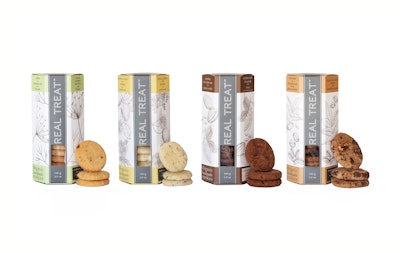 Real Treat
Real Treat, a small Canadian brand of organic cookies that caters to adults with its unique flavor profiles, has weathered the pandemic, won both NEXTY and sofi awards in 2021, and is poised for even more growth in 2022.
Jacqueline Day, Founder and CEO of Real Treat Kitchen Ltd., founded the company in 2014 out of her lifelong love of cookies and a belief that there was a need for an organic cookie made from 'real' ingredients. After having her daughter, Day said her "values around sustainability were solidified that much more," and she was "looking for cookies that were genuinely indulgent and delicious, and aligned with my values around sustainability and organics." But she couldn't find anything that wasn't in the functional food space, or junk food.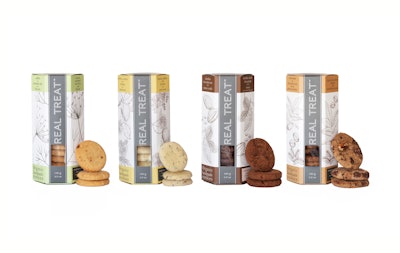 Day initially brought her cookies to the farmer's market and used this period to test the product as well as different packaging styles. As she said, "It wasn't just about the product. I knew that packaging was going to be as important to our success as the cookies themselves would be. So that kind of differentiated me because at a lot of the markets, vendors don't put a lot of thought into that aspect."
The loss of her job prompted Day to incorporate the company and seek help to expand the business. A natural grocer in Calgary consulted with her about label requirements for retail, and after she finalized the branding and package design, she launched the Top Shelf line. "Top Shelf is for foodies," said Day. "These are cookies that are for grownup palates. They're great for gifting or entertaining with. We call them Top Shelf because that's where they live. These are that special treat you save for yourself to enjoy at the end of a long day. These are not the cookies you're putting in your kid's lunch box." Flavors include Lemon Sablés with Herbes de Provence, Salted Caramel Shorties with Fennel, Dark Chocolate Chunk with Smoked Pecans, and Double Dark Chocolate with a Twist (house-candied lemon peel is the twist).
---
---
"One thing about our cookies is we never use palm oil, organic or otherwise. Everything we bake is made with butter. We're one of only two brands of organic cookie in North America that use butter. That, and that we're very ingredient driven, are what sets us apart. We don't lean as heavily on sugar. Instead, our yum factor comes from flavorful ingredients like fresh lemons, spices, great chocolate, and smoked nuts. When I was designing the packages, I wanted them to feel premium because they are, and wanted them to also convey the creativity of the flavors while paying homage to the beautiful ingredients we lead with."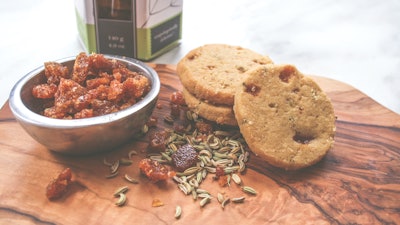 Day said the hexagon package shape was inspired by honeycombs, because part of Real Treat's organic mission is about bees. "One of the reasons why I'm so passionate about organics is because it is one of the ways we can protect the bees in our ecosystem. Losing bee populations is harmful to us all, and we know that some of the chemicals that are used in conventional big ag are killing bees." The functionality of the honeycomb shape also protects the cookies in transit. Inside the paperboard hexagon (made from recycled content) is a cellophane bag with high barrier properties.
Growing the Product Line

A couple of years after launching Top Shelf, Day added Pantry, a new line of cookies that are more kid friendly. "There's still a need out there for those cookies that you do want to share with your kids, the cookies that people think of first when they think, "I want a cookie," said Day. "You're most likely thinking about a chocolate chip cookie, or an oatmeal raisin cookie, or in my case, my grandma's shortbread. Though these flavors are ubiquitous, there still wasn't a yummy organic option on the market. So, I launched Real Treat Pantry."
The packaging for the Pantry line has gone through two iterations, the first being a stretched and gabled hexagon paperboard that houses two stacks of cookies, as opposed to one tall sleeve, tied with a ribbon. "As we have learned around here," joked Day, "I might be good at designing pretty packages, but I'm not necessarily great at designing efficient ones. So, we had to learn the hard way as this line blew up really fast and we got really busy hand-tying thousands of ribbons, that efficiency trumps pretty in this business. So, darling as they are, and as much as I love their aesthetic, we had to then evolve this line to a different style of packaging."
The second Pantry design was what the brand ended up with for grocery retail. A matte finish coated aluminum is the same packaging material that is used for coffee bags, but in a different size. On the side, it reads, "Cookies you crave." "And they're still striped," said Day, "they still have that Pantry feel to them aesthetically, but it's a little more practical. These we're able to fill and heat seal in about a quarter of the time of the gabled boxes. Another advantage of these bags is that we are able to achieve a longer shelf life without compromising the integrity of the ingredients we use."
Day said the original Pantry packaging is no longer offered to general retail, but they "have a number of boutique retailers and gift clients that really love these hand-tied packages and are willing to pay more for them. So, we're keeping it around for them."
The Gift Market Boost

Real Treat started in a few retail stores, said Day, "but I was very strategic about what stores we went into. Because I only had the Top Shelf line initially, our cookies needed to be merchandised in the specialty gourmet channel. In our city, a lot of gift companies go to specialty retailers looking for things they haven't seen before. Once our products had been discovered by some of these excellent gift companies, who then started posting pretty Instagram pictures of their curated boxes with our cookies in them, and other gift companies reached out to us as well, we realized there were great opportunities for us in that channel. From the early days of Real Treat the gift industry has been a substantial part of our business, but it's really grown tremendously alongside the boom in e-commerce in the last 18 months."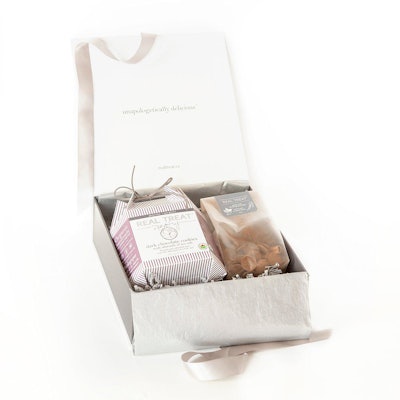 "Something that we've started weighing heavily in our strategy when we're designing packaging and brand collateral is the Instagram factor. The gift companies have been driving most of their sales on Instagram for a few years now, and because of this, they consider the design and aesthetic of a brand and its products above all else when sourcing for their collections. So not only is it important that our packages be pretty in a way that resonates with their brand aesthetic, our own website and Instagram feed needs to achieve that as well so the buyer feels there is a natural fit."
Surviving the Pandemic by Growing E-Commerce

COVID challenged the business in its initial growth years. Said Day, "In food CPG, the common premise is that brands, if they're going to survive, must meet and then thrive through their fifth year. Typically, years five and six are when brands who have made it that long then gain significant traction. We were well on our way into our fifth year when the pandemic hit. It was gut wrenching to lose a substantial amount of shelf space to soup and toilet paper, just as we were really starting to get some traction in grocery retail."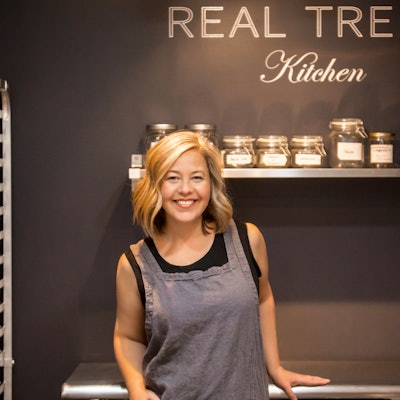 Like many companies who had to pivot to get through the pandemic, e-commerce became more of a focus to get in front of customers. "We had it [e-commerce] in place, but we weren't doing it well," said Day. "After COVID hit, we really started exploring the channels that we hadn't been maximizing previously. So, whereas we had previously been very retail focused, we definitely shifted our attention to our own e-commerce and began working really hard to optimize that and develop an e-commerce strategy that extends beyond our own website."
Real Treat partnered with Shopify at the end of 2020, and Day said that has worked really well. "It really enabled us to develop a well-oiled B2C e-commerce machine. But what we've also done through our site in the last few months is to channel most of our wholesale business through our Shopify website too. We have built an online wholesale portal which has helped us tremendously as we have sought to streamline our order management process. Getting most orders feeding through the website has made us much more efficient, and ensured we are providing a great quality of service to everyone who purchases our products."
"Our e-commerce strategy now includes a number of wholesale e-commerce channels that didn't exist just a couple of years ago," Day continued. "E-commerce used to consist of a single channel, your own website, plus maybe Amazon. Now we have six different e-commerce channels, with partners like Faire and the Specialty Food Association's Infinite Aisle platform, also in addition to several grocery retailers that exist only online. Brick and mortar continues to be an important piece, but it is not the whole pie anymore. Not by a long shot."
---
---
Real Treat currently has distribution in California and across Canada and has plans to launch a new product in 2022 – drinking chocolate, a homage to Mexican drinking chocolate. There are two flavors: Ancho chili, and a second aromatic flavor with cinnamon, vanilla bean and nutmeg. The drinking chocolate was intended to launch last year but was held up due to packaging procurement issues during the pandemic. Because there was still demand from the gift market, Day did a soft launch in clear cellophane bags.
The company is set to expand production to a co-manufacturer in early 2022, and won two awards in 2021: NEXTY – Best New Sweet Snack and sofi (Specialty Food Associations) – Gold, for Cookies and Snack Bars.
For more information visit https://realtreat.ca
Companies in this article