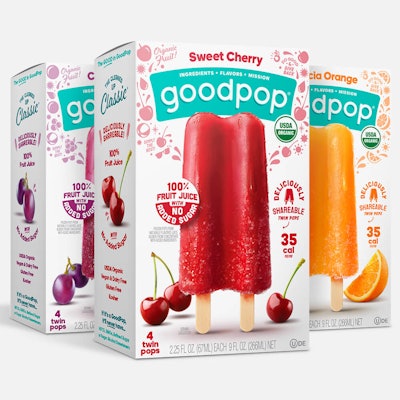 Goodpop
Consumers today want to see companies they support take a stand on issues that align with their own beliefs, and they want to see positive corporate action. GoodPop® Frozen Pops is meeting that demand with their company mission: Pledge Good. Do Good. Feel Good.
If a customer pledges to do one of the eleven good deeds listed on a drop-down menu which focus on the areas of racial equality, stopping hunger, helping animals find homes, or creating a healthy environment, the company pledges to donates $1 to charity. The customer gets to choose which of those four areas will receive the charitable donation.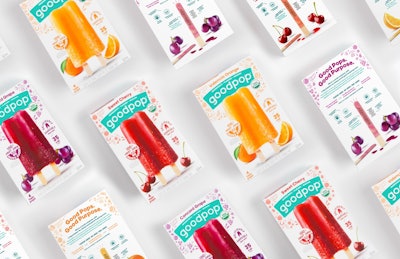 GoodPop's recently debuted new Twin Pops in three flavors: Sweet Cherry, Valencia Orange and Concord Grape. A nod to the childhood classic, the new frozen treats come in packs of four, and join GoodPop's collection of dairy-free and vegan pop flavors such as Dreamy Orange Push Pops, Coldbrew Latte, and Strawberry Shortcake.
The packaging refresh includes the back of the GoodPop box, which is dedicated to Good Pop's Pledge Good Foundation and has a call to action for how customers can take part by making a pledge to do a good deed at goodpop.com/pledge. On the front of the box, a new logo is an updated banner with a designated brand color, Good Day Teal, designed to evoke a feeling of warmth and showcase the pops.

The new flavors also coincide with the launch of GoodPop's online store that ships to all 48 states in the continental United States with flat rate shipping. "We love reinventing classic favorites with better-for-you ingredients. Twin pops were a staple of my summer days growing up and served as inspiration for our lineup of twin pops," said Daniel Goetz, founder, GoodPop. "Our new online store gives customers another way to purchase our newest flavors and longtime favorites from the comfort of home," said Goetz.

All GoodPop products are USDA certified organic or Non-GMO Project Verified, dairy and gluten free and made without HFCs, GMOs, refined sugars or sugar alcohol sweeteners.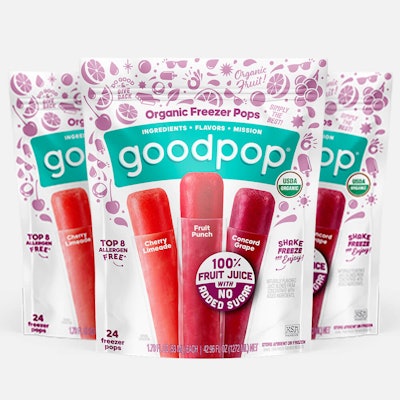 "We're thrilled to launch these nostalgic treats as part of the debut of our new look and feel that embodies our mission and dedication to doing good, giving back and making people happy, just in time for summer," said Goetz.

GoodPop Frozen Pops can be found in natural and conventional retailers in 40+ states. For more information visit https://shop.goodpops.com/.
---
---