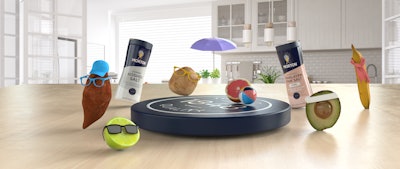 Morton Salt says it's "salty about food waste." According to The Natural Resources Defense Council (NRDC), a typical household of four tosses $1,600 worth of food each year. With close to 35% of all food produced in the U.S. going uneaten, Morton has begun an initiative to inspire home cooks to turn forgotten foods into something delicious with their Erase Food Waste augmented reality experiences. The experiences are accessible through July 2021 via QR codes on specially marked culinary salts or through the company's Erase Food Waste AR site.
---
---
Since 2017, Morton Salt has been raising awareness around food waste through its Erase Food Waste initiative, inspiring action to change how people think about food waste in an effort to reduce the amount that goes to landfill.
The first AR promo is a cheeky, immersive experience that features nine vignettes starring overripe onions, forgotten fruits, and leftover legumes, sharing tips, tricks, and recipes that make it super simple to reduce food waste at home. Two "couch potatoes" binge on Netflix, a grapefruit takes a staycation, onions do yoga, and avocados plug into hip hop. Says Morton, each one provides a pinch of inspiration for no-waste recipes written for the work-at-home, play-at-home, cook-at-home era, such as "You're on Mute Mac and Cheese" and "Staycation Smoky Paloma."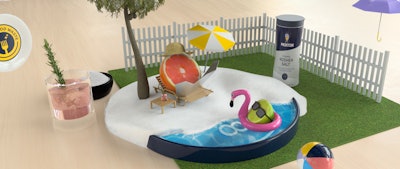 The second AR experience, Choose the Right Salt, helps cooks learn which culinary salts will enhance their dishes. The AR experience is part of Morton Salt's integrated marketing campaign that launched in October to celebrate and support its new packaging roll-out. According to the company, packaging is one of the iconic brand's biggest touchpoints.

"The answer to 'what's for dinner?' is often right in front of us—in our fridge and our pantry. Morton's AR experiences can help you become a better cook and to use what you have at home—and we hope they bring a smile to your face as well!," says Denise Lauer, CMO, Morton Salt.
---
---
"Using the right salts the right way is one of the simplest ways to elevate your everyday cooking. You can cook well and help save the environment," she adds.

Says Morton, the rich, web-based AR experiences from Next/Now Digital include graphic detail that is normally limited to video games or broadcast motion graphics.

The new campaign includes in-store, digital, influencer, and social media activations. Consumers can activate the experiences online by purchasing specially-marked Morton salts at Walmart and Kroger (while supplies last) and scanning the QR code hidden under a special sticker. QR codes appear on Morton Kosher Salt, Table Salt (plain and iodized), Sea Salt (coarse and fine), and Himalayan Pink Salt (coarse and fine).