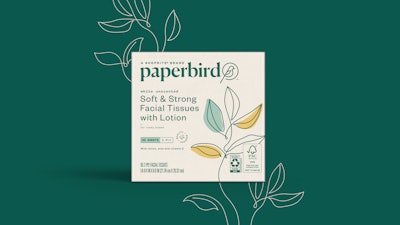 As part of an ongoing transformation of ShopRite own brands, independent brand design agency Pearlfisher New York worked with ShopRite parent company Wakefern Food Corp. to create the brand, strategy, visual identity, packaging, portfolio redesign, and roll-out of the new Paperbird line of household products.
With bullish retailers making the own-brand market increasingly diverse and competitive—and with customers expecting more than just value—U.S. co-operative retailer ShopRite is taking a pioneering approach to the future with its creation of new high-quality but low-budget own brands. To do so, they partnered with Pearlfisher for a creative strategy and execution.
The value and meaning that ShopRite customers are used to is now elevated by Paperbird's human approach to household goods.
---
---
"Instead of leading with cleaning solution statistics or ply-count, Paperbird brings a personal touch to performance, with a brand name that suggests how you might feel when you know the messes, chores, and to-dos are sorted," says Hamish Campbell, VP, Executive Creative Director at Pearlfisher.
Paperbird communicates an uplifting sense of quality, modernity, and precision, not unlike the origami birds to which the name alludes and, with the basics sorted, the idea of being as free as a bird to focus on the stuff that matters.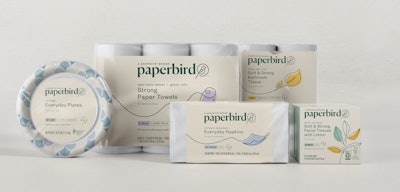 "For Paperbird, our idea of the flight of the bird, and the free as a bird sentiment, brings the optimistic, spirited, and approachable aspects of the brand to life visually echoed in a soft color palette and muted tones," Hamish adds. "There's a literal through line in the design of Paperbird, which traces the flight of bird that appears in the logo lock-up and ties each product together as a family, often cueing the product's function, qualities, or shape through the shape of the illustration."
To extend the lightness and approachability of the brand, Pearlfisher paired each Paperbird product with descriptive copy. For example, the aluminium foil is "good for last-minute Halloween costumes," and the bathroom tissue is "suitable for all bums."
Says Pearlfisher, own brands were developed to create value—driving loyalty and trust by providing the essentials with a quality that consumers could count on with a price that made eating and living better more attainable. This fact remains, Pearlfisher adds, and with Paperbird, the brand breaks through the generic connotations that many own brands receive by telling a more emotional, and therefore desirable, story through design and copy.
---
---
Says Laura Kind, ShopRite Vice President of Brand Strategy, "We knew we couldn't continue to rely on the residual love for the ShopRite name and value. Everyone now expects more and we need to be continually ahead of the consumers coming through to attract them to trial—and become loyal—to ShopRite and everything it has to offer. Something we're now in position to do with both Paperbird and Bowl & Basket [own-brand food line]."
The Paperbird range of products is available at ShopRite stores across the U.S.