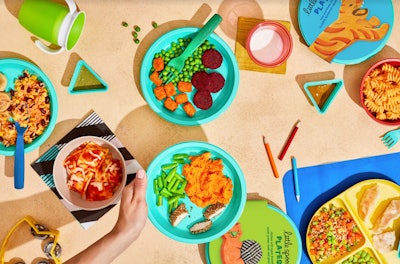 Little Spoon is a national brand best known for fresh, direct-to-consumer baby food. In 2016 Packaging World covered the emerging brand's patented resealable packaging and use of HPP in their Babyblends product line. They quickly sold over 1 million meals in the first year (now over 6 million), and amassed a following that now comprises the growing community on Little Spoon's parenting platform, "Is This Normal."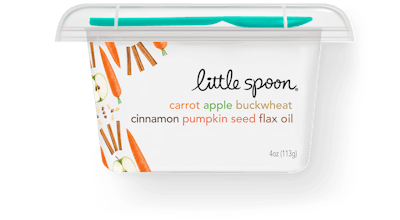 The company recently launched Plates, a new product line of over fifteen healthy, ready to heat-and-eat meals designed for 1-10-year-olds, and The Sauce Box, a pack of 3 dips available as an add-on to Plates with selections such as Soy Glaze, Veggie Ketchup, Creamy Dill Ranch, Avocado Crema, and Honey Mustard. The sauces, like the Plates meals, also feature "hidden veggies & superfoods."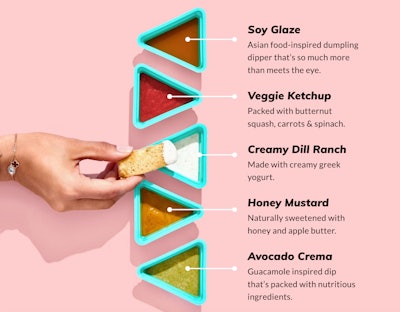 The Little Spoon Plates are reusable, recyclable, top-rack dishwasher safe, and BPA/BPS-free. Little Spoon will also be launching a reuse initiative - the Plates Send Back program.

"Our focus is to make it easier for parents to keep their kids healthy without breaking the bank or sacrificing hours of critical time each day. There aren't enough resources for this generation of parents in normal times — add to this a global pandemic, and we have millions of parents struggling each day. By launching Plates early, we hope to make this time easier for our community," says Little Spoon's co-founders, Lisa Barnett, Ben Lewis, Michelle Muller and Angela Vranich.
We asked Barnett (President & CMO), Lewis (CEO), Muller (CXO), and Vranich (CPO), for a company update:
1) When you first spoke with Packaging World, Babyblends was going to be sold in Whole Foods and other retailers as well as direct-to-consumer. When and why did you decide to solely ship direct-to-consumer and bypass retail stores?
One of the critical needs when it comes to nutrition is variety. Little Spoon uses over 100+ organic ingredients in our meals, and we simply would not be able to offer that level of variety at shelf. We frequently rotate our menu, integrating seasonal ingredients and unique flavors— keeping that flexibility to our menu is critical to offering our customers the best experience and it wouldn't be possible at the grocery store.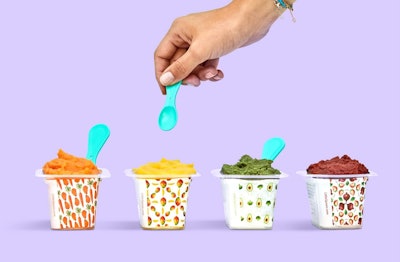 This flexibility afforded to us by going DTC also enables us to be responsive to our customers' needs. We change our recipes and bring new products to market frequently as we receive feedback from our community about their children and what they need more or less of. In fact, our entire R&D process was designed to include our customers' feedback at every step of the way. An example - one of our natural remedies, Poopie Power, designed to alleviate constipation for babies, was launched in direct response to our community sharing their frustrations on the lack of clean, all-natural and effective solutions to this very common pain point in infants.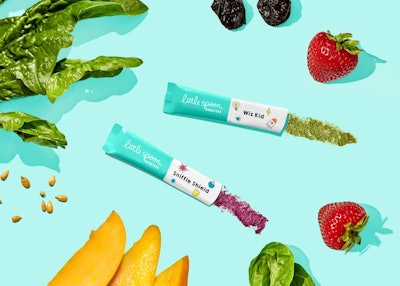 Another huge priority for us is convenience. We want to make sure that parents don't have to add time to their already busy schedules by constantly going back to the store for more blends or meals from us. Shipping directly to our customers allows us to save even more time in their already hectic day.

Finally, by going direct, we're also able to pass savings onto our customers. For example, our newest line of toddler & kid's meals, Plates, are offered under $5 a meal, a price point we wouldn't be able to match had we gone through grocery retailers.
---
See it Live at PACK EXPO Connects Nov. 9-13: Accurate, Stable & Fast Weight Readings, by Hardy Process Solutions. Preview the Showroom Here.
---
2) What kind of growth have you seen over the last couple of years? Has the pandemic impacted negatively, or pushed growth forward?
Little Spoon has seen triple digit growth year over year since our inception just 3 years ago. This is thanks to our incredible community, who has helped spread the word on what we do!
We've been fortunate throughout the pandemic to continue to ship out deliveries and have been a source of comfort for families who have been quarantining or have gone to the grocery store only to be met with empty shelves. We've grown our community tremendously and are doing everything we can to be there for our customers. Those who are essential workers or who have faced unemployment have been offered 'at cost' meal plans, and we've also worked to donate over $100,000 worth of our products to Feeding America (with plans to donate an additional $100,000 before the end of the year).

Working parents, and especially mothers, have been tremendously impacted by COVID-19, and in fact, 1/3 women have had to take a step back in their careers simply to care for their children in this time without regular childcare. The knowledge that our customers were struggling propelled us to launch our most recent line, Plates, early— and just in time for back to school.
3) Do you use HPP for preserving Plates and Dipping Sauces, since it is used with the Babyblends products?
We do not. Instead, we use our Freshlock® seal, a proprietary vacuum seal that enables us to keep our meals fresh without the use of preservatives. This seal uses cutting-edge vacuum technology that preserves food freshness and ensures the meal's flavors and ingredients are captured at their best. It also allows for even heating through steaming, self-venting to heat food quickly and evenly. The Freshlock® seal is completely free of BPA/BPS, phthalates and other plasticizers.
---
See it Live at PACK EXPO Connects Nov. 9-13: Highly Modular Packer: 7x12 footprint for Snack, Cereal, Hygiene & Consumer Products, by Focke & Co. Preview the Showroom Here.
---
4) What else can you tell us about the Plates packaging beyond being BPA/BPS-free?
Overall, we design our packaging solutions to be as simple and convenient as possible for parents, while also doing as much as we can to be as sustainable as possible.

When it comes to our Plates line, the physical plate that you receive your Little Spoon kid's meal on is made to be reused again and again. This plate is top rack dishwasher safe and will be reusable for Little Spoon once we're able to implement our send back program (this has been delayed due to COVID).
5) Tell us about Boosters, when was that product line launched and what kind of packaging does it utilize?

Our Boosters, a line of clean vitamins, probiotics & natural remedies, are another innovation from Little Spoon in the supplement/vitamin category. Our formulas are completely natural and combine key vitamins and probiotics with organic fruit and vegetables. Our packaging form factor is also unique: powdered sticks that can be poured and stirred into breastmilk, yogurt, ice cream— you name it. We heard from SO many parents that traditional form factors, like the dropper, were constantly rejected by their children, so we knew we needed to do something different to alleviate that pain point.
And there is much more to come with our vitamins, so keep a lookout!