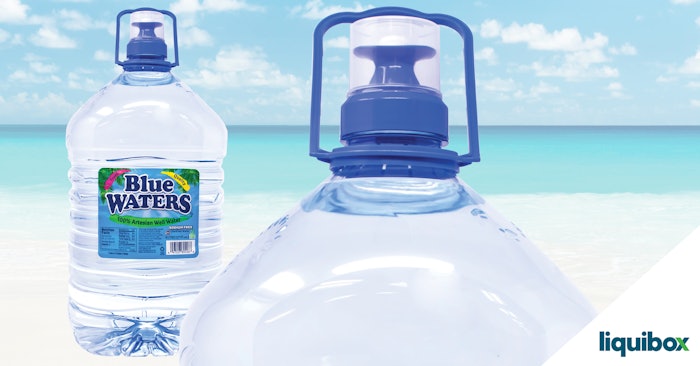 Headquartered in Trinidad and Tobago and serving nearby Santa Lucia, Blue Waters is the leading bottled water brand in the southeastern Caribbean. Handling all the process from the initial stage of blowing bottles to marketing the product both locally and regionally, the water bottler continues to expand and diversify at a rapid rate.
Early in 2020, its 8-L bottle recently added the unique UpTap® dispensing closure, debuted in 2019 from Worldwide Dispensers, part of Liquibox, to become the only format of its kind in the Caribbean. The closure feature offers ease and convenience that was particularly evident amongst consumers stocking up on high-quality water during the COVID-19 pandemic. This should also apply to weather events in the region,  like hurricanes. 
Blue Waters had already been using standard varieties of Worldwide Dispensers' closure taps for its water bottles for more than a decade, but was looking for new ways to create greater value. UpTap, a next-generation dispensing tap offered Blue Waters the opportunity to cut costs through a lightweight design. 
"Over the last 20 years, Blue Waters has led the family-serve and HOD bottled water category in no small part thanks to Worldwide Dispensers' innovative 8-liter dispensing tap. Blue Waters is excited to continue leading this category for another 20 years with the advent of the more sustainable UpTap from Liquibox," says Dominic Hadeed, owner of Blue Waters. 
---
Join us for "The Most Engaging Virtual Event for the Entire Industry" at PACK EXPO Connects, November 9-13. Live demos of equipment and products, live chat with product experts, expedited product search, and more. Attendee registration opens September 15. Be notified when the site goes live by clicking here.
---
UpTap fits on all standard 48/41 mm bottle necks and uses 48% less plastic than its predecessor, which in turn reduces transportation costs by up to 20% due to its smaller size. As an added bonus, its minimalistic, three-piece system improves recyclability and is safer for children to use. 
With UpTap, brands can provide consumers of all ages a more comfortable, more convenient way to stay hydrated. It dispenses easily from a horizontal position on the counter or in the fridge and enables one-handed pouring thanks to a self-closing button. 
Public response to the new Blue Water dispensing tap has been very positive and has enabled the brand to meet the needs of families who seek a convenient, reliable, and safe source of water during uncertain times. 
Companies in this article