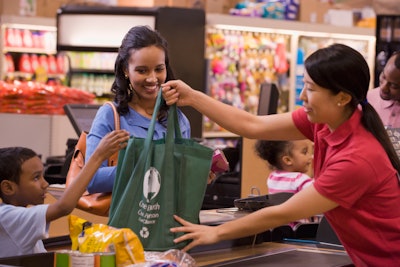 The plant-based food market is skyrocketing. Almost daily, there's some innovation in plant-based foods and alternatives in the retail and food service spaces. From baby boomers to young adults, people are reducing their animal-based product intake. The reasons vary, but typically the younger crowd is concerned about animal welfare and sustainability while the more seasoned population may be looking to improve health.
"Plant-based foods are a growth engine for the grocery retail industry—growing over 31% over the last two years to $4.5 billion in sales, outpacing total food sales by over five times," says Julie Emmett, Senior Director of Retail Partnerships at the Plant Based Foods Association (PBFA).
While plant-based milk and meat get much of the spotlight, the overall plant-based market includes seafood, eggs, meals, cheeses, yogurts, ice creams, butters, creamers, ready-to-drink beverages, spreads, dips, sauces, condiments and dressings, explains Emmett. "Listing all of these categories makes it clear that consumer awareness is at an all-time high, and consumers' desire to purchase plant-based foods is creating an opportunity for retailers to reevaluate how they're merchandising and bringing awareness to plant-based foods."
Another indication of market growth is the rapid expansion into fast food, with numerous chains such as Burger King, White Castle, Fatburger, and Dunkin Donuts that have rolled out (or are currently testing) plant-based options. And quite often, the consumers reaching for these convenient plant-based options are flexitarians opting to reduce (not eliminate) meat and dairy in their diets. This group represents a third of the population and even more in some parts of the country.
The vegan and vegetarian population continues to grow. "Just three years ago, only 1% of the population identified as vegan, and now it's 6%. It's a 600% increase, and these shoppers won't leave the store until they find what they need," says Emmett. While many people are either regularly choosing plant-based foods or shifting their lifestyle to include plant-based foods, there is still a majority of the population who consider themselves omnivores who eat a wide variety of foods. "So it's safe to say that there's no one who is not a potential plant-based food consumer. Lastly, it's important to note that research of shopper grocery baskets shows that shoppers purchasing plant-based foods spend 61% more overall than the average shopper."
Related reading: Food processors focus on health, shelf life, plant-based alternatives
Much of PBFA's efforts with retailers—education, research, data analytics, and shopper marketing—is ultimately to make it easier for shoppers to find and purchase plant-based foods.
1. What is the mark and why was it started?
A few years ago, the plant-based foods industry captured the attention of Nova Sayers, Senior Business Development Manager, NSF's Sustainability Group. "The massive consumer shift to more plant-based diets was driving double digit growth in demand and in the marketplace. At the same time I was seeing a flood of investment money into new and young plant-based brands. On the one hand, I knew that NSF should support this because of the innovation, the public health and environmental benefit that plant-based foods can offer. At the same time I was seeing multitudes of new products and new ingredients with a very wide range of claims and all different types of labels showing up at trade shows and on store shelves. And I recognized that this could pose a serious risk to continued growth and trust in this exploding industry."
She reached out to Michele Simon, JD, MPH, Executive Director at the newly formed PBFA, who was hearing the same needs from stakeholders. "Brands wanted to communicate to a wide range of consumers, including flexitarians and those trying to shift their diet, not just to vegan," says Sayers. "And these brands needed a meaningful definition of the term plant based, one that they could rally around in order to maintain consumer confidence, and also to prevent `plant washing'. At the same time, retailers were saying they needed help to effectively merchandise the literally dozens of new plant-based products that were showing up across their stores."
They wanted to help shoppers easily find these products that appeal to their values and shifting lifestyle choices without sifting through the ingredients label. "In 2018, NSF partnered with the PBFA to come up with a simple and elegant solution, one that would work for brands, for retailers and for consumers. And that's how certified plant based was born," says Sayers.
Critical to the endeavor says Simon, is that "our seal, thanks to our partnership with NSF, is verified by a third party. … It's so important to have that third-party verification so that we at PBFA are not involved in the oversight in the actual assessment of the allowance of the seal." [Editor's note: some quotes refer to the plant-based mark as a seal.]
Due to demand, the PBFA team will be expanding in 2020.
2. What foods qualify?
While foods such as beans, produce and grains are produced by plants, PBFA's definition of plant-based is focused on foods meant to replace animal-based foods, e.g. meat, egg and dairy substitutes. Protein powders are included in the scope but at this time, dietary supplements do not qualify.
As an example, foods that happen to be plant based such as oatmeal do not qualify. Marci Burton, Senior Business Development Manager at NSF's Consumer Values Verified explains, "If it's a product that's inherently plant based, that is not included at the scope, as we're trying to make it a meaningful definition for animal alternatives or products that contain animal alternatives. So if this was a soup that's classically cream-based with dairy products, that could be eligible if you were using an plant-based alternative to the cream."
Qualifying categories include tofu and tempeh, meat alternatives to beef, pork, chicken and fish, milk alternatives, other dairy alternatives such as cheese, yogurt, ice cream, butter, egg substitutes and mayo, meals with meat or dairy alternatives, baked goods, and protein powders.
3. What's the difference between the vegan and the plant-based mark?
The foods that garner the plant-based certification mark are 100% free from animal ingredients. But not every consumer of these products defines themselves as vegan. As many as a third of all consumers are reducing their meat and dairy intake.
While brand owners can use both the vegan claim and the plant-based certified claim, Simon explains, "I wanted to put the certified plant-based seal out there into the market understanding that not all brands resonate with the word vegan, and wanted to reach a broader audience... our certification requires that the food be 100% free from animal ingredients. And we make no exceptions to this rule. "
The vegan seal can be used on a wider range of foods, not just the animal-alternative foods. "Also, plant based means made from plants. And vegan tends to mean what the food doesn't have. So in other words, we were really clear that we wanted an affirmative, celebratory way of describing the food to say that it's made from plants," Simon adds. Foods may contain10% additives that are not plants, but that 10% must also be free of animal-based ingredients.
4. Partnering and the future of certified plant-based… who's in?
The PBFA is helping brand owners to navigate the arena, with companies like Albertsons, Morningstar Farms, Oatly and Miyokos having achieved certification (a full list is available at the NSF's listings web page). But there are also distributors, retail outlets and retail partners seeking the certification for store signage and more.
"PBFA partners with retailers on custom research projects to provide evidence-based information to help guide these decisions. And a good example of this is the plant-based meat control star test with the meat department at Kroger, and we are incredibly excited to see the results of this test and to share this with the industry," says Emmett.
5. What does the process entail?
The certified plant-based program is a three-step process: application, review, and certification stages. Burton explains, "First we pair you with an account manager to collect the application, and this is going to include your formulas or recipes, ingredient documentation, labels and the facility compliance plan. Our team at NSF will review your products, labels and facility for compliance to the definition of plant based as defined in the certified plant-based standard, including PBFA's voluntary labeling standards."
Product label review includes evaluation of the use of the logo, and brands must sign a licensing agreement with the PBFA to use the logo. The logo licensing fee is waived for PBFA members.
Upon successful validation, the certified plant-based mark can be used on packaging and websites. The certification steps, fee schedule and more are available at PBFA's site.
To learn more, visit: nsf.org/info/plantbased
Looking for more news on plant-based packaging and processing?
Plant-Based Food Market Takes Root
Plant-Based Food Pilot Plant Launches
Plant-Based Products Are Now in the Meat Case
Food Processors Focus on Health, Shelf Life, Plant-Based Alternatives
Coconut Bliss Finds Packaging Nirvana with Plant-Based Pint Cups
Companies in this article