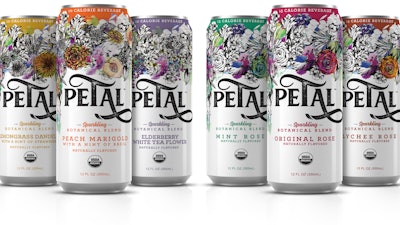 Petal is the brain child of Candice Crane, South African transplant to the U.S. with strong ties to the packaging world. Her father, Mike Levy, uprooted the family decades ago to buy Arpac, a PMMI machinery manufacturer in Schiller Park, IL. Levy sold Arpac back in 2017 and now his daughter is blazing her own trail in the beverage market, and packaging and branding play a huge part in the success equation.
Crane started blending her own teas at home and found a connection with her grandmother's love of rosewater. Long touted for containing antioxidants and having healing qualities for skin and digestion, even mental well-being, Crane experimented with blends of rosewater, spices and dried florals.
But Crane stresses the sparkling beverages are not functional foods or supplements, they are a nutritious beverage, and are marketed as such, much like herbal tea. Petal makes no health claims and packaging does not contain a supplement panel.
Other brands may have one or two botanical SKU's, but every can of Petal is an organic-certified, botanical beverage. Flavors include Elderberry White Tea Flower, Lemongrass Dandelion and Peach Marigold, as well as Original Rose, Mint Rose and Lychee Rose.
An early mentor was a co-founder of Steaz green tea and energy drinks. Candice learned about ingredient sourcing, formulas, processing and building a brand. This same early supporter ultimately became an investor.
"My advice for anyone starting a new brand is align yourself with a key strategic partner--a co-manufacturer/co-packer," says Crane. This partnership lead to a shrink label supplier. Much like the popular trend in craft brew to use a metal can with shrink labels, Petal also currently uses shrink sleeve labels. The graphics are arresting. Once volumes of batches increase, Crane will look at the economic feasibility of going to printed cans.
The logo and label are the creation of one of Candice's favorite artists, Holly Sharpe, from Scotland. Take a look at the artist's website and you can see the inspiration behind the brand identity. Crane was familiar with Sharpe's work from one of her own children's decorated duvet covers and sought the artist out to realize her vision.
Production at the co-packer runs 12-15 weeks out. Once the production run is complete, cans of Petal stay another week in the production facility for microbial testing and are then released.
Currently, cans are sold in individual units packaged with 12 cans in a corrugated tray and shrink-wrapped in clear film to let the brand graphics breathe for distribution. Coming full-circle with her packaging past, trays are erected and shrink-wrapped on Arpac end of line machinery.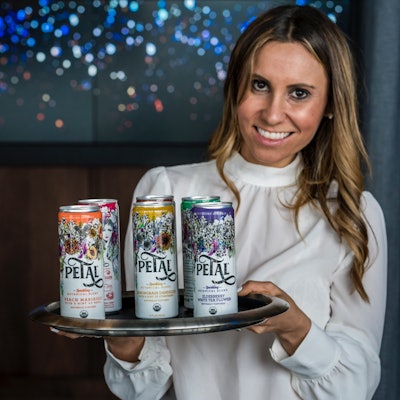 Watershed moments in Petal's evolution
"Aha!" moments for Candice Crane include standing in her kitchen brewing tea and realizing she wanted to create a product specifically targeted to ALL women that would deliver a true brand experience. As a millennial consumer herself, and mother, she knew she could create a healthier brand than offerings she was seeing in the marketplace which tended to include a lot of sugar.
The trip to the flavor house where she learned she could source all-organic ingredients was another important day in the birth of Petal. As was the day Holly Sharpe's graphics for branding and labeling were completed in Scotland.
Early shelf tests in Chicago saw 900 units sold in three hours, and Crane knew she was on her way.
Crane signed on with national distributor, World's Finest Foods, (who have also partnered with Crane) and now Petal is in more than 800 stores nationally—mostly independent and nutrition and health stores. She hopes to be in 1,000 stores by the end of this year, and 2,000 the year after that.
Petal is an emerging brand with national distribution, a real appeal to the health-conscious, and industry recognition. New Hope Network, producer of the Natural Product Shows, recently placed Petal in the top three of new organic beverage brands, and Bevnet also recognized this emerging beverage brand.