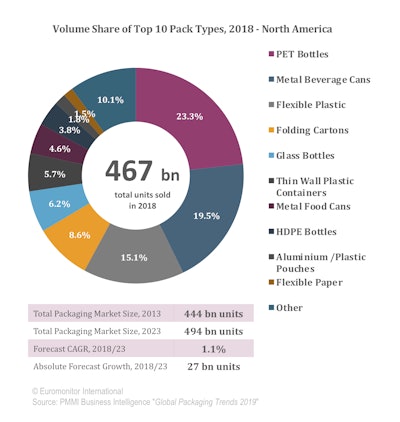 According to "Global Packaging Trends," a new report compiled by Euromonitor International for PMMI Business Intelligence, two major trends continue to drive packaging in the United States (the leading market shaping trends for North America) – convenience and sustainability.
Packaging across multiple categories such as packaged food, alcoholic and non-alcoholic beverages, and beauty and personal care is being driven by convenience, while the desire for environment sustainability has prompted manufacturers and retailers to use new eco-friendly materials, redesign pack types, and institute promotional programs to encourage reuse of materials. The United States is expected to have a 24.4 billion unit absolute volume growth by 2023.
Across North America, PET bottles accounted for the highest share in the packaging category, posting a CAGR growth of 2.3% over 2013/18, and boosted by the use of PET bottles in the wine and read-to-drink coffee segment. PET bottles are expected to remain dominant in North America over 2018/23, though environmental concerns regarding plastic use among North Americans have led several manufacturers to introduce rPET (recyclable PET). This market is expected to see a 14 billion unit absolute volume growth by 2023.
Within flexible packaging in North America, stand-up pouches accounted for a dynamic CAGR of 7.9% in confectionery packaging in the USA over 2013/18. This category is expected to see continued new product launches with an expected CAGR of 7.1% over 2018/23.
Carbonates led the volume share of packaging in North America in 2018, and premium and craft releases favored glass packaging over plastic or metal beverage cans. Due to a recent trend toward avoiding sugary drinks, this market is expected to decline in volume during the 2018/23 period, with a negative 2.3 billion unit loss by 2023.
Spotlight:
Metal can use is rising in categories such as beer and wine for on-the-go consumption and ease of storage in multi-packs.
Dog and cat food packaging is expected to post a CAGR of 2.3% and 2.5% over 2018/23 in Canada and the USA, respectively, due to the rising demand for single-portion meal packs.
Global players lost the lead in their respective industries over 2013/18 in the North American market, however, Proctor and Gamble still accounted for a significant presence in 2018 within packaged home care.
In Canada, PET bottles gained the highest growth in ready-to-drink tea, due to new product innovations and the overall perception of tea as a natural and healthier alternative.
In dairy and soft drink packaging, manufacturers are making efforts to reformulate traditional packaging to be sustainable and less wasteful. PET bottles and metal beverage cans remain popular pack types.
Wine is increasingly being packaged in new pack types such as bag-in-box, liquid cartons, and PET bottles.
Source: "Global Packaging Trends," Compiled by Euromonitor International for the Packaging Machinery Manufacturers Institute (PMMI). PMMI Members can download the full report for FREE, here.
Australian Packaging & Processing Machinery Association (APPMA)
PMMI, The Association for Packaging and Processing Technologies
UCIMA, Italian Packaging Machinery Manufacturers Association
Symop, French Association for Manufacturing Technologies
Make plans to visit PACK EXPO East in Philadelphia, March 3-5, to see on-trend packaging machinery and materials.