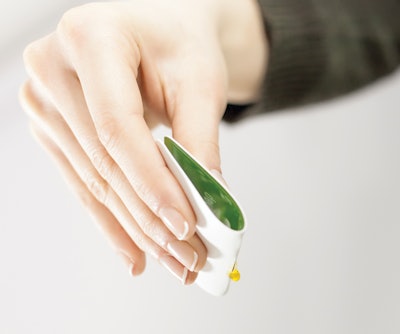 Editor's note: Knowing that innovation is the lifeblood of package development, and knowing that interpack 2014 would be awash in new and innovative packaging technologies, we unleashed a special team of editors and contributing editors to comb the aisles of the Düsseldorf Exhibition Center and report back on the packaging technologies they found most intriguing. I was pleased to be part of the team, and I was joined not only by Packaging World Senior Editor Anne Marie Mohan but also by five distinguished packaging professionals from Packaging Technology Integrated Solutions: Mike Richmond, Brian Wagner, Jill Ahern, Peter Menary, Phil McKiernan, and Jocelyne Ehret. Here's our report. —Pat Reynolds, VP Editor, Packaging World.
Active and intelligent packaging
A research center in Spain specializing in packaging, ITENE has more than 90 technical resources focused on packaging research topics. Their goal is to generate scientific and technical knowledge in packaging, and they have a particular focus in active and intelligent packaging. They have identified three specific areas of focus in this area, including bio-nano composites (nano clays) that disperse into the matrix of biopolymers (PLA). Results indicate barrier enhancement by 20% to 40%.
They also have developed scavenging and emitting technologies that are able to increase shelf life of food products by up to 30%. The scavengers are able to take up oxygen, ethylene, moisture, CO2, etc. and the emitters include natural antimicrobials, antioxidants, aromatics, and carbon dioxide. A third area of focus is on indicators/sensors for product communication, including spoilage indicators to enhance food safety. Natural agents detect early spoilage compounds resulting in a color change to the attached label indicator. —Mike Richmond
Cool new portion packs
Easysnap Group out of Bologna, Italy, was on hand to display their "One-Hand Opening Sachet," (image shown) which they view as the only significant step change in portion-pack containers over the last 20 years. The company also builds the machinery to produce the Easysnap sachet and can provide co-packing services for clients. The Easysnap single-dose pack is designed to replace conventional portion-pack tear-top flexible sachets, small bottles, monodose containers, and thermoformed cups. It's certified for use with food, medical device, industrial, and cosmetic industries applications. The key concept or convenience is the ability to open and dispense product using only one hand. The Easysnap sachet is held in one hand and then folded with two fingers. When the sachet is folded, a mechanically made center cut (using a patented process) breaks open progressively, allowing the product to flow out in a controlled manner.
These sachets are available in sizes from 1 to 30 mL (possibly larger depending on application). The device has received all major food safety, medical device, and cosmetics certifications. Some examples of food applications are ketchup, salad dressings, syrups, and energizing liquids. Medical and cosmetic applications include liquid medications, ointments, baby care products, hand sanitizer, sun screen, and moisturizer. The Easysnap technology also offers extended shelf life vs. traditional sachet packaging. —Peter Menary
Ultrasonics for vf/f/s
MS Ultrasonic Technology Group has introduced a new, high-speed ultrasonic sealing module for use on vertical form/fill/seal machines producing four-side-sealed bags. MS is touting the benefits of greater sealing speeds and boosting the number of bags produced. Use of this newly designed module results in a continuous sealing process providing higher levels of quality and consistency. When foil is present in the substrate lamination, an active anvil gap regulation compensates for typical variations in foil thickness, which leads to less down time.
The compact design of the MS soniSYS unit allows for ease of installation on existing vf/f/s machines. The unit utilizes titanium tooling to dramatically reduce wear typically seen with thermal sealing. MS Ultrasonic has partnered with Wolf Packaging Machines to make the MS soniSYS unit available on new Wolf vf/f/s machines. —Peter Menary
Barrier compression molding
Multi-layer compression molding technology from Aisapack SA was among the package manufacturing technologies featured at interpack (visit pwgo.to/920). The high-output SFM Bacomex machine is well adapted to producing tube shoulders or spouts with high-barrier properties. Such parts can be cost effectively produced with precise dimensional tolerances.
There are several promising applications in the pipeline, including a barrier tube shoulder with digital printing targeted at the hair color market. This would permit brand owners to replace existing glass and metal solutions. Another application is in the area of barrier capsules, where the goal is to replace metal packaging and monolayer capsules to eliminate any need for secondary packaging in the form of high-barrier flow wrapping. —Brian Wagner
Lidstock becomes a lid
The SEALPAC EasyLid™ (image shown) system combines lidding and tray sealing in a single operation. It's an alternative to heat-sealing flexible film lidding to a tray and then adding an overwrap to protect the film lidding. This novel approach is based on adding a flange to the outside of an injection-molded polypropylene container that is then sealed to flexible roll stock film in one operation. When the package is used for the first time, the outer container flange comes off with the flexible film, thus creating a reclose feature.
This system offers a number of advantages including: reclosable lid, reduced equipment operations, reduced packaging materials and weight, thereby enhancing sustainability. This system has outputs of up to 160 containers/minute. First to commercialize the innovative concept is German food marketer Gardenfrisch Jung. One appeal of the Easy Lid in this case is that the salad's components, including the separately packed pouch of dressing, are in separate compartments. By removing the lid, pouring dressing over the salad, and then putting the lid back on, the consumer can shake the salad for a perfectly mixed and ready-to-eat meal. —Mike Richmond
Watch additional video related to this article at pwgo.to/922
'World's fastest' carton former
Said to feature "the highest speed in the world," Kliklok-Woodman's new TransFormer top-load carton former (image shown) runs both lock- and glue-style cartons at speeds to 120 cartons/min with a single head and in a compact footprint. According to Kliklok-Woodman, it used to require a double- or triple-head machine to achieve these speeds. A combination of technologies powers the TransFormer: a "pitchless" segmented wheel carton feeder; a servo profiled single-head plunger that allows for absolute head-to-cavity positioning; an ergonomic, waist-level hopper; and Allen-Bradley automation technology.
Feeding cartons into such a machine typically requires operators to repetitively reach up to insert carton blanks into the hopper. To ease the process of carton loading, the TransFormer features an ergonomic, waist-level hopper that provides convenient access and the ability to load up to 20 min worth of cartons at once. Blank cartons are then fed into a "rainbow" friction feeder that uses belts, rollers, and servo technology to attain high speeds and smoothly transport cartons to the forming area. There, a servo-driven, single-head forming system delivers the blank into a cavity, precisely folding carton panels into the desired position. The TransFormer then drops the cartons onto a conveyor that carries them downstream for product loading. The TransFormer relies on Allen-Bradley Kinetix 6000 multi-axis servo drives with MP Series™ low-inertia (MPL) servo motors to deliver the precise positioning needed for the TransFormer's feeder and forming system. —Anne Marie Mohan
New reclosure technology
Consumers will pay for the convenience offered by recloseability. So it's not surprising that so many new reseal convenience features have been introduced lately. The U.S. and European introduction of a "Velcro-like" solution from Aplix (image shown) and true package-friendly Velcro™ brand features in the last year have been newsworthy, and consumers seem to like the simple use and audible opening. But you had to know that ITW's Zip-Pak wouldn't sit quietly watching competition move into their territory without battling back. Now they've done just that with Vector™ no-alignment press-to-seal technology. It's tactile and offers audible cues, and its seal integrity is impressive.
While talking with Zip-Pak, we learned about another packaging innovation: controlled liquid dosing pouch technology for products like mouthwash and motor oil. Traditionally these have been relegated to clever blow molded bottle designs. But many brand owner companies are looking for ways of replacing rigid packaging formats with flexibles, hoping to save cost, gain sustainability, and deliver the same or similar performance benefits. Now Zip-Pak is helping to advance a controlled dosing pouch technology from TechniPac called PreSure-Lok. It was developed by TechniPac's Mark Steele. Working samples at interpack exhibited the ability to squeeze liquid into a no-leak compartment in the pouch seal, and then separately dispense the controlled-volume dose. —Brian Wagner
Foamed PE-based films
Dow has developed the MuCell® technology for flexible packaging to create new, light-weight, flexible packaging solutions. Dow has been working on foamed materials for over a decade and is a licensee of the MuCell Technology. The technology includes the mounting of the system onto the extruder and uses a supercritical physical blowing agent (CO2) for cellular nucleation. The finished film has uniform cell sizes of less than 100 micron cells (30-50 microns is more typical). The resulting foamed films can have up to a 30% reduction in carbon footprint.
In many cases, according to Dow, the ROI is less than three months. The technology is currently focused on PE-based films. Up to 20% lightweighting can be achieved yielding mechanical properties similar to non-foam PE alternatives. The resulting material is 30% lighter and has excellent performance while providing reduced costs and enhanced sustainability because less material is used. —Mike Richmond
Snapsil is back
Several years ago we reported on Snapsil®, a line of snap-to-open patented portion-control containers for a wide range of liquid or dry products that made it possible to open and dispense product with just one hand. Snapsil® seems to have new life, with a move from injection molding to thermoforming through partnership with Multivac, Bemis®, Klöckner Pentaplast, Visy, Sealed Air, THEM, and others.
As we have seen with the success of stick packs in the U.S., THEM has a unique ability to drive marketplace success through collaboration with material, machinery, and contract manufacturing partners. Monolayer PP, as well as multilayer structures, are available, and according to Snapsil's CEO Neil Cashman, developments with PET are underway. —Brian Wagner
Watch additional video related to this article at pwgo.to/923
Novel retort for pouches
Unlike retort systems for metal cans that are fundamentally continuous-motion in nature, most retort systems for flexible packages are batch systems. They require a lot of handling or "touches." Moreover, there are limitations on the size of the trays that hold the pouches as they go through the retort, and the pouches typically need to be all of one size. Steritech has developed SerialTower, (image shown) a twin-tower retort system for flexible pouches that gets around many of these previously unavoidable limitations. It takes pouches vertically up through a heating tower and then down through an adjacent cooling tower. The pouches are automatically loaded into retort trays and unloaded out of these trays for handling by secondary packaging equipment. So it eliminates many of the loading, unloading, handling, and waiting steps that have traditionally kept the retorting of pouches from being an efficient operation.
With pouches automatically loaded from primary packaging lines, retorted, and returned to secondary packaging lines, all kinds of manufacturing efficiencies and product quality advantages are gained. Finally, by avoiding having to heat and cool everything with each batch, SerialTower reduces costs on energy and water consumption every year it's in use. The SerialTower system can handle 4 tons per hour, and Steritech claims a 30% shorter cycle time than batch retorts.
—Mike Richmond
Plastic cans
Plastic substitutes for metal cans were notable at interpack. The KlearCan (image shown) from Kortec is a three-layer co-injection molded can consisting of PP/EVOH/PP. It can withstand retorting at 131º C. Supplied by Kuraray, the EVOH includes an oxygen scavenging additive. According to Kortec President and CEO Paul Swenson, the can, which takes a seamed-on steel end, is a drop-in substitute for steel cans. Providing 100% oxygen barrier, it is designed to provide a two-year shelf life. Installations of the can-making machinery at Kortec customers are expected to occur in 2015.
Taking a very different approach to a retortable barrier plastic can is Weidenhammer, which showed at interpack an injection-molded and in-mold labeled Permasafe container used commercially by Latvian fish marketer Brivais Vilnis. In the label is a barrier layer of either SiOx or aluminum oxide that gives the retorted polypropylene container a two-year shelf life. Topping the container is a seamed-on steel lid with an easy-open ring-pull feature. At Weidenhammer's interpack booth, Sales Director Andreas Rothschink said that the plastic container is filled on the same filling and seaming line that was used to fill the steel can that has been replaced. Only minor modifications to the seaming rolls were required. A key to the Weidenhammer technology is optimized application of the two in-mold barrier labels—a bottom label plus a wraparound on the sidewall—to guarantee no gap in oxygen barrier. —Pat Reynolds
Watch an Off-the-Shelf video of this package at pwgo.to/964
Modularity provides customization, flexibility
As CPGs face pressure to produce shorter runs, limited-edition packaging, and special formats to suit individual retailers' needs, modular packaging equipment customized to their requirements has become an increasingly popular option. At interpack, Bosch Packaging Technology touted the flexibility of its new solutions. Among them, Module++ (image shown) links Bosch's standard stand-alone modules for adaptable, scalable, end-to-end solutions. Said Bosch Executive Vice President Engineering and Manufacturing Dr. Stefan Konig at a company press conference, "With this concept, we offer maximum flexibility at an attractive price. Customers select standard machinery that is then adjusted to meet their specific needs. From additional single units to automation and entire lines, Module++ covers a broad range of applications." At the show, Bosch showcased modules for bar production, gentle product handling, and distribution and feeding, along with horizontal flow wrappers, vertical baggers, cartoners, and case packers.
Elsewhere, this time in the area of pharmaceuticals, Optima packaging group GmbH presented its INOVA SV modular system, which covers a wide spectrum of applications, from testing to small and medium-sized batches. Notes Optima, because biopharmaceutical products have special requirements, numerous product changes are typical. The INOVA SV can be equipped with upstream and downstream equipment and barrier functions for safe processing of various types and classes of pharmaceuticals. The system allows for the processing of nested ready-to-use syringes, nested vials, and ampules in one unit. A range of filling systems can be used, including rotary piston pumps, peristaltic pumps, mass flow metering, and time-pressure systems. Options also exist for the number of filling heads, the dosing range, buffer systems, upstream handling, closing systems, and barrier systems. —Anne Marie Mohan
Anti-counterfeiting label & cap combo
A new tool in the pharmaceutical manufacturer's anti-counterfeit packaging toolbox, the Flexi-Cap label-and-cap combination from Schreiner MediPharm provides clear, irreversible tamper-evidence to prevent the illegal reuse of medicine containers under the guise of being unopened, original products. According to Schreiner Marketing Communications Manager Hildegard Mock, the idea for Flexi-Cap was adapted from wine-bottle capsules and tailored to the specific requirements of the pharmaceutical industry. To create a package with the Flexi-Cap, a film cap, or "capsule," is positioned over the closed container. Then, the label is applied without covering the peel-open tab of the opening strip on the film cap. Once the strip is opened, the bottom part of the cap, together with the label, remains attached to the container. Attempting to remove the rest of the cap destroys the label, eliminating the possibility of unnoticed illegal reuse.
As its name implies, Flexi-Cap is flexible, accommodating different container types, forms, and sizes. Because it does not require heat for application, it is a viable solution for temperature-sensitive medicines. Flexi-Cap can also be easily integrated into existing label dispensing processes. To further ensure brand security, users can combine Flexi-Cap with other brand protection features, such as holograms and color-shifting inks. The top of the film cap provides space for barcode printing or for NFC chip integration for electronic tracking. Flexi-Cap can also provide special functionality, such as extended-text labels. —Anne Marie Mohan
Induction integrity verification system
I2VS from DIR Technologies is the first commercialized thermal imaging inspection system for induction seals. The portable scanning equipment uses real-time quality inspection to facilitate process validation, control, and verification as outlined in 2001 FDA Stage 3 process validation guidance. At run speeds of 300 bottles/min with the cap on, I2VS will identify and remove bottles suffering from the most common induction-seal problems, including bent foil, missing foil, under heating (cold soldering), overheating, crooked cap, and laid-down or upside-down bottle.
This new inspection system enhances quality by inspecting each bottle/seal/cap produced, thus eliminating batch inspection systems using traditional water bath test equipment. Additionally, each bottle is imaged using sophisticated infrared detectors and thermal imaging. Data and reports generated are compliant with 21-CFR-11 requirements. Pricing was identified at approximately $200,000 U.S. —Phil McKiernan
Rotary aseptic blow/fill
The world's first rotary aseptic blow molding machine with an integrated aseptic filler and capper was displayed by GEA Procomac S.p.A. To deliver this innovation, the internal and external surfaces of the preform are sterilized with vaporized hydrogen peroxide (VHP) at a controlled temperature and concentration at the exit of the oven; then the preform is blown with sterile air in a sterile environment that's maintained throughout the filling and capping process. Advantages claimed include smaller machine footprint, elimination of bottle rinsing, and minimized use of chemical sterilant since the preform and not the bottle is sterilized with VHP.
Another advantage of the process is the ability to further lightweight the bottle by increasing temperature treatment of the preform without risk of shrinkage that would affect the bottle shape. Blow and fill rates up to 48,000 per hour are possible. Decontamination levels can be varied based on shelf life needs for low acid beverages, high-acid aseptic beverages, extended shelf life beverages, water, etc. —Phil McKiernan
Automatic EOAT changeover
An impressive four-robot wraparound cartoning system from Gerhard Schubert GmbH drew lots of attention at interpack. One robot was for erecting the carton, a second loaded bottles into the carton, a third closed the carton, and a fourth picked the finished carton and placed it on a discharge conveyor.
The most impressive aspect of this machine is that, should the end user need to go to a new bottle size, the end-of arm tooling can be changed in a matter of minutes with no more human intervention than the press of a button at the HMI screen. The key is a central transmodule device. When containers are being cartoned, this is the device that carries them through each step of cartoning. But when it's time for a changeover, this device has automatically attached to it an adapter that becomes the carrier of the end-of-arm tooling. It positions itself in front of each robot so that the robots can rid themselves of the tooling that needs to be removed and stored. Each tool is then placed, again without human intervention, in a cabinet at one end of the long machine. Once all the tooling that needs to be replaced has been removed and stored, the transmodule device then picks up the new end-of-arm tools from another storage cabinet and methodically carries them to their respective robots so that robot and tooling can be joined. When all the new tools are in place, the system automatically removes the adapter from the transmodule and the transmodule resumes its task of transporting containers through the cartoning process. —Pat Reynolds
Watch additional video related to this article at pwgo.to/924
'Backing paper-free' labels
There's lots of buzz of lately regarding linerless label concepts. Avery Dennison has thrown its hat in the ring with the new LPA 81x print-and-apply labeler (image shown) with LightSmart™ "backing paper-free" material. According to an Avery Dennison sales rep at the interpack booth, "The glue is the innovation." Rather than using a sticky adhesive on the back of the label that can gum up the printer, LightSmart material is coated on the reverse side with a non-tack adhesive. Using the LPA 81x print-and-apply unit, data is printed on the material, and labels are cut to the desired length. The adhesive backing is then activated through infrared heat. The LightSmart label becomes sticky through heat activation after the print-and-cut state—a key differentiator compared to existing backing paper-free print-and-apply solutions, says the company. The sticky label is then applied to a carton, tray, or pallet.
As Avery Dennison explained at interpack, LightSmart material allows for 60% more labels per roll versus conventional pressure-sensitive labels with backing paper, resulting in reduced inventory space, reduced shipping costs, and fewer roll changes during operation. The lack of backing paper also eliminates waste as well as the time and cost associated with waste handling. Waste is also eliminated due to the printer's ability to change label lengths on-the-fly. Among the environmental advantages cited by Avery Dennison of LightSmart compared with conventional p-s labels are the following: a 47% reduction in water usage; a 25% reduction in energy; a 2% reduction in the carbon footprint; and a 65% reduction in the solid waste footprint. LightSmart technology was a joint development with the Fasson division of Avery Dennison. —Anne Marie Mohan
Thermoformable paper barrier tray
PaperLite® (image shown) sustainable packaging solution produced by Flextrus, a member of the AR Packaging Group, brings the benefits of paper-based packaging to the deli category. PaperLite is an FSC-certified paper-based, thermoformable base web that allows for both a reduction of plastic and a unique paper look and feel for consumers. According to Flextrus, the secret to PaperLite is that it's a special grade of thermoformable paper that has barrier properties added to it in the form of a coextrusion coating of PE/tie/EVOH/tie/PE. The material is also suitable for heat sealing lidstock to it. Current commercialized applications include sliced cheeses and meats, but PaperLite is suitable for many other shallow tray applications, as well.
Options to customize the technology include easy-peel lidding and both medium- and high-barrier protection grades. Business Development Manager Ronny Gimbe shared the technology benefits, which include a strong sustainability story from reduced packaging weight compared to standard polymer-based materials, environmental benefits since the source of PaperLite is FSC-certified sustainably managed forests, and recyclability under EU regulations since the barrier represents just 14 to 15% of package weight. In addition to sustainability benefits, PaperLite meets the growing consumer demand for premium product packaging, including high-quality flexo printing, advanced graphic reproductions, and a unique paper tactile quality. PaperLite provides an opportunity to differentiate products on-shelf and appeal to consumers who prefer fiber-based packaging and a premium or artisan brand "halo." Expect to see continuous evolution of examples like this where packaging technologies balance consumer demand and high performance. —Jill Ahern
Propellant-free dispensing
On display at the Airopack booth was an all-plastic pressurized dispensing system (image shown) that is environmentally friendly and presents no inhalation risks. The main container is injection stretch blow molded PET, while other components shown here are injection molded. Airopack requires no harmful propellants and presents no unnecessary waste. The key to this five-part packaging solution is a high-precision pressure control device (PCD). Included is an air-pressure reservoir that provides constant controlled-flow product dispensing. Airopack works with a wide range of different product formulations and characteristics, providing a continuous dispensing flow from start to finish with zero strokes to prime and with 360-degree dispensing possibilities.
Among the first commercial users of this technology is the Elizabeth Arden brand for a Self Foaming Mask. Later this year, expect to see both Procter & Gamble and Method in Airopack containers. —Pat Reynolds
High-heat-application bio resin
Newly introduced by Biotec at interpack, BIOPLAST 900 is a plasticizer-free thermoplastic material that contains 69% biologically sourced polymers such as PLA and potato starch. The material is suitable for high-heat and short-cycle injection molding processing as well as for conversion by sheet and blown film extrusion. The material is mainly designed for packaging dry and/or fatty foods; application for hot-filling beverages is another option. At interpack, a k-cup for coffee was shown with claims of complete biodegradability according to EN 13432; compostability (depending on thickness) and allowance for incineration were also claimed.
Additional general applications include injection-molded articles (cutlery, medical devices, clips, cups for hot and cold drinks), thermoformed products such as food trays, and blending with other resins. Formed products can be printed by flexographic and offset printing without pre-treatment. —Phil McKiernan
Progress in renewable resources
While development of packaging materials made from renewable resources has been in the works for several years, at interpack there were new examples of potential breakthroughs for packaging applications with sustainable sourcing being taken to new levels. Whole new sources are emerging. Notable are the ones that don't compete for feedstock, have a compelling performance advantage, or are otherwise advantageous over current technologies. Two intriguing examples of such research are currently being developed by collaborations funded under the European Commission's Seventh Framework Programme. The first, the OliPHA, is a three-year consortium-funded R&D study currently evaluating the development of a method to produce polyhydroxyalkanoate polymer-based packaging from widely available olive-oil production waste water. The research team believes that PHAs have great potential to replace many plastics used in packaging today, and they are seeking more cost effective methods of production and sustainable PHAs.
The second is WheyLayer™, a three-year R&D project that began in 2008 and now is entering the scale-up and patent review phase. It aims to replace currently used synthetic oxygen-barrier layers with whey protein-coated layers readily available as a by-product of food processing; these materials are often discarded in the EU. At present, pilot production is underway for testing various materials and market applications, including use in food, pharmaceutical, and personal care. —Jill Ahern
Child-resistant pharmaceutical carton
Packaging that brings benefits on several fronts is always a winner, especially when the benefits include increased sustainability and lower cost. Locked4Kids (image shown) is that kind of packaging.
Ron Linssen, Managing Director of Netherlands-headquartered EcoBliss, was on hand at interpack for the press event announcing Locked4Kids. Linssen explained that as a manufacturer of blister packaging for pharmaceuticals, EcoBliss was keenly aware of the continued threat of children being poisoned by household materials. That's what led to the creation of the patented Locked4Kids recloseable carton, which meets both the European and US standards for child-resistant pharmaceutical packaging. The package design consists of a tear-resistant outer carton with a locking blister tray inside. Slots on the edges of the carton align with hooks on the blister tray. In order to remove the tray, hooks near opposite corners of the package must be simultaneously pressed, a task nearly impossible for a child's hand to execute. Adults, however, are able to press and slide the tray quite easily. Locked4Kids reduces the high cost and additional material required for many other child-resistant packages, while still maintaining the sizeable face panel and stackability of a carton. Locked4Kids was nominated as a Top 10 finalist in the De Gouden Noot 2014 Packaging Innovation Awards. Watch for commercial applications of this innovation to be introduced in the coming year. —Jill Ahern
Novel dosing system
Dispensing closures for liquid and dry products can be messy. Overdosing is reported to happen more than a third of the time. Menshen has developed a new two-part system with a flip-top cap (image shown) solution to get rid of the mess and add convenience for consumer use. The idea is simple with the dosing or charging put into the bottle neck area. The package is turned upside down to charge the one2dose® system for the first time. When turned upside down (after the first time) the bottle discharges the appropriate dose. The accuracy is reported to be plus/minus 10%, which means significant product is saved over time. Menshen notes that this system will be introduced in North America in 2014 in the laundry sector with a 20-mL dosing charge. —Mike Richmond
Watch additional video related to this article at pwgo.to/921
Continuous spray trigger
Another evident trend at interpack was consumer-driven functional packaging innovations and design. One such example is the Flairosol™ ImPress spraying solution by AFA Dispensing Group of the Netherlands. Flairosol is a non-pressurized propellant-free airless spray package with an aerosol-quality spray. It consists of an elegantly designed trigger-operated dispenser and a bag-in-bottle container combining several advancements and meeting multiple consumer requirements into one package. Dennis Stevens, Executive VP of Business Development, explained that the original insight leading to Flairosol's development was the need to reduce the repetitive motion and hand fatigue required with trigger sprays, but without the unwanted addition and regulatory challenges of propellant gases, volatile organic compounds (VOCs), or pressurized containers. The resulting Flairosol innovation sprays from 360-degree angles and produces a steady and continuous stream of product with nearly 99% product evacuation. It even allows brands to leverage the option of reusable dispensers with replaceable product containers for improved sustainability and brand marketing.
Flairosol's profile design also creates a unique visual differentiator on shelf, and provides significant ergonomic benefits for consumers during use. Flairosol ImPress would be suitable for applications that benefit from even spraying, such as personal care, pest control, and household cleaning or outdoor chemicals. As consumer insights become an increasingly critical part of package development, suppliers who rely on these insights are leveraging them in unique ways to enhance the ease of use, performance, and overall appeal of packaging technologies. —Jill Ahern
Algae-based bioplastics
Algix, LLC is a bioplastics company that introduced an interesting new plastics filler technology that converts non-food aquatic biomasses, primarily algae, into a renewable polymeric material. This material is targeted for use as a renewable option vs. standard fillers such as calcium carbonate. The technology is able to utilize existing polymer processing equipment in order to denature, unfold, and polymerize protein feedstock such as algae. Blended thermoplastic compositions that include the Algix material can be used in injection molding, cast film/fibers, and thermoforming processes. Algix recently partnered with a large-scale North American plastics processor to successfully produce a multi-layer thermoformed industrial application utilizing virgin resin combined with Algix material. Algix is in the process of applying for FDA approval of its product for use in food-based plastic packaging applications.
Some key sustainable advantages noted by Algix are:
•Algae has the highest growth rate of any plant on earth
•Algae isn't a food source for humans, so this technology won't adversely affect food prices
•These bio-based resin fillers can be competitive or less expensive than comparable virgin materials. —Peter Menary
Packaging Technology Integrated Solutions, a division of HAVI Global Solutions, LLC, is a professional services company providing strategic and operational expertise across the packaging value chain; for more information, contact Mike Richmond at mike@ptisglobal.com
Companies in this article