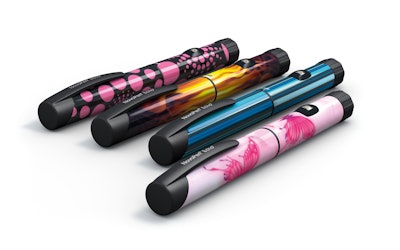 Pharmapack Europe's 2013 Awards revealed innovative solutions in packaging and delivery systems for medicinal and healthcare products that reached the market between November 2011 and December 2012.
In the "Compliance" category, NovoPen Echo by Novo Nordisk was awarded as the first insulin delivery device to combine a memory function and half-unit dosage system. The memory function displays how many units of insulin were last delivered and when, enabling children to manage their own treatment autonomously and self-inject their insulin more easily. This new device introduces an element of fun into the patient experience with a variety of stickers that can be used to personalize the pen.
Additional features of this new insulin device are its ease of use and the option of customizing the look of the pen with a wide variety of colorful skin covers to help make the experience more personal and individualized. NovoPen Echo aims to help develop kids' confidence as these features help children to self-inject more easily while also providing parents with reassurance that their child can manage this important responsibility on their own.
In the "Ease of use and process simplification" category, Arnica RH (Radix) DIS by Weleda was recognized for its paperboard packaging system comprising a tamper-proof closing device. Once opened, vials (or other pharmaceutical products) can be removed easily. The resealable box comes from board and paper packaging supplier Edelmann. The Weleda Group, meanwhile, is a Basel, Switzerland-based maker of all-natural skin and personal care, baby and mother care, and specialized medications. The user receives simple and easy-to-handle packaging. The machine technology stems from partner Uhlmann Pac-Systeme.
The "Easy use for ambulatory care" category was won by a blister-pack carrying case from STI Plastics. This range of blister-pack carrying cases is designed to store, transport, and protect bandages, blister packs, patches, etc. The packaging is made from 100%-recyclable plastic and is available to suit products of all sizes. It is quick and easy to open, and practical to handle. It is available with a day/night opening system for medicinal products packaged in a single blister pack.
Packs are user-friendly, with a dedicated shape, available for each patch or bandage.The packs allow for quick and easy opening by the customer and provide safe and solid packaging with no risk to tear the bandage, and the medicine can't get outside of its blister. It incorporates in-mold label technology, which provides an unalterable surface for customer directions. The label can cover all sides and eliminate the direction leaflet.
Global event
More than 3,000 visitors and 305 international exhibitors convened at the Grande Halle de la Villette in Paris during the twelfth edition of Pharmapack Europe, Feb. 13 and 14, for a comprehensive overview of the latest trends and innovations in the packaging and delivery of medicinal and healthcare products.
Visitor attendance increased 9% compared with 2012, while supplier attendance rose 16% from the previous edition. The vast majority of these companies came from outside France, with nearly 60% of exhibitors representing 27 countries, including India, Finland, and Tunisia, which took part for the first time.
The international aspect of the trade fair was also reflected by its visitors 63 countries. These attendees included specialists from healthcare institutions and organizations, and from pharmaceutical, biopharmaceutical, and veterinary laboratories, including managing directors, R&D directors, purchasing managers, and others.

The central theme of Pharmapack 2013, "Putting the patient at the heart of innovation," conveyed a new approach to the development of treatment solutions. Presentations and case studies on this topic served to highlight the features of medicinal delivery devices and pharmaceutical packaging that increase compliance with treatment requirements and result in greater safety for patients and healthcare workers. These sessions also demonstrated how the creation of innovative solutions in response to public health issues constitutes a significant lever for competitiveness and development for manufacturers of healthcare products.
Conferences included more than 40 semi-scientific presentations and numerous debates led by a panel of international experts examining regulatory changes, the latest technological advances, and current market trends over the course of five themed sessions:
• Patient safety and packaging compliance
• Innovation in parenteral administration and packaging process
• Innovation for pulmonary and nasal forms of drug delivery
• Targeted drug delivery via convergent technologies
• Sustainable packaging and materials

For the first time at Pharmapack Europe, a program of four technical workshops was organized to address the following subjects:
• Drugs and isothermal packaging
• Serialization: Track & Trace
• Medical packaging sterilization and validation
• Innovative combination products: Challenges and Approvals, EU-USA

The thirteenth edition of Pharmapack Europe will take place on Feb. 12 and 13, 2014 at the Porte de Versailles in Paris. This new venue will enable the trade fair to host an even greater range of expertise within an ever-more convivial atmosphere.
For more on Pharmapack Europe 2013, please see the following stories:
• "Devices designed with instruction manual in mind"
• "Serialization and track and trace"
• "Observations from Pharmapack Europe"