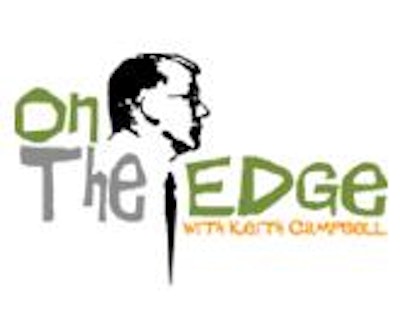 In reviewing the patents for the new class of linear servo motors that I have written about for the April issue of Packaging World, I became aware of patents in the chemical industry for similar motors, used to stretch biaxial film. A little digging turned up a recent application article (Automotion November, 20011) that puts perspective to price/performance.

B&R provided controls for a 65 meter long machine built by Brueckner in Germany that utilized a linear motor with track sections involving 728 sets of motor windings and over 700 linear motor movers. Using dual axis drives, B&R provided a control system that included 398 ACOPOS drive modules, 14 power supplies, 12 industrial computers, and 36 network cards to control 728 servo axes with a cycle time of 400 microseconds. The cost of this control system, while not reported, must have been in the mid six figure-more than most packaging cells.

I think that no one could conceive of a packaging application where this would be appropriate technology, yet it was most appropriate and successful in its intended use. It certainly demonstrated a proof-of-concept that should make packaging applications of these new linear servo motors look like child´s play. And now we have seen the first two packaging machine examples using similar linear motors.

The efforts that established this complex world record application and the efforts that will build upon that, likely resulting in an order of magnitude reduction in cost and apparent complexity, are both of great value to the industry. Both represent appropriate use of technology within their own context.
Comments
---
Keith,
Companies choose to invest in projects that demonstrate their innovation. It proves that while the technology may be expensive, it demonstrates a willingness to invest in the future, and solidify their position in the market. However, to stay ahead they do have to keep innovating.
Your example of the microwave oven and telephone are great examples in the consumer market, and I would add the industrial computer and robot as examples of how far we have come in the industrial automation market.
Posted by: Arnold Offner on March 27, 2013
---
Please visit this link. The machine is making one gallon Smart Bottles per minute.
It uses two linear servo motors. One for cut off and one for applying the pressure.
http://www.youtube.com/watch?v=EHhHopEg3Wc
A few years ago I used a 64 inch linear motor for a cut off on a large bag machine.
Posted by: ken wilkes on March 28, 2013
---
I read your article covering KHS' and Jones' use of linear motors. It seems they are only reaching the market now with this technology. As others have alluded above, a number of OEMS's have been aplying this technology for some time now.
At 3 minutes, 30s in the video below you can see one such machine using 20 motors.
http://www.delkorsystems.com/capabilities_video.php
Posted by: Adam on April 26, 2013