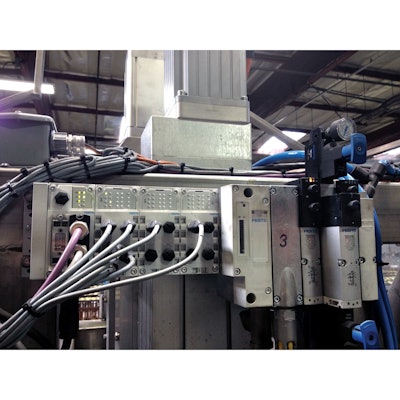 A leading soup canning facility asked Can Lines Engineering for an advanced system to remove freshly retorted cans from their retort baskets onto a labeling/case packing line. CLE partnered with Festo to develop a solution that utilizes a magnetic-head carriage. It replaces a sweep method that relied on chains and cross bars to unload baskets. The new approach greatly reduces the number of moving parts, which leads to faster installation and more trouble-free operation. The system is much gentler, as the magnet picks the cans from the top. That reduces can damage and brings a much faster transfer.

When filled with soup, the retort baskets weigh hundreds of pounds. After the retort process, the loaded baskets are placed on a conveyor leading to the basket unloading station, where the cans are moved onto a labeling and case packing line.

A critical component in the CLE basket unloading system is a hydraulic cylinder that pushes up the cans, effectively indexing each layer of cans toward the top of the basket. The new magnetic-head carriage picks up cans layer by layer and deposits them on the takeaway conveyor in smooth, uninterrupted motion. The total weight of the magnetic head, frame, and cans is more than 1,000 pounds. Each layer of cans, which may vary from 25 to 80 cans, is moved at more than 3 ft/sec. In dealing with that mass and weight, accuracy, repeatability, and safety are essential. Two Festo electric linear guides actuated by servo motors are synchronized to run in parallel using CoDeSys soft motion software. Servo-controlled motion is far more accurate and repeatable than the mechanical chain-sweep system previously used.

Another downside to the sweep method that was replaced is that it required I/O points to be individually wired. That meant 30 to 40 cables to install and maintain. Now a CANopen-based fieldbus system simplifies control. All inputs of the new system are brought back to a programmable controller by a single cable. This reduced the cost of installing wiring by 20 to 25 percent. CANopen also offers superior diagnostic capabilities for quickly pinpointing I/O issues.

The new retort magnetic-head basket unloading system is easier to maintain. This system improved the end user's packaging line productivity by 30 percent and reduced rejects by 20 percent, thereby boosting productivity and overall throughput.