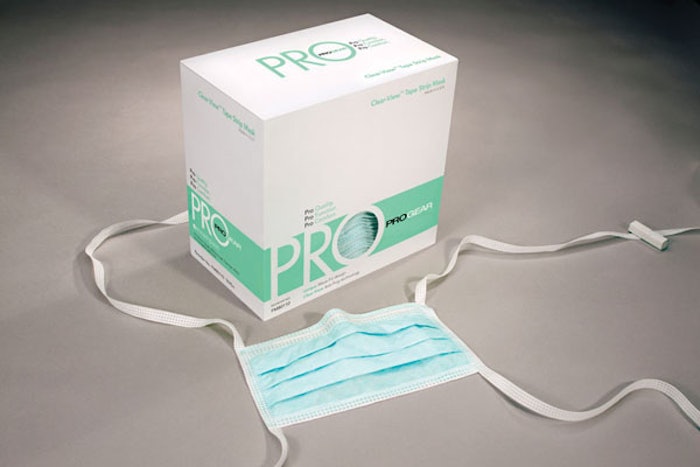 It turns out there's actually a healthy viewpoint regarding the frenzy over the "swine flu," or to be more precise, the 2009 H1N1 influenza virus. At least that's the prognosis from partner companies Prestige Ameritech and the Encompass Group. Beginning in late April, the surge of public demand for protective facial masks turned Prestige's world upside-down as the sole U. S. manufacturer of the devices. The Encompass Group now markets the ProGear line of masks in windowed cartons, enabling medical professionals to identify mask varieties without having to first open the carton in the hospital or clinic.
"The swine flu is a reminder of how quickly a pandemic can be upon us," says Tony Hanson, managing director of marketing for McDonough, GA-based Encompass Grove. "We are keeping in touch with our government contacts to get the latest updates as we learn more about the swine flu. The Centers for Disease Control and Prevention (CDC) is recommending the use of certain types of face masks if you are in close contact with someone who has, or may have the swine flu, even though the airborne contaminate issue is still being debated."
Mike Bowen, executive vice president for Richland Hills, TX-based Prestige Ameritech, says the masks help to protect both the wearer and those around the wearer.
Prestige designs and builds the equipment that takes rolls of propylene-based nonwoven materials and manufacturers it into masks, either with or without ties or headbands. At this point, different varieties of masks are manually placed into hand-erected paperboard cartons, although Bowen is considering automating the process. At press time, the company planned to add 20 workers to help with skyrocketing orders.
"Surgical masks are used in hospitals. They're not used by the general public," Bowen said in an April 30 CNN.com online report. "So when the general public starts wanting face masks, the supply gets short really quickly."
An eye for unique design
Knocked-down carton blanks are supplied by Southern Champion Tray (www.sctray.com). The 18-pt SBS board is offset-printed in two colors, which vary based on the type of ProGear mask. Cartons are color-keyed to match mask varieties. Southern Champion Tray glues in the circular polypropylene film window that allows medical personnel to identify the mask type. Different packaging will be used for consumer sales, Bowen notes.
Bowen says that the cost for employing the window "was inconsequential." He explains, "It lets people see the mask variety and our patent-pending bent-nose piece that helps show users how to wear them.

"In the medical industry, a lot of the [packaging] is pretty boring. We wanted people to take notice of the box on the shelf when it was in the hospital. If a worker has 15 different boxes of masks on the shelf, we wanted his or her eyes drawn to our masks because we believe once they try our masks, they're going to like them."
The companies employed design/branding firm The Young Co. (www.theyoungcompany.net). Bowen explains, "Bob Young met with us and Encompass at a sales meeting and designed a carton that one rep [found so appealing that he] thought it was an iPod giveaway. "We are always interested in making our product more appealing, without adding a lot of cost. We're some of the most outside-the-box people you can imagine. When a supplier comes to us, invariably we're the ones who want to see that 'box that glows in the dark.' We want whatever the new thing is, and we think we'll get the return [on investment] by offering something unique in the marketplace."
Buying American
Therefore, a slight cost upcharge isn't an overwhelming concern, he says, even in a recessed economy. "As stupid and politically incorrect as this may sound, we buy American products, even if they're more expensive. We believe in America. We believe in putting people to work here. Americans are fixated on price. In a price game, we know that [China and/or Mexico] wins."
Bowen's strong "buy American" sentiment traces back in part to when the face mask maker's predecessor company moved its operations from Texas to Mexico to reduce its labor costs. "We saw 2,000 of our friends sent home in one day. It was sickening," he says.
Looking to the future, Bowen recognizes there is an element of uncertainty. "We're a private company, and we're trying to make rational decisions about the future, how fast and how many mask manufacturing machines we should make, how many products to produce, and if this current growth of volume is real and sustainable, because the last thing we need to do is build too many machines and then go bankrupt because nobody is buying masks." What he can't mask is that the present is quite healthy for the partnering companies.
Interestingly, Prestige Ameritech and the Encompass Group view potential protectionism by other countries as a business ally. "There are concerns that other countries may stockpile masks for their own citizens," says Encompass's Hanson. "Since our masks are manufactured in the United States, we are ready to supply U.S. citizens with large quantities of masks, should it become necessary. There is also a concern that face masks manufactured in Mexico may become difficult to get if Mexican workers are ill, or their plants are closed. Additionally, masks could become the target of the drug cartels operating in Mexico if the demand becomes great enough."