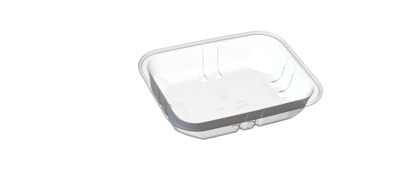 Tray can be utilized for meat, poultry, seafood, deli, and produce—and can be customized in terms of size, thickness, shape, and color.
Numerous citywide and countywidebans on EPS (expanded polystyrene)—combined with consumer pressure and corporate commitment—are fueling the demand for eco-friendly packaging and accelerating the sustainability timelines of many organizations. Clearly Clean's trays utilize PET, the same material used in recyclable water bottles, finally bringing a 100% recyclable, smooth-edge overwrap tray option to grocery stores, food processors, and packaging distributors.
In addition to being recyclable and providing a rolled edge to alleviate film tears, Clearly Clean'sRoll Over-Wrap™ tray allows companies to:
• Reduce product loss and increase customer satisfaction:Due to its rolled edge, this tray is three times stronger than polystyrene; therefore, unlike polystyrene, it will not break during transportation nor will it bow tie due to weak walls, significantly reducing shrink and maximizing customer satisfaction. It can also withstand high-speed processors without a loss in structural strength and can be reworked again and again if there is a film or meat styling issue.
• Make a quick and easy change from polystyrene:This rolled edge tray canimmediately replace all plastic and foam trays on high-speed packaging machinery; there is no need to change equipment.
• Maximize shelf appeal and make the product the center of attention:The look of the PET tray will stand out from the competition. In addition, the tray comes in multiple colors, including crystal clear. The latter option allows the product to be the star of the tray and enables it to be examined from all angles.
"Multiple big-name companies are already realizing the benefits of our products," said Jeff Maguire, managing partner of Clearly Clean. "We are proud to be able to help companies extend their sustainability focus to include packaging."
"The strong demand that our rapidly growing company is seeing for our trays is highly encouraging – not only for Clearly Clean, but also for the environment as foam trays take at least 500 years to decompose," said Millard Wallace, managing partner and the product's inventor. "We are committed to sustainable packaging and look forward to additional product launches as we continue to expand our green product lines."
Companies in this article