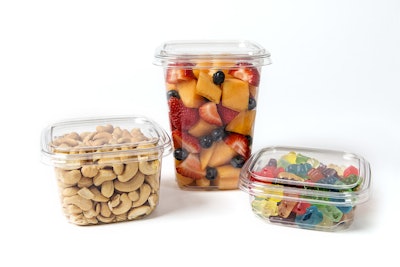 TruWare square containers are durable and stackable, maximizing space, and increasing shelf efficiency. Containers have a secure lid fit, reducing leaks during transportation. Consumers will find the containers easy to open and close multiple times.
Available with two snug-fitting, interchangeable overcap, and plug-fit lid options.
Perfect for delis, grocery stores, and co-manufacturers, TruWare square containers provide an efficient, reliable packaging solution for operators while helping them reduce their environmental impact.
"Fabri-Kal has a history of providing operators with sustainable food packaging solutions," said Mike Roeder, President and COO, Fabri-Kal. "We are proud to offer TruWare containers, another packaging choice from Fabri-Kal designed to meet our customers' functional and environmental needs."
Companies in this article