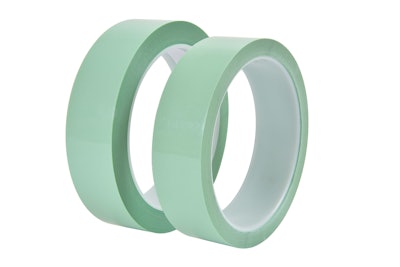 3M Polyester Tapes 875 and 876 are designed to remove cleanly and prevent surface contamination, eliminating the need for extra steps in manufacturing processes. These high temperature rubber (non-silicone) tapes temporarily, yet securely, hold strong for composite parts and metal bonding processes, and offer clean removability even in high temperature applications.
These tapes are built to withstand elevated temperatures (350°F /177°C) during autoclave cycles for sensitive applications.
Tapes that leave behind residue require more work for manufacturers. 3M Polyester Tapes 875 and 876 remove cleanly, eliminating the extra work of having to remove the remnants that other tapes often leave behind.
"These new polyester tapes can make your manufacturing process easier," says Tanya Richert, 3M global marketing development manager. "At 3M, we care about developing products that can change the way people work and improve the lives of our customers. The high temperature (non-silicone) formula and clean removability of these tapes can diminish the extra work that can often slow down manufacturing processes."
3M Polyester Tape 875 and 876 are offered in one-and two-mil polyester backing, respectively. The thin, flexible caliber of the backing combined with the high tensile strength provides the optimal strength needed to pull through cured resins. Both the 875 and 876 tapes are produced in seafoam green for optimal visibility during application and removal.
Companies in this article